We Singing Colors vin în premieră în curtea FABER din Timișoara, miercuri, pe 14 octombrie, 2020, într-un concert ce-i va avea ca invitați speciali pe timișorenii de la Rubik's Cube.
We Singing Colors a apărut în peisajul muzical în 2011 și îi recunoști cel mai ușor după fluieratul Good Days, Bad Days, care se aude de la primul album din 2014, Made of wool, made of Heavy Metal.
Au urmat multe concerte în cluburi și festivaluri din țară, înregistrări și o serie de concerte în Marea Britanie, un scurt tur în Japonia și India, show-uri live și sesiuni radio în Spania, Bulgaria, Ungaria, Serbia, Slovenia sau Moldova.
Cel de-al doilea album al lor, Lone Learner, a fost lansat în 2018, single-urile Hunger, Bridal Hands, Destiny, Out of the city și Get up slowly având parte și de videoclip. All the people a fost Pick of the week pe Balcony TV, iar Wrong Side a avut parte de un live session pentru platforma Diud, where's my tune? 
 Cel mai recent videoclip a fost lansat in luna februarie a acestui an, pentru piesa Nomad.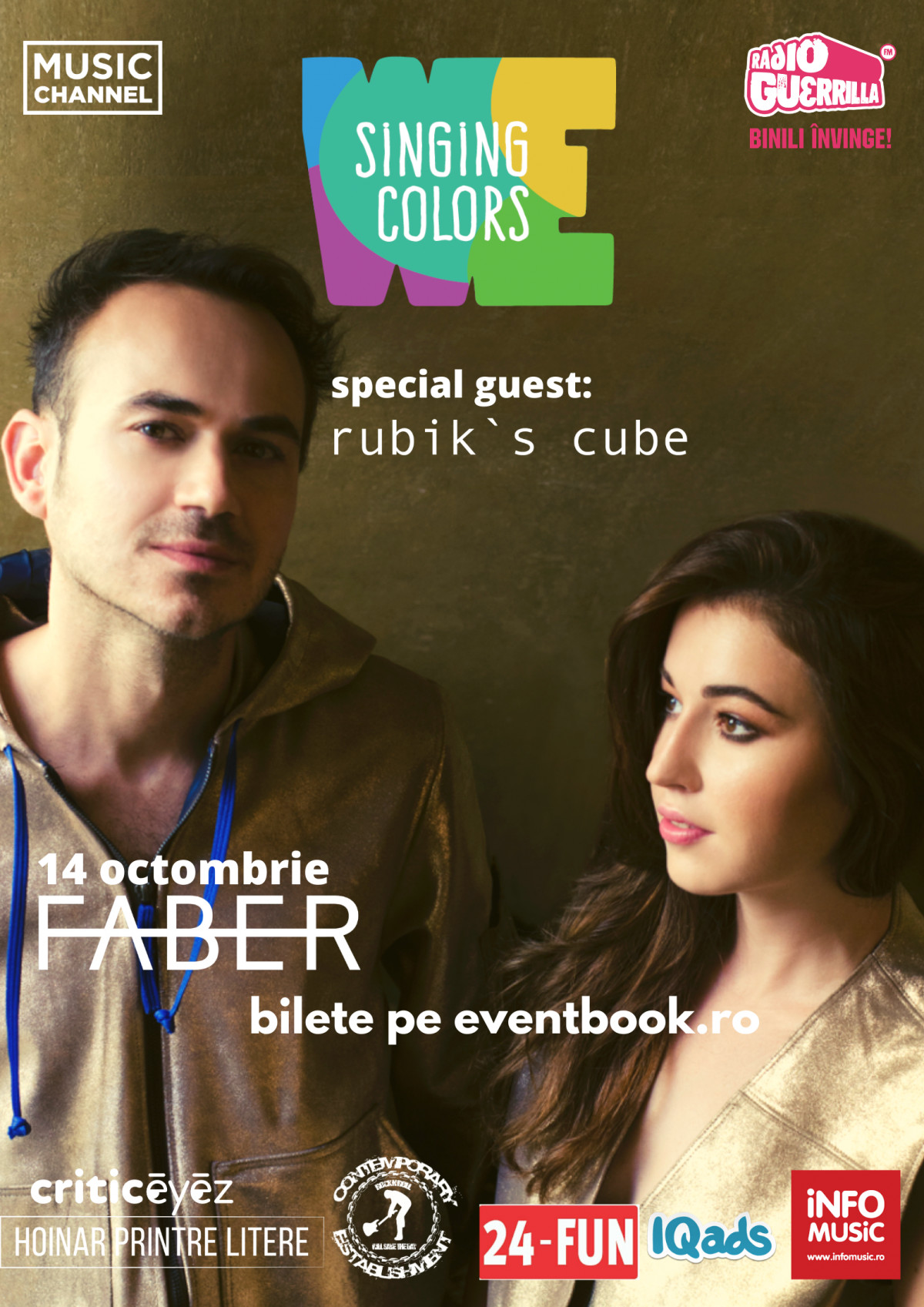 Rubik's Cube, o trupa formata acum mai bine de zece ani, in jurul culturii pop-rock, se reuneste dupa o lunga pauza, in care membrii trupei s-au concentrat pe diferite proiecte muzicale. Artisti cunoscuti din scena Pop/Rock/Indie au propus de-a lungul anilor de pauza, reunirea trupei, stiind ca vor face publicul sa danseze pe piesele lor. Pe 14 Octombrie, piese ca "Mildred Charm" si altele, unele noi, inca nepublicate, vor vedea lumina zilei. Trupa reuneste fosti membri, Alex, Gabi, Alex si Chris, noul bassist, si aduce groove-uri psihedelice cu influente pop-rock si progressive.
Info:
Bilete: EVENTBOOK | Pret bilet: 30 RON | Presale: 20 RON, până la 1 octombrie
Open doors: 19.00 |  Live Rubik's Cube 19.45 | Live We Singing Colors 20.45 
Parteneri Media: Music Channel, Radio Guerrilla, InfoMusic, Criticeyez, IQads, Hoinar Printre Litere, 24 FUN, Contemporary Establishment.