Poveștile NO.MADe  continuă cu o nouă ediție,la care dă cuvântul antreprenorilor, de astă dată - Pandemia Made Me Do It 2.0, pe 15 octombrie, online. NO.MAD Talks, comunitatea freelancerilor, aduc 8 antreprenori cu business-uri de digital, publishing independent, evenimente și servicii care vor împărtăși cum s-au recalibrat, cum și-au reinventat proiectele și de unde și-au luat puterea de a merge mai departe. Biletele sunt în număr limitat și se pot achiziționa de pe Eventbook.
Cum creativitatea ajută afacerile să fie bine în timpul crizelor
Dacă pentru freelanceri pandemia a adus proiecte anulate, clienți pierduți și multă nesiguranță, pentru antreprenorii care aveau responsabilitatea unui spațiu fizic și a angajaților, starea de urgență a adus, în majoritatea cazurilor, imposibilitatea de a-și desfășura activitatea. De la evenimente programate cu luni înainte anulate la bugete de marketing reduse la zero și spații deschise în prima zi de lockdown cărora nu le-a mai călcat pragul nici un client, ownerii de business-uri nu au avut vreme să își tragă sufletul și au mers mai departe cu motoarele turate la maximum.
Povești în online, proiecte noi lansate și reinventare
Mirela Retegan, fondatoarea îndrăgitei Găști Zurli, a dezvoltat magazinul online de produse Zurli, o serie de evenimente online și aplicația prin care a rămas alături de comunitate. Cristian Lupșa și redacția Decât o Revistă au gândit Concentrat, newsletterul zilnic încă în derulare de la care mulți dintre noi ne-am luat noutățile, recomandările și speranța. Ana Maria Stoica a mutat spălătoria ecologică Softwash în online, implementând Pick-up Tuesday, servicii sigure de ridicare și de livrare a hainelor de la și înapoi în la ușile clienților. Alexandru Negrea, specialist și trainer în social media a trecut din offline în online și iar în offline în trei luni și a deschis un nou spațiu de evenimente. Claudiu Teohari sau mai bine zis Teo de la Club 99, va povesti despre cum stand-up comedy s-a transformat în standby comedy. Dorin Boerescu, CEO 2Performant a trecut prin cel mai greu an din cei 20 de antreprenoriat, de la vestea că unul dintre colegi se numără printre primii pacienți infectați cu COVID19 la listarea agenției la Bursa de Valori.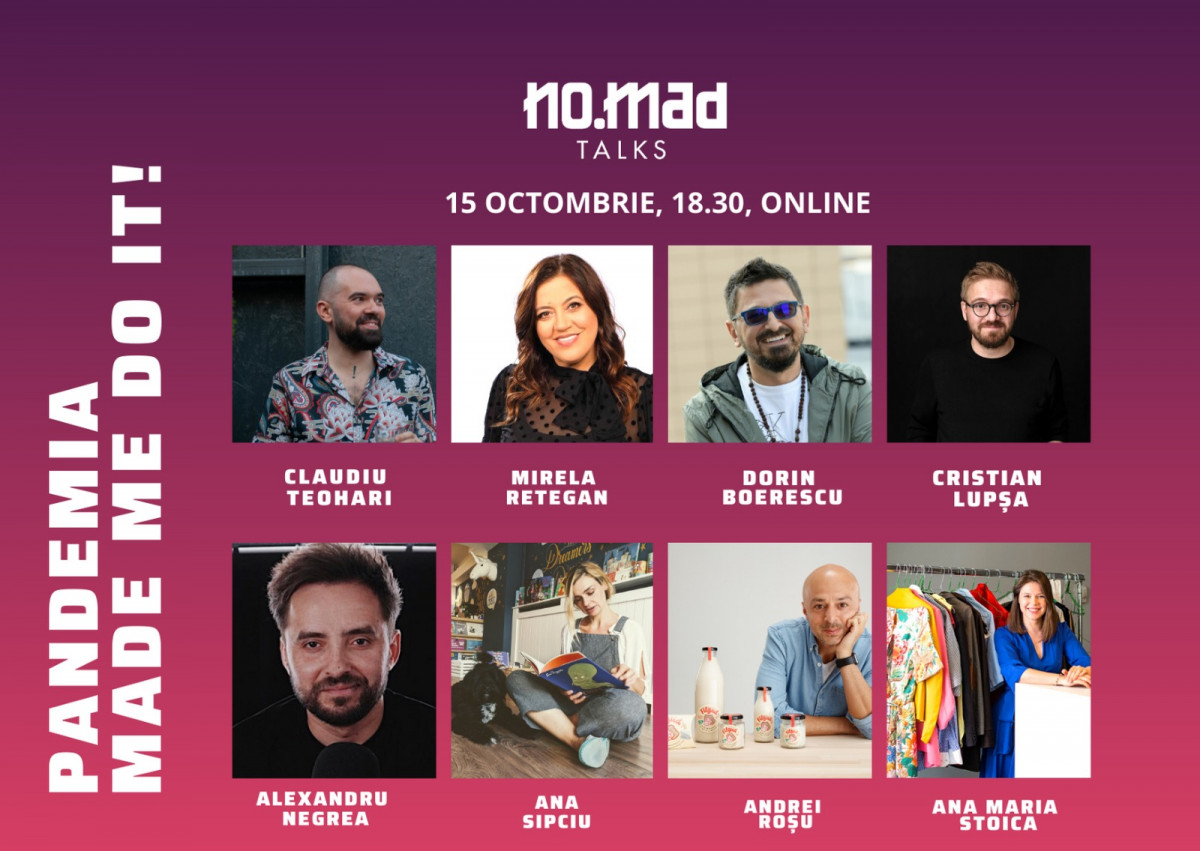 Evenimentul va avea loc online iar biletele sunt disponibile pe Eventbook.
Parteneri media: Radio Guerrilla, IQads, Start-up.ro, The Institute, Igloo Prwave, Iqool, Zile și Nopți, The Trends, Munteanu, Kreatoria, România Pozitivă, Feeder.