AwE WorkS for the free. 15 octombrie. 1PM EEST. 3, 2, 1, LIVE:
Suntem live la Re:Think:Analytics, prima platformă și comunitate digitală focusată pe date și analytics, creată pentru companii și profesioniști interesați să adopte un mindset data-driven. 

Prin seria de materiale pe care le pregătim, de la evenimente, webinarii, editoriale cu experți de top ai lumii, ne dorim să aducem un spirit practic în abordarea data și analytics. Și să creștem noi profesioniști, de care piața are mare nevoie. 

Dacă cineva ne-ar fi spus, la începutul anilor 2000, că România va avea toate datele ca să devină un hub regional de IT, cu mii de programatori plecați prin toată lumea, cu rezultate excelente, într-un orizont de timp relativ scurt, probabil am fi fost profund sceptici sau chiar amuzați. Dar de putut, întotdeauna se poate, chiar și against the odds.
Așa au sunat primele cuvinte rostite de Re:Think:Analytics, structura gândită și creată de Data Revolt și MicroAnalytics.
Pe 15 octombrie ne-am întâlnit cu Jim Sterne, Anett Numa, Claudiu Murariu și Robert Petrescu. Adică Marketing and Analytics Summit, enter e-Estonia, InnerTrends.com și Google.
Am vorbit despre cum devenim profesioniști indispensabili într-o organizație dacă avem skill-uri potrivite de analytics, cum creăm și dezvoltăm o echipă de experți analytics, cum vizualizarea datelor începe prin utilizarea metodelor de măsurare potrivite și cum Estonia, prin gândirea bazată pe date, a devenit cea mai digitalizată națiune din lume.
Întregul eveniment poate fi văzut și revăzut aici
Re:Think:Analytics își propune să creeze o comunitate a experților în date și analytics. Mai mult, seria de evenimente dedicate, cu cei mai buni profesioniști din domeniul data & analytics atât din local cât și cu voci recunoscute în toată lumea, va continua. Rethinkanalytics.ro livrează conținut calibrat pe așteptările și nevoile pieței și caută constant unghiuri și perspective noi, benefice și constructive pentru lumea în care trăim. Printre următoarele etape se numără și crearea de masterclass-uri și webinarii cu cele mai renumite minți data-driven ale lumii.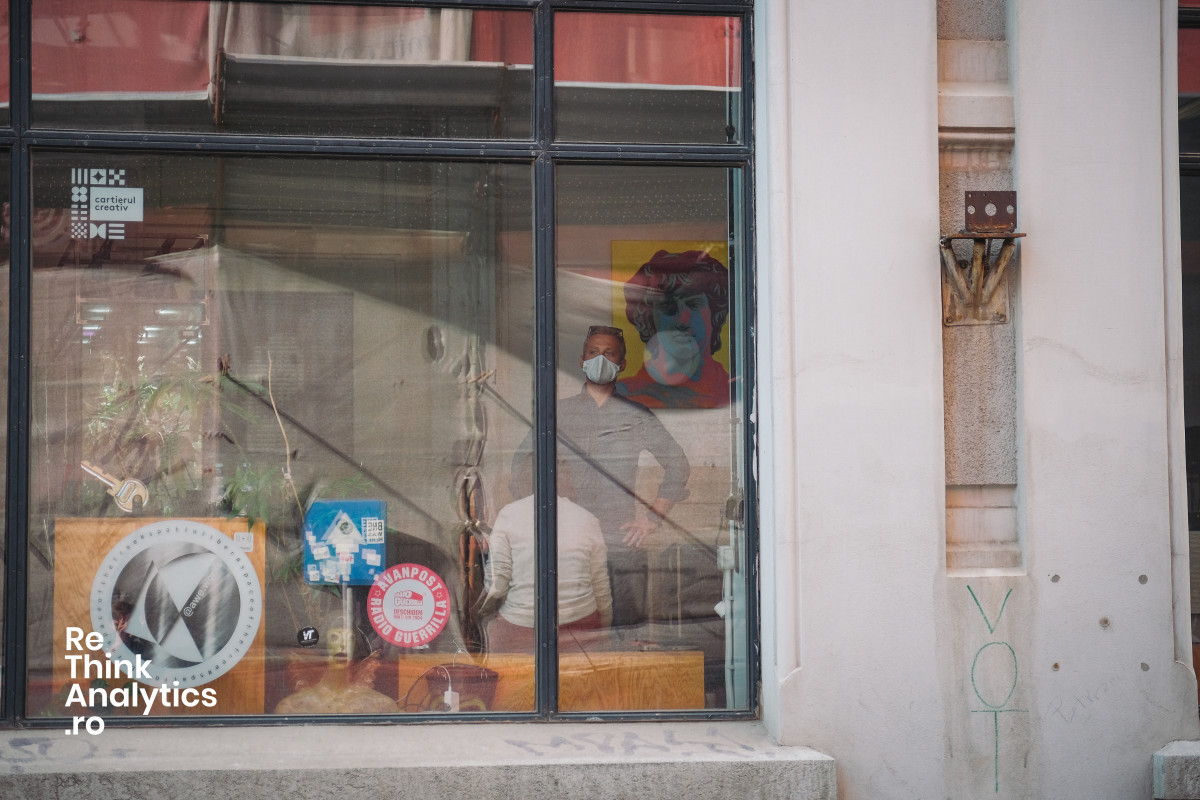 "2020 și pandemia au generat schimbări bruște în viețile noastre, în economie și în comportamentul oamenilor. Schimbările accelerate din cele câteva luni de pandemie sunt echivalentul a 10 ani de schimbare în ritmul clasic. Acestea sunt timpurile în care apar perioade oportune pentru business-uri, iar companiile care cred în date - fie că vorbim despre înțelegerea nevoii și a clientului, despre marketing bazat pe date ca motor de creștere, despre audiențe în procesul de media buying, raportare sau vizualizare, fie că vorbim despre CMO-ul secolului 21  (Chief Marketing Officer) - vor fi pregătite pentru ce urmează și vor câștiga flexibilitate în decizie rapidă.", Cosmin Nastasa (Co-founder @Data Revolt Agency).
Re:Think:Analytics e o platformă deschisă pentru oricine e interesat de gândirea bazată pe date sau își dorește să se dezvolte în domeniu.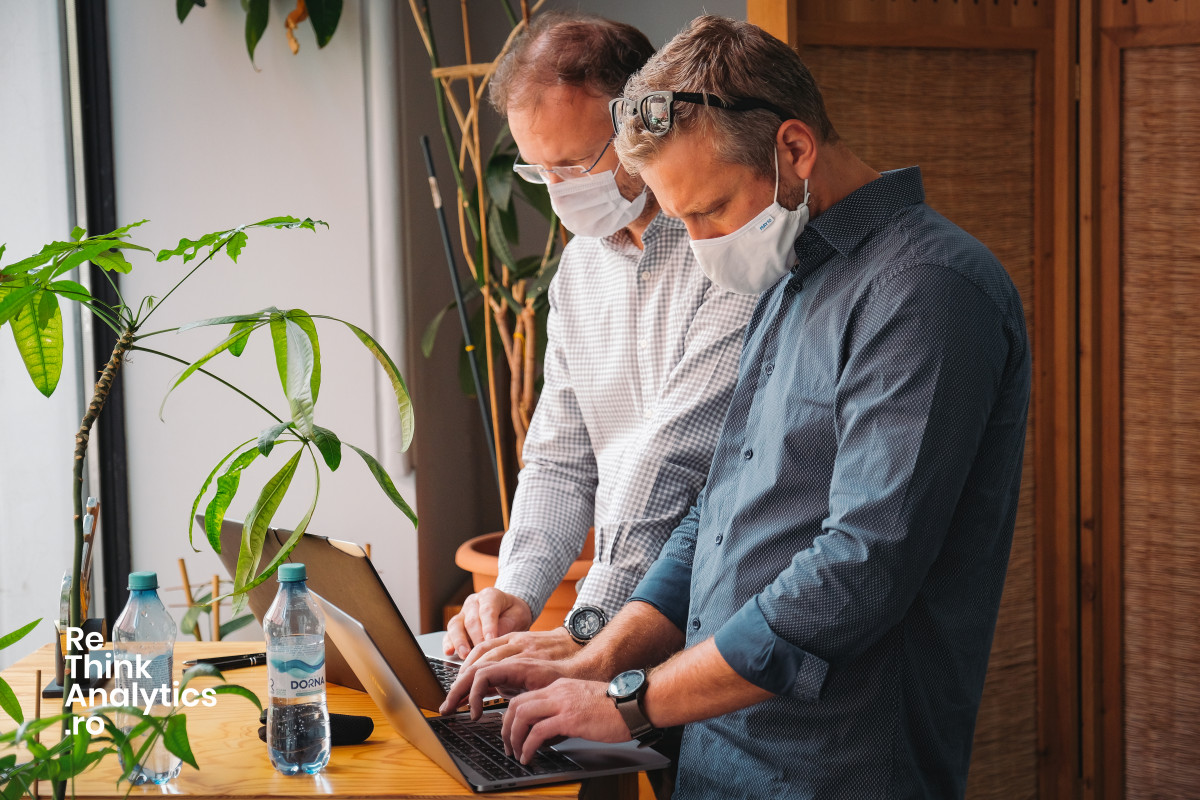 "Vrem ca Re:Think:Analytics să fie legătura dintre oamenii care se ocupă de analytics în România. Suntem surprinzător de mulți cei care facem asta pentru că nevoia de analiză crește și lucrul cu datele generate de oameni sau produse au devenit și în România un job cerut și înțeles. Re:Think Analytics își propune să aducă în același loc cât mai mulți pasionați de analytics prin conținutul creat și problemele propuse. Ne dorim să fim acel loc și moment de AHA în care sa ne regăsim și să ne conștientizăm talentul și puterea de a face lucruri bune aici sau oriunde ne ducem.", Silviu Toma (Senior analytics leader & Co-founder Micro Analytics).
Vă puteți înscrie  în continuare pe ReThinkAnalytics.ro, un spațiu în care dialogul e binevenit. Comunitatea pregătește mai departe colaborări cu experți pentru articole și editoriale, toate strânse sub umbrela Insights.
Together we are Re:Thinking the future of business with data.
Un concept generat de Data Revolt și MicroAnalytics. Visuals de VÂNĂ Animation Studio.
Parteneri: InnerTrends.com, Ve Global, Publicis România, RTB House.
Cu sprijinul The Home, Radio Guerrilla, Prestigio & Unison.