ASER dă startul celei de-a XVI-a ediții a proiectului Akademics, în mediul online!
În perioada 22 martie – 4 aprilie, ASER îți oferă șansa să-ți explorezi trăsăturile de caracter și abilitățile intrapersonale şi interpersonale. Pregătește-te să iei inițiativă și să te faci remarcat în mulțime prin dobândirea celor mai căutate competențe în mediul de business.
Fiecare etapă a proiectului îți va oferi insight-uri din lumea de business și te va ajuta să aprofundezi soft skillurile necesare pentru o ascensiune rapidă în carieră.
Etapa I: Află care sunt punctele tale tari și slabe! În cadrul workshopului de autocunoaștere, sub îndrumarea unui trainer, te vei redescoperi și vei fi orientat spre diferite oportunități ce vor duce la dezvoltarea ta.
Etapa II:  Învață cum să setezi obiectivele SMART alături de un trainer specializat! Vei înțelege cum poți să formulezi și să aplici aceste obiective, ele te vor ajuta să te organizezi și să evoluezi pe viitor.
Etapa III : Ia parte la workshop-urile facilitate de oameni cu experiență! Ți se va oferi șansa să aprofundezi abilitățile de problem solving, creative thinking, critical thinking și risk & people management. Roxana Marin si Radu Atanasiu vor fi cei care îţi vor oferi know-how-ul necesar și te vor îndruma spre atingerea obiectivelor setate.
 Etapa IV: Company Talk! În cadrul acestei etape, vei putea să afli cum funcționează o companie și cum sunt împărțite sarcinile într-o companie, alături de partenerul ASER: P&G.
Ultima etapa: Ia parte la sesiuni de networking pe diferite tematici: Leadership, Management, Soft skills of the future, în cadrul cărora vei afla informații relevante cu privire la aceste domenii.
Ce mai aştepţi? Înscrie-te în Akademics până pe data de 21 martie si ai curajul să ieși în față și să te remarci în mulțime.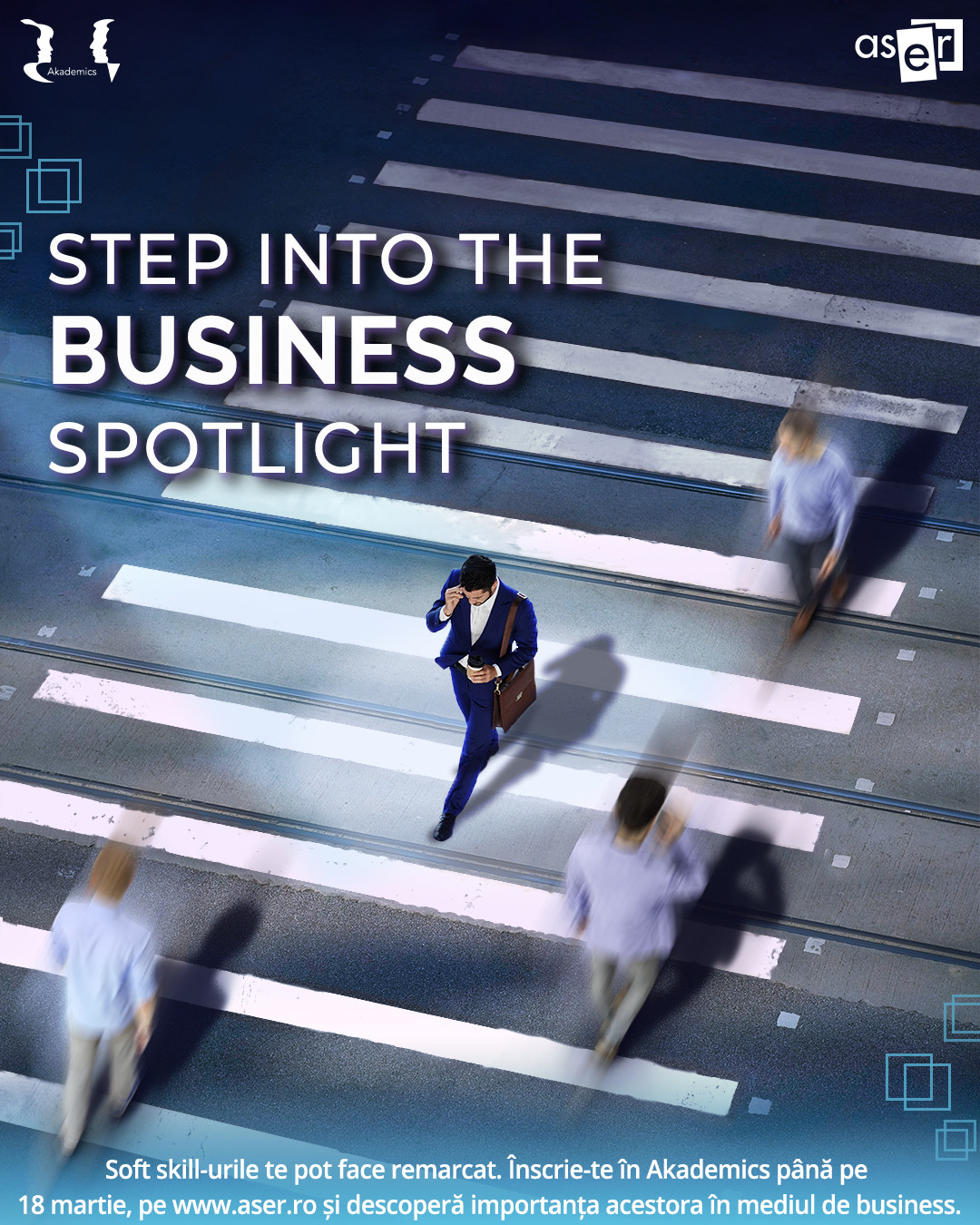 Asociaţia Studenţilor Economişti din România este un ONG care dezvoltă personal şi profesional studenţi din SNSPA, ASE şi UB. Sunt cunoscuţi drept tinerii care au adus şi aduc, în continuare, impact în mediul economic românesc.