Cea de-a treia ediție a Classix Festival va avea loc în perioada 13 - 19 februarie 2022 și se va desfășura în format hibrid (fizic și online), reunind peste 40 de personalități internaționale ale muzicii clasice din 14 țări la Iași.
Programul festivalului cuprinde 8 concerte de muzică clasică desfășurate în locații precum: Palatul Culturii, Teatrul Național "Vasile Alecsandri", Biblioteca Central Universitară "Mihai Eminescu", precum și o serie de evenimente conexe: un vernisaj, o proiecție de film, dezbateri, prelegeri și masterclass-uri.
Sub semnul instinctelor primordiale care ne ghidează atât simțurile, cât și percepțiile, descoperim o suită de concerte, ansambluri, artiști și lucrări care provoacă și invită la o reflecție asumată. Tematicile abordate în cadrul evenimentelor subliniază feminismul în muzica clasică, autenticitatea și visceralitatea, precum și celebrarea trăirilor umane. Pășind în lumea Classix 2022, vom descoperi frumusețea într-o formă feminină - mistică, plină de putere și gata să impresioneze prin detalii. Instinctul primordial ne va purta spre abandonul temporar al melodiei, îmbrățișând puterea ritmului.
Programul va fi contrastat de prime audiții absolute sau premiere românești pe de o parte, și de excelența tradițiilor europene, pe de altă parte. Mozart vs. Gubaidulina, Boulanger vs. Beethoven, Ceaikovski vs. Bartok sunt doar câteva dintre "derby-urile" de la Classix 2022. Hăvard Gimse, Auner Quartet, Grzegorz Niemczuk, Dragoș Cantea, Gustav Rivinius, și alți peste 40 de muzicieni vor însuma un nou summit muzical sincretic la Iași. 
Patricia Butucel, director al festivalului, menționează:
"Ne bucurăm și suntem onorați că, în ciuda contextului pandemic, susținerea din partea comunității, a partenerilor și a artiștilor a crescut constant, de la an la an. Acest lucru ne determină să găsim soluții creative pentru a oferi o experiență inedită publicului nostru și ne conferă încrederea totodată că aventura clasică contemporană din acest an a festivalului va atinge noi standarde artistice și organizatorice."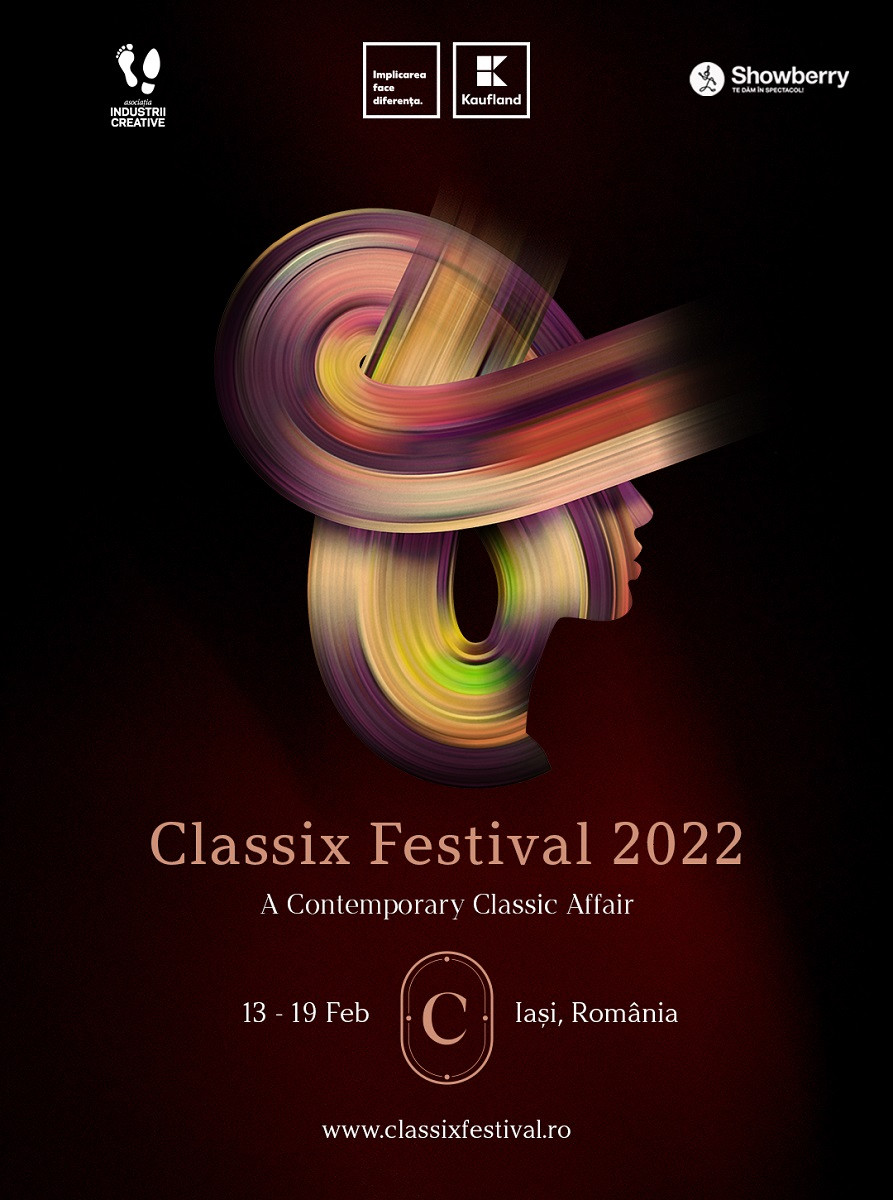 Detaliile referitoare la program, artiști și locații, precum și la modalitatea de desfășurare vor fi publicate în curând, în tandem cu evoluția reglementărilor privind organizarea evenimentelor și a posibilității de a crea un spațiu sigur de desfășurare al concertelor.
Biletele și abonamentele la festival pot fi achiziționate online, iar accesul la evenimente se face conform reglementărilor în vigoare. Înscrierile voluntarilor se desfășoară până pe 23 ianuarie.
Organizatori: Asociația Industrii Creative, Showberry
Partener principal: Kaufland România
Parteneri diplomatici: Ambasada Regatului Norvegiei în România, Ambasada Regală a Danemarcei la București
Parteneri culturali: Forumul Cultural Austriac, Institutul Polonez, Centrul Cultural German Iași, Institutul Francez Iași, Centrul Ceh, DAC Music Performance
Parteneri instituționali: Opera Națională Română Iași, Biblioteca Centrală Universitară "Mihai Eminescu" Iaşi, Palatul Culturii din Iași - Complexul Muzeal Național "Moldova", Muzeul Național al Literaturii Române Iași, Universitatea Națională de Arte "George Enescu" Iasi, Episcopia Romano-Catolică Iași
Parteneri strategici: Snyk Denmark, The Norwegian-Romanian Chamber of Commerce, Norwegian Academy of Music
Asociația Industrii Creative este organizator al festivalurilor Rocanotherworld și Classix din Iași, având drept scop revitalizarea culturală a orașului, angrenarea comunităților creative și implicarea în viața civilă a societății prin acțiuni care promovează spiritul proactiv, contributiv și participativ.
Showberry, membru AROC (Asociația Română a Organizatorilor de Concerte și Evenimente Culturale), este un startup câștigător al programului Investește în oameni! Din 2015 dezvoltă proiecte culturale și creative, fiind unul dintre principalii promotori de concerte publice și evenimente tematice din regiunea de nord-est a României. Din 2016 este co-organizator al festivalului Rocanotherworld iar din 2020 a Classix Festival, alături de Asociația Industrii Creative.