For Luca Zamoc, everything happens outside. Art, dialogue, inspiration. There is no comfort zone outside. But this is good for an artist: to have the courage to escape from mechanical safety and to start asking questions. Luca focuses on muralism and public art. He taught Drawing and Illustration at the Polimoda of Florence, collaborated with international brand and painted in public contexts in numerous European and non-European countries. His mural for Unifinished, inspired by Bucharest's abandoned buildings, pays homage to the resilience of nature and its relationship with humanity. 
Everything you draw outside become symbolic, even if it's didactic. Learning to paint in a collective space it means to determine a visual language that can generate all kinds of narrative, says Luca.
UNFINISHED will take place in Bucharest, from September 29th to October 2nd. The theme of the 2022 edition of the festival is OFF-CENTER. Artists, anthropologists, architects, philosophers, entrepreneurs and thinkers from various domains will explore the idea of decentering from multiple angles, approaches, and mediums. 
We talked with Luca Zamoc, before the event, about center and suburbs, symbols, archetypes and the power of collective consciousness.
 The courage to change direction
I really believe in the art of questioning yourself. Was there a moment when I stopped doing it? Yes, those were the most critical moments. The moments I realise I wasn't doing it, I was following a path of mechanical safety, of comfortable numbness. Drawing truly is a way of being constantly aware of what you are and where you are at, but when it becomes your profession you're dangerously close to losing that sensibleness. For years I've been working on commercial fields that I lately realized were understimulating for me. In that moment I found the courage to admit myself I had to change direction: I think that was the moment I started my artistic path.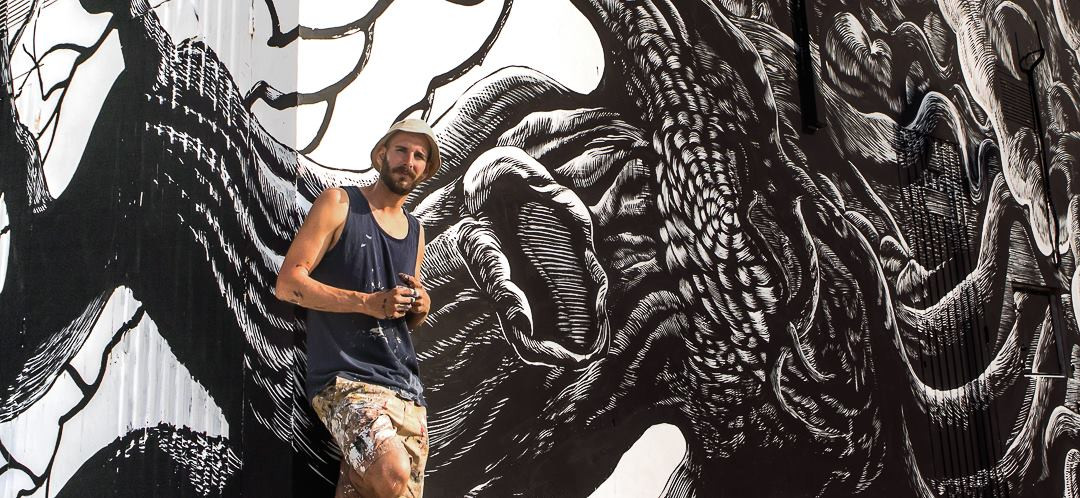 With experience come …  
With experience comes responsibility. Is that maybe too obvious?  In my field everything is outdoor. Being outdoors it means you are overexposed. Overexposed to people, to reaction, to weather, to pollution, to any kind of obstacles. You are not under the protection of any gallery or museum walls, you are the walls. The more you paint outside the more you try to be part of this exposure, to analyse the context, to dialogue with it. It isn't always a difficult role, it depends how you play it. I like the challenge of creating a two dimensional monument that reflect the memory/aspirarion of the surrounding.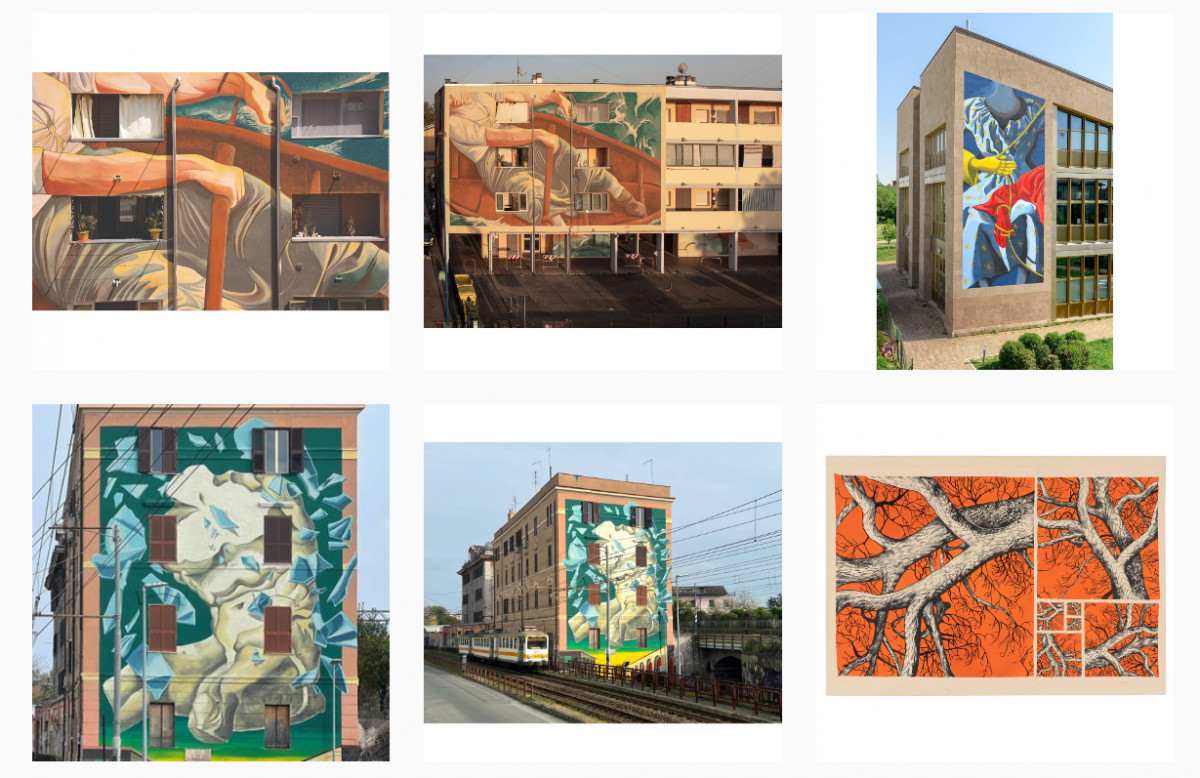 What inspires you
I love archetypes. I truly believe in the power of collective consciousness. Everything you draw outside become symbolic, even if it's didactic. Learning to paint in a collective space it means to determine a visual language that can generate all kinds of narrative. This is always been the trigger of my research.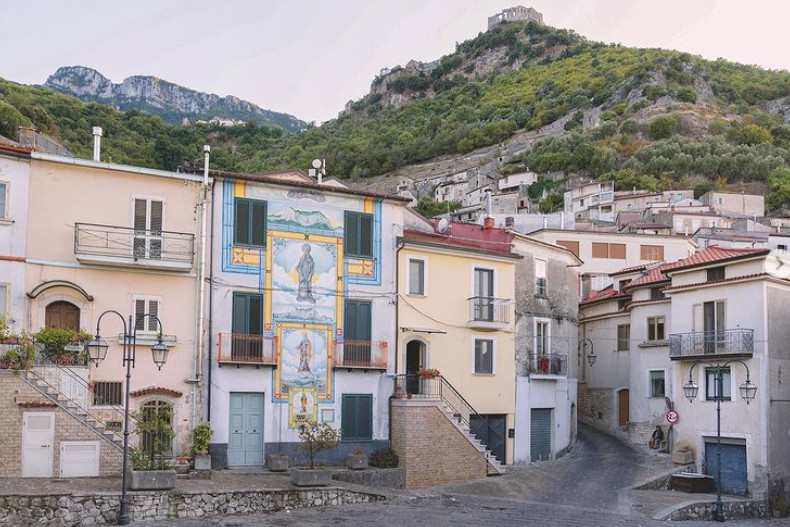 Unfinished
Well that was brutally a matter of networking! I dear friend of mine put me in touch with Cristian Movila back in 2017, I was painting for Massimo Bottura at the time, he loved the project and brought me in. While mounting our first installation a manhole cracked under my leg I fell down the sewer. Spent the night in a E R  full of gipsies. That was legendary. We've collaborated ever since. I'm very proud of being part of the Unfinished family since the very beginning.
What does off-center mean to you
In my field, OFF-center means suburbs. Is well put to say that in the outskirts we can find the bursting energy that cities have lost. When there's no money, no cultural resources,  often possibilities of beauty arise and thrive spontaneously out of contrast. The suburb are the real fertile ground of these intervention, so off center, from my point of view, is the best place to play my role.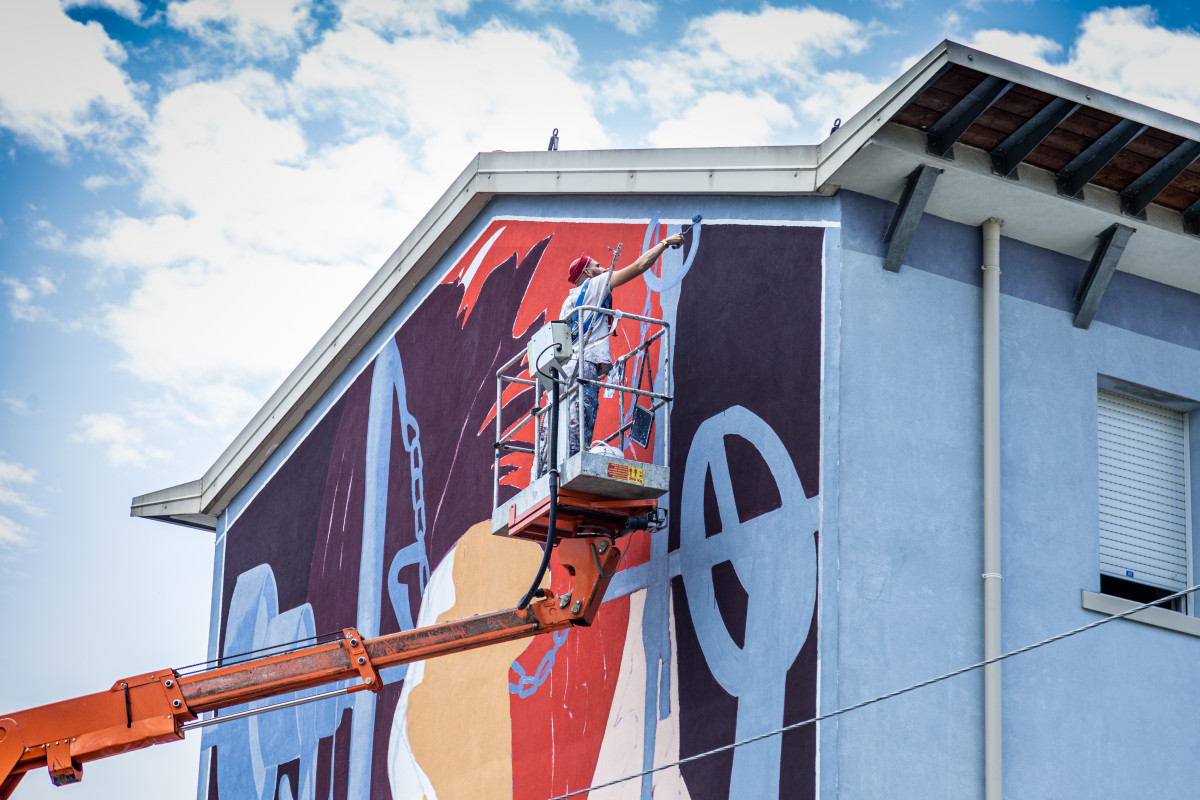 Your centering resources
The only constant impulse I have had since I was 2yo: to draw.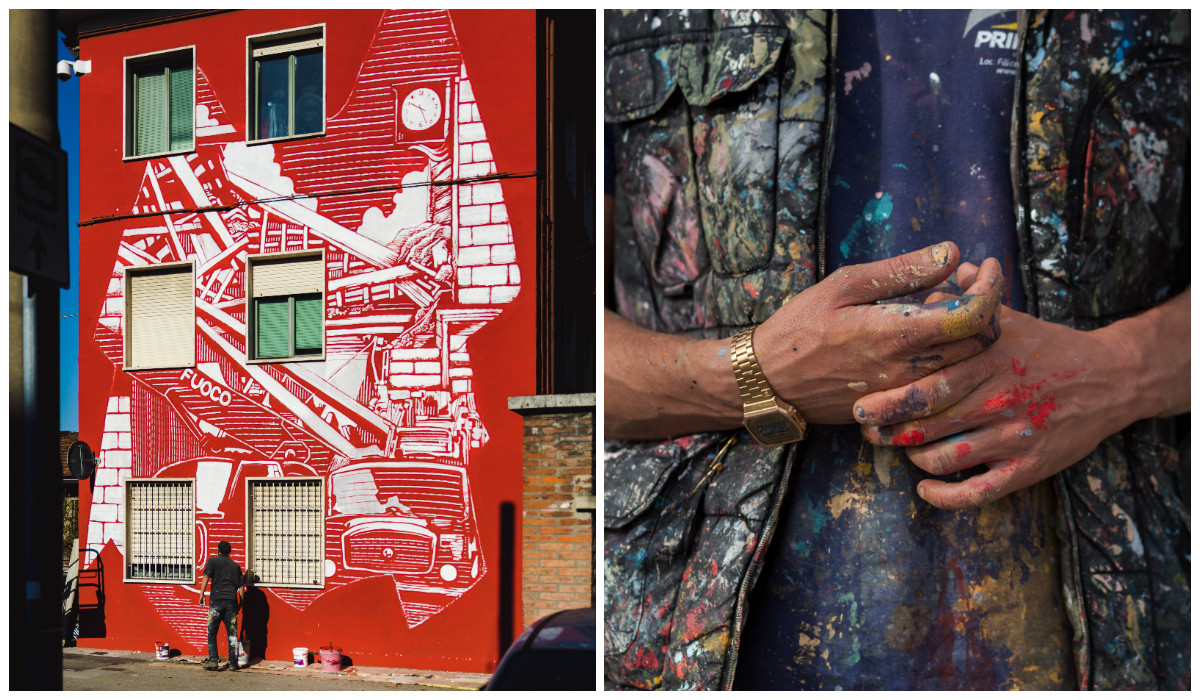 The biggest societal challenges in 2022, from a creator's perspective
Being a creator in these times is way too hectic, and I think is that kind of challenge that weakens your production. I would really love we all could get more time to think, to research, to produce. The lockdown, from that point of view, was a blessing. The more time you have the more you make mistake and refine your work.
Does the creators' mission change in any way?
Well it depends what is your relationship with the current disturbances. Maybe those are your mission. Mine changes every time I'm facing a new wall.
How do you feel the influence of these times
I wish I ll always be able to keep my spontaneity and enthusiasm safe and sound, cause unfortunately, in the world I attend, I feel everything is based on social performance. Really hope we'll eventually drop judgment and raise some good old frankness.
There is still so much to know, to see, to learn. That makes me pretty optimist.
A title for the present
I'm gonna steal it from the song I'm listening in this very moment: "The Burning Sun".