THE PRACTICE se afla pe locul 13 in Creative Index 2012 - clasamentul general al celor mai creative agentii de PR din lume realizat pentru prima data anul acesta de catre The Holmes Report, informeaza un comunicat de presa emis de agentie.
Pe langa THE PRACTICE, in top se mai regaseste o singura alta agentie independenta (Prime PR din Suedia), celelalte companii fiind relete internationale care sunt avantajate de cumularea rezultatelor tuturor sucursalelor din lume.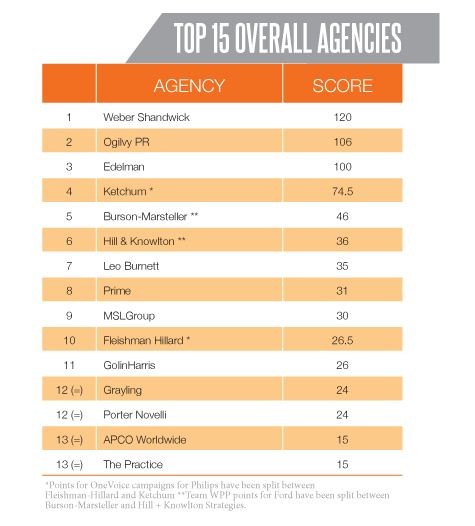 Sursa foto: Creative Index 2012
La alcatuirea clasamentului au fost luate in considerare rezultatele obtinute la peste 20 dintre cele mai importante competitii internationale, printre care Cannes PR Lions, SABRE Awards si European Excellence Awards pe o perioada de 12 luni. Noul clasament Creative Index, ce premiaza creativitatea in PR, urmeaza modelul The Gunn Report, indexul global al excelentei in comunicare creativa.
Aboneaza-te pentru a avea acces la acest articol