Daca din ciocolata ar fi insusi universul,
De pofta, n-as mai putea sa termin ver...
Ciocolata este, cu siguranta, cel mai iubit desert din intreaga lume. Momente importante din viata a milioane de oameni sunt indulcite zilnic de ciocolata. Pentru a o sarbatori cum se cuvine, Paul si Golin au desfasurat, in perioada mai-iunie, Festival du Chocolat, o campanie in cadrul careia produsele de ciocolata au fost personajele principale.
"La Paul suntem cu totii indragostiti de ciocolata, asa ca abordarea poetica propusa de Golin ni s-a parut foarte potrivita pentru Festival du Chocolat. In plus, versurile redau acel art de vivre specific frantuzesc pe care Paul il promoveaza in cele mai mici detalii, de la gama de produse, pana la servire si atmosfera din brutarii", a declarat Claudia Porojan (PR Manager, Paul Romania).
Pentru a completa oferta din magazine, echipele Paul si Golin si-au dorit sa ii rasfete pe fanii Paul de pe Facebook si Instagram cu declaratii dulci.
Astfel, au fost alesi doi povestitori ai frumosului care au fost invitati sa scrie declaratii inchinate ciocolatei. Cornel de la trupa Vunk a insuflat poeziilor spiritul lui de trubadur, romantic si cuceritor, in timp ce Iv cel Naiv s-a jucat cu cele mai vesele cuvinte in cadrul unei trilogii cu final neasteptat.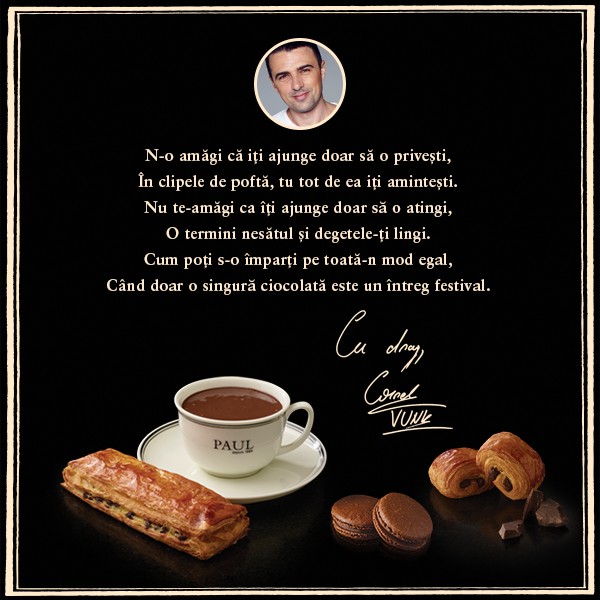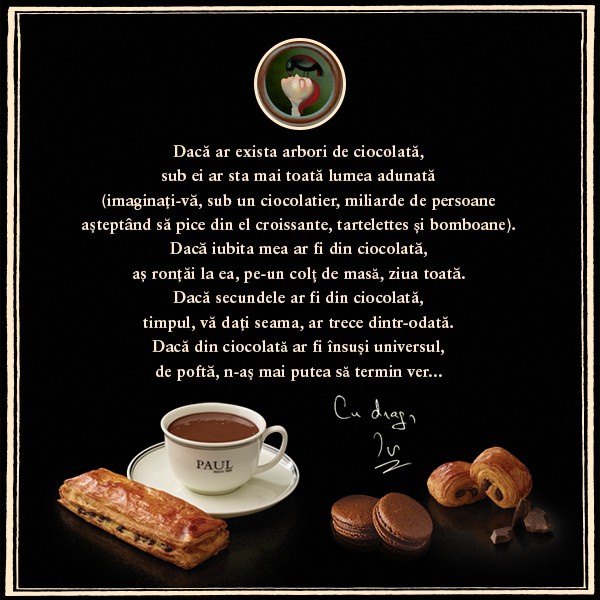 "Ne-am lasat inspirati de experienta degustarii ciocolatei si am vrut sa rasfatam fanii cu versuri dulci. Am incercat un mecanism similar de Ziua Femeii, iar reactiile primite atunci ne-au convins ca fanii de pe pagina Paul apreciaza abordarile creative, care ii inspira si care ii apropie si mai mult, dincolo de conversatia zilnica pe care o au cu brandul pe pagina.

De aceasta data am ales doua perspective diferite, care sa scoata la iveala ce e mai fin si delicios in acest desert, prin poezii de ciocolata: una romantica si una jucausa. Aceste doua directii descriu foarte bine comunitatea noastra de fani, atat de pe Facebook, cat si de pe Instagram, iar rezultatele frumoase ne-au confirmat acest lucru", a adaugat Raluca Duta (Chief of the Bridge™, Golin Romania).
Pe langa poezii, campania a inclus o activare speciala pentru bloggeri si jurnalisti, acestia primind fiecare cate un mood-o-meter, un instrument de masurare a bunei dispozitii. In forma unui ceas, acesta arata starile fiecarei persoane in locul orelor zilei.
La primirea mood-o-meter-urilor, jurnalistii si bloggerii au fost invitati sa completeze un chestionar, rezultatele fiind apoi construite in forma unor profile de ciocolata, adica interpretari personalizate si dulci.
Echipa Paul implicata in campanie a fost alcatuita din Monica Eftimie (Chief Marketing Officer), Raluca Mogos (Marketing Assistant) si Claudia Porojan (PR Manager).
Din partea Golin au participat Alina Stefan (Manager), Teodora Ieseanu (Media Associate), Irina Roncea (Director), Raluca Duta (Chief of the Bridge™), Laura Chira (Digital Specialist) si Simina Zidaru (Creative Associate).