Dani Macarie (Creative Director Ogilvy & Mather), Dinu Panescu (Creative Director & Partner, The HUB / Creative) si Mihai Coliban (Creative Director Proximity BBDO Rusia) fac parte din juriul celei de-a 24-a editii ADCE Awards 2015.
ADCE Awards (The Best of European Design and Advertising) este singura competitie internationala ce reuneste lucrarile premiate in cadrul competitiilor locale, organizate de cluburile membre ADC Europe din 20 de tari.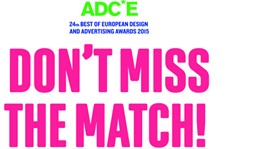 Un juriu format din 50 dintre cei mai creativi oameni din agentii de advertising din Europa vor selecta cele mai bune lucrari de advertising, design, ilustratie, film, fotografie , new media, deja premiate pe plan local.
Presedintele juriului este Amir Kassaei (Chief Creative Officer al DDB Worldwide). Dani Macarie va juriza in cadrul categoriei Film & Radio, Dinu Panescu in cea de Integration & Innovation, iar Mihai Coliban in cea de Print & Outdoor.
"Sunt onorat de faptul ca pot reprezenta elita comunitatii de advertising din Romania si sunt mandru de faptul ca nu o fac din pozitia de director de creatie al unei agentii, ci in (si pentru) calitatea mea de profesionist", declara Dani Macarie (Ogilvy & Mather).
"Oficial, sunt mandru sa reprezint industria romaneasca de publicitate la unul dintre cele mai curate festivaluri din calendar. Neoficial, sper sa prind vreme frumoasa, sa fac cat mai mult networking, iar in pauza de masa sper sa nu aiba doar pizza si pateuri, ca sa nu ma ingras", spune Dinu Panescu (The HUB / Creative).
"Sunt flatat sa fiu in juriul ADCE. E cel mai simandicos juriu de festival in care am fost, pana acum. Abia astept sa judec cele mai bune lucrari din Europa si sa ma iau un pic la harta cu Amir Kassaei. Recunostinta vesnica Emei Prisca, ADCRo si ADCE", marturiseste Mihai Coliban (Proximity BBDO).
ADCE Awards ofera, de asemenea, sansa de a participa la Festivalul international de advertising The Cup. Inscrierile la The Cup sunt deschise doar pentru finalistii si castigatorii celor mai recunoscute competitii de advertising din lume.