Muzica nu-i e suficienta. Pe 24 septembrie, Morrisey a lansat primul roman de fictiune, "List of the Lost", o poveste americana unde, fireste, raul invinge binele si nimeni nu traieste fericit pana la adanci batraneti.
Cartea e deja pe primul loc in topurile Amazon UK. Debutul in fictiune vine la aproape doi ani de la publicarea autobiografiei sale, un succes absolut.
Britanicul canta in premiera la Bucuresti pe 14 octombrie 2015, la Sala Palatului, intr-un concert organizat de Events.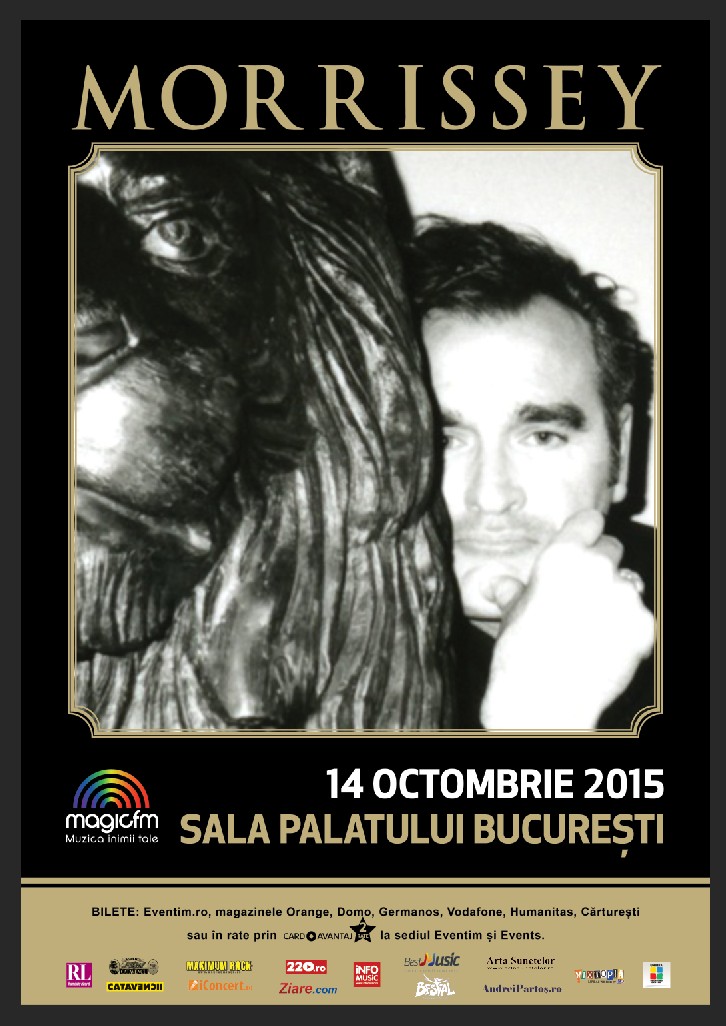 In 2013, "Autobiography" lua pe sus clasamentul britanic. Din prima saptamana de cand a intrat pe rafturi, a ajuns No. 1 si a fost una dintre cele mai rapid vandute carti autobiografice din toate timpurile in UK.
"List of the Lost" poate fi pre-comandata online si calca pe urmele "Autobiography". La doar cateva saptamani de la anuntare, este deja numarul 1 in topul Amazon UK al celor mai bine vandute carti la sectiunea Gothic Romance (categorie la care au tronat, de-a lungul timpului, carti precum Jane Eyre de Charlotte Bronte sau Rebecca de Daphne du Maurier).
Fostul solist The Smiths, care n-a vrut sa dezvalui prea multe, se declara "fie prea anxios ca sa se bucure, fie prea incantat ca sa aiba emotii". "List of the Lost" va fi initial disponibila in librariile din Marea Britanie, Irlanda, Australia, India, Noua Zeelanda si Africa de Sud si este distribuita de editura Penguin Books.
"Feriti-va de autor… intim si indiscret… cu aere profetice pompoase… aici este adevarul din fictiune… o poveste americana unde, fireste, raul invinge binele, si nimeni nu traieste fericit pana la adanci batraneti. Nimic nu poate fi niciodata suficient din cauza complicatelor zbuciumuri ale experientelor lipsite de sens ale oamenilor in carne si oase. Cand citesti o carte, iti lasi radacinile sa se scufunde. "List of the Lost" este realitatea despre adevarata lupta impotriva a ce e lasat sa fie adevarat." spune autorul.
Puternic influentat de monstri sacri precum Oscar Wilde sau Johann Wolfgang Goethe, dar si un fan inrait al muzicii pop si al marelui ecran, Morrissey a prins microbul scrisului la o varsta foarte frageda. La doar 20 de ani i se publica biografia lui James Dean, "James Dean nu este mort". David Bowie, Ray Davies si Marc Bolan se numara printre idolii sai muzicali.
In functie de distanta fata de scena, biletele costa 120, 145, 190, 220 si 260 lei. Cele mai scumpe bilete, din fata scenei, sunt aproape integral vandute. Se pot cumpara online pe eventim.ro sau prin reteaua Eventim (magazinele Germanos, Vodafone, Orange, Domo, librariile Humanitas, librariile Carturesti, hipermarketurile Carrefour si benzinariile OMV). Biletele pot fi achizitionate si in doua rate lunare, doar prin CardAvantaj, la sediul Eventim din str. Polona, nr. 15.