Acum vreo două săptămâni compania United Airlines apărea în atenția internetului când interzicea accesul în avion a două adolescente, pentru că purtau colanți. Lumea a râs, s-a enervat, a făcut mișto câteva zile și apoi a uitat. 
Nu știm dacă la fel se va întâmpla și cu noua criză de imagine a companiei, după ce un video în care un client era târât afară din avion a dat înconjurul rețelelor sociale:
Postăm, de asemenea, și video-ul de la New York Times, pentru că dă mai bine alături de declarațiile purtatorului de cuvânt al companiei:
Clientul avea bilet, doar că zborul fusese suprarezervat, iar compania avea nevoie de patru locuri, pentru angajaţii săi. Au fost aleşi patru oameni cărora li s-a spus că trebuie să părăsească aeronava, dar unul dintre ei, un doctor, nu a vrut să coboare. Așa că s-a lăsat cu sânge, la propriu. 
#flythefriendlyskies @united no words. This poor man!! pic.twitter.com/rn0rbeckwT

— Kaylyn Davis (@kaylyn_davis) April 10, 2017
De altfel, bărbatul strigă la un moment dat: "Vă rog să mă omorâți!".
Client service- next level. Clientul, un medic, care, la capatul cursei, trebuia sa fie la spital pentru niste pacienti. Ar mai fi de remarcat si ca pasagerii stiu cu totii ca daca intervin, politia va raspunde cu forta, la fel si in cazul lor. Power to the forgotten America, yeah, right. What a mess, comentează Crenguța Roșu pe Facebook.
Asta o sa fie una dintre cele mai nasoale crize de pr din 2017, daca nu cea mai! in-cre-di-bil!, spune Ruxandra Predescu.
Pe Reddit găsim o nouă fotografie cu clienții United dați afară din avion: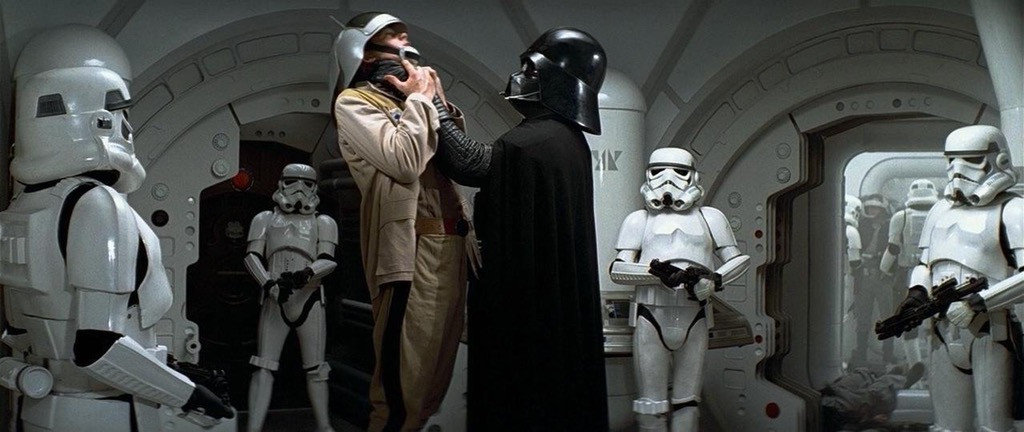 [UPDATE] #neverforget afacerea Pepsi+Kendall:
Cei de pe Twitter strigă: Boicot! Mai exact, #BoycottUnited:
Congrats United, you now have all the volunteers you could ever want giving up their seats on your flights.#BoycottUnited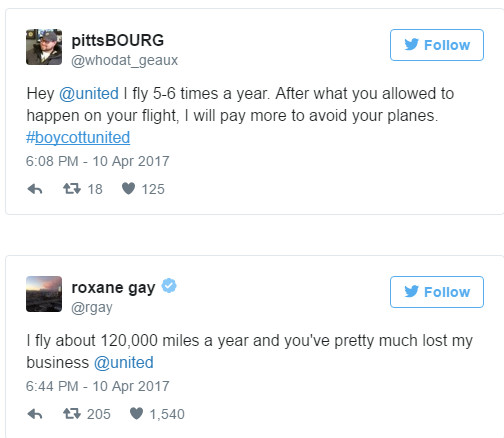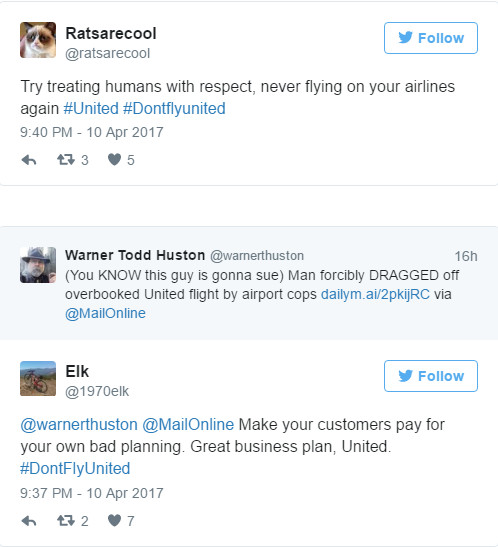 Iar declarația CEO-ului companiei nu a făcut decât să enerveze și mai rău. Iar de la Ruxandra Predescu aflam ca Oscar Munoz a fost numit Comunicatorul Anului 2017 de catre PR Week in luna martie; ca sa vezi ironie.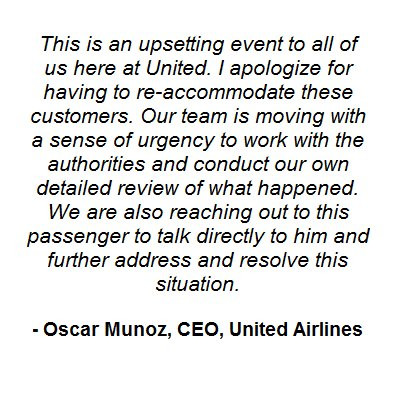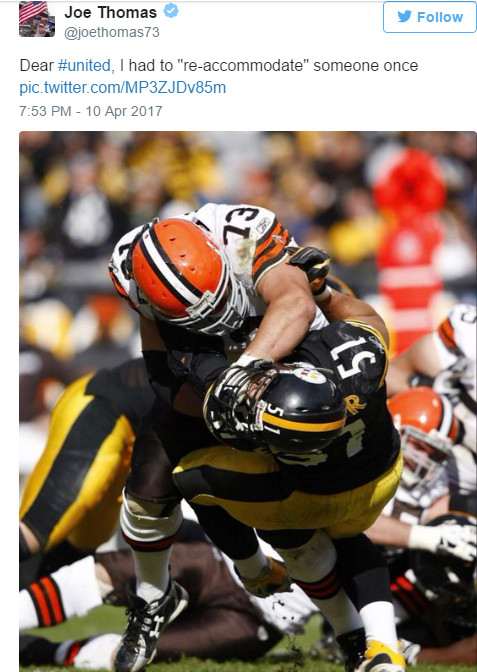 De unde și noul slogan: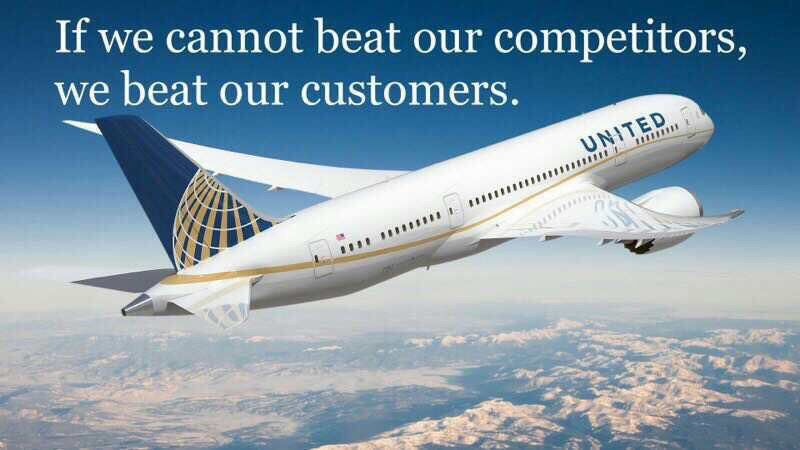 Sau toate celelalte, de găsit prin hashtag-ul #newunitedairlinesmottos:
"Where the customer is never right...just beaten." #NewUnitedAirlinesMottos

— Gregory Pizarro Jr. (@gregpizarrojr) 11 aprilie 2017
Getting ready to fly @united #NewUnitedAirlinesMottos pic.twitter.com/8CNxPJ2EEK

— Henners (@henry_shaw) 11 aprilie 2017
#NewUnitedAirlinesMottos though our prices are unbeatable, we can't say the same for our passengers

— alana (@alanamarks022) 11 aprilie 2017
Inimioare de la Southwest Airlines: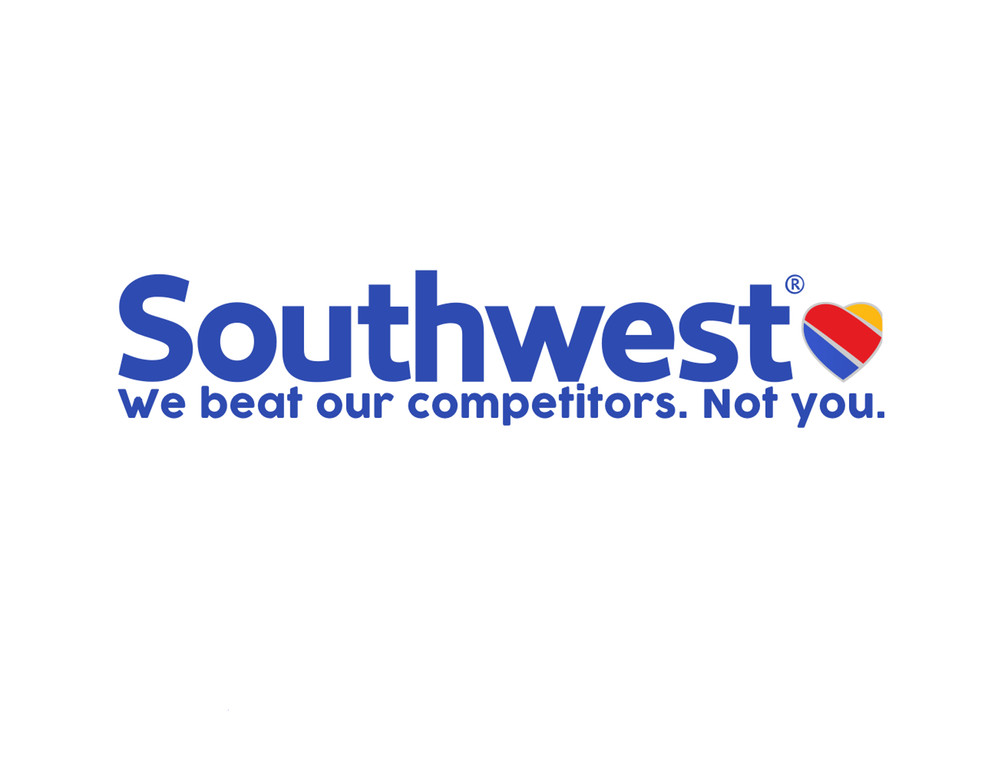 Rocky Balboa încă mai are ceva de zis:
#NewUnitedAirlinesMottos officially my favourite pic.twitter.com/2ziVOJ0NBC

— kris peck (@krispeck) 11 aprilie 2017
Promoție la pumni în față: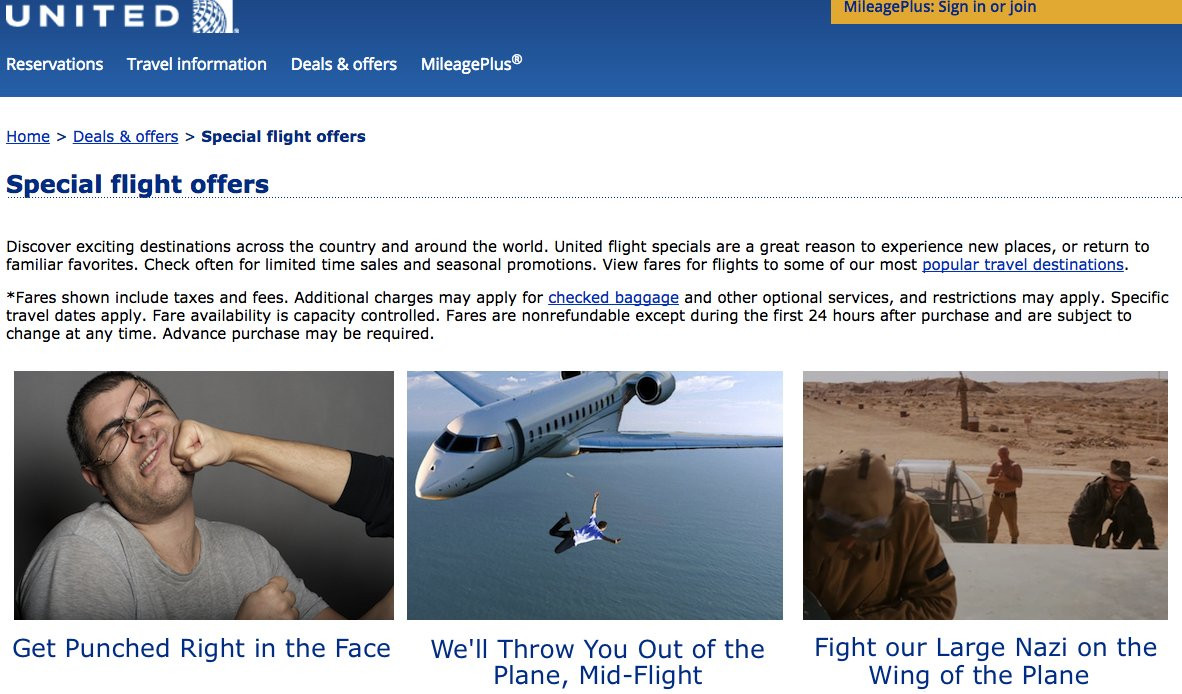 Nu vorbi despre Fight Club, că te bat.

Spuma departamentului de relații cu clienții: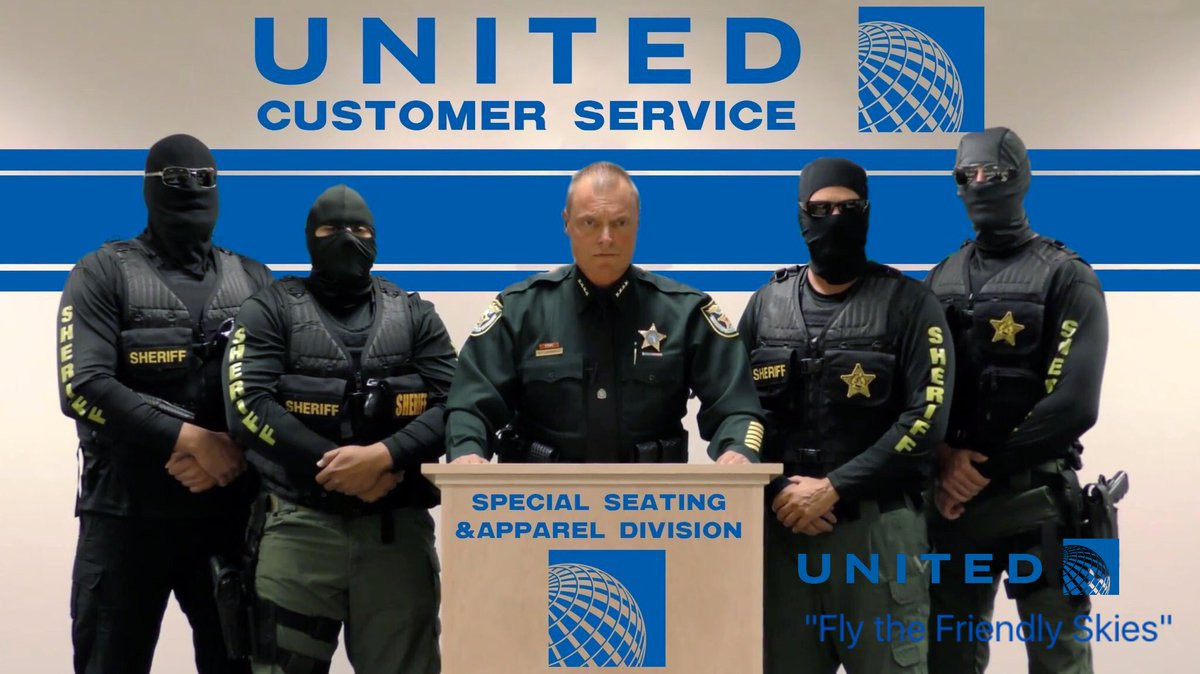 Drag'n'drop în offline:
Bad timing on your app update, @united! pic.twitter.com/uA0O7vSo5D

— Nick Nicotera (@NickNicotera) 11 aprilie 2017
[UPDATE] Daca pe 10 aprilie, Fortune scria că boicotul și criza de imagine nu au afectat acțiunile la bursă ale companiei și nici părerea investitorilor, un update ulterior precizeaza ca actiunile companiei au scazut ieri cu pana la 6.3%.