Conferința PRbeta, singurul eveniment din vestul țării dedicat comunicării și relațiilor publice, ajunge, în acest an, la ediția a 7-a. În 17 și 18 mai 2017, la Casa Adam Müller Guttenbrun, comunitatea specialiștilor în relații publice, marketing, publicitate și alte domenii conexe, va discuta despre etică și bun simț în comunicare, cu accente pe bune practici și cunoștințe esențiale celor care vor să își îmbunătățească abilitățile de comunicare.
"Cei șapte ani de acasă sunt necesari, indiferent că vorbim despre relații publice sau alt domeniu. Conduita și eticheta reprezintă fundația pe care se clădește relația comunicatorilor cu media, clienții și publicul țintă. Este esențial să ținem cont de etica profesională și să abordăm comunicarea cu bun simț, dacă ne dorim rezultate pe termen lung și relații stabile cu colaboratorii noștri.

De aceea, am ales ca a 7-a ediție a Conferinței PRbeta să abordeze o temă mai sensibilă, dar esențială tuturor celor care activează în domeniu, fie că au o experiență vastă sau se află la început de drum.", detaliază Cristina Puțan, Managing Partner PRbeta Agency.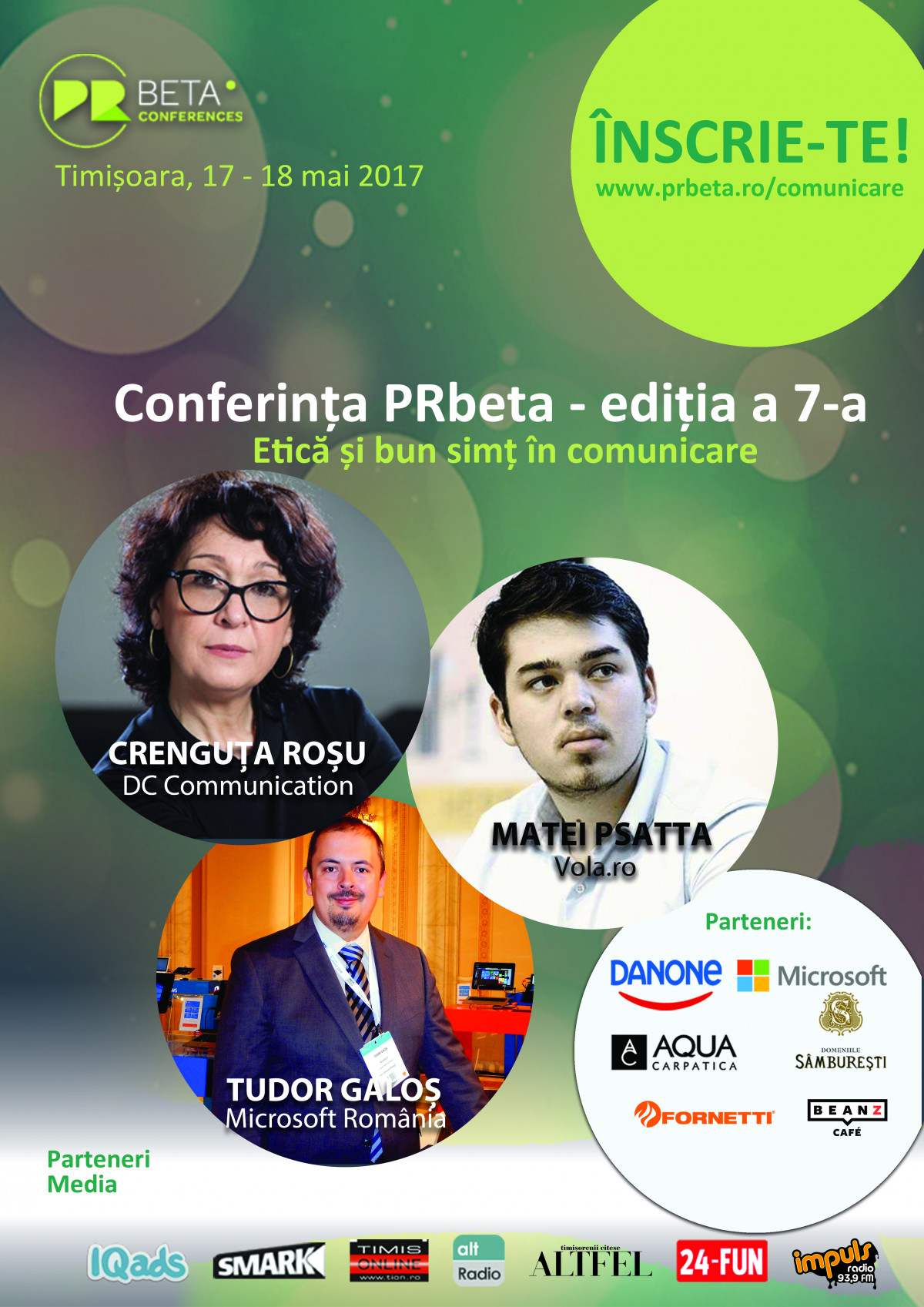 Evenimentul păstrează structura deja cunoscută, prima zi fiind dedicată conferinței, iar cea de-a doua zi, workshop-urilor. În prima zi a evenimentul vor vorbi Mirela Pitu (Pi2 PR), Matei Psatta (Vola.ro), Andrei Cismaru (BeanZ Café), Tudor Galoș (Microsoft România),  Monica Jitariuc (MSLGROUP The Practice), Crenguța Roșu (DC Communication), Alex Ciucă (Superior Media) și alți specialiști în domeniu, pe care organizatorii îi vor anunța în săptămânile următoare.
Cea de-a doua zi a Conferinței PRbeta este dedicată celor care doresc să aprofundeze noțiunile de comunicare, prin workshop-uri susținute de: Alex Ciucă - Social Media; Tudor Galoș - Comunicarea valorilor și evitarea dublului standard; Crenguța Roșu  - Atelier de criză și Oana Bulexa, Managing Director MSLGROUP The Practice - Personal Branding. Participanții vor avea ocazia de a experimenta noi tehnici de comunicare, de a pune în practică noțiuni proaspăt acumulate și de a pleca acasă cu noi metode de a comunica eficient serviciile și produsele pe care le comercializează. Fiecare workshop are 20 de locuri disponibile.
Detalii despre bilete și înscrieri, se găsesc pe site-ul evenimentului. 
Parteneri: Danone, Microsoft România, Aqua Carpatica, Sâmburești, Fornetti.
Partener de ospitalitate: BeanZ Café.
Parteneri media: IQads, SMARK, 24 FUN, Radio Impuls, TION.ro, Alt Radio.