A 8-a ediție a celui mai mare eveniment în aer liber dedicat societății civile din România, ONGFest – Festivalul Național al Organizațiilor Neguvernamentale, va avea loc sâmbătă, 1 iulie, la Cluj-Napoca, pe strada Potaissa. Peste 40 de organizații neguvernamentale din Transilvania și nu numai s-au înscris deja și sunt gata să se întâlnească cu publicul larg organizând peste 50 activități, dezbateri, demonstrații, concerte sau ateliere.
Tema acestui an, Civic Break, invocă spiritul civic al fiecărui ONG şi cetățean și îi invită într-o aventură printre cauzele prezente în cadrul festivalului. Ca într-un city break, vizitatorii vor ieşi din rutina zilnică şi vor avea ocazia să descopere cum au construit ONG-urile o Românie mai bună.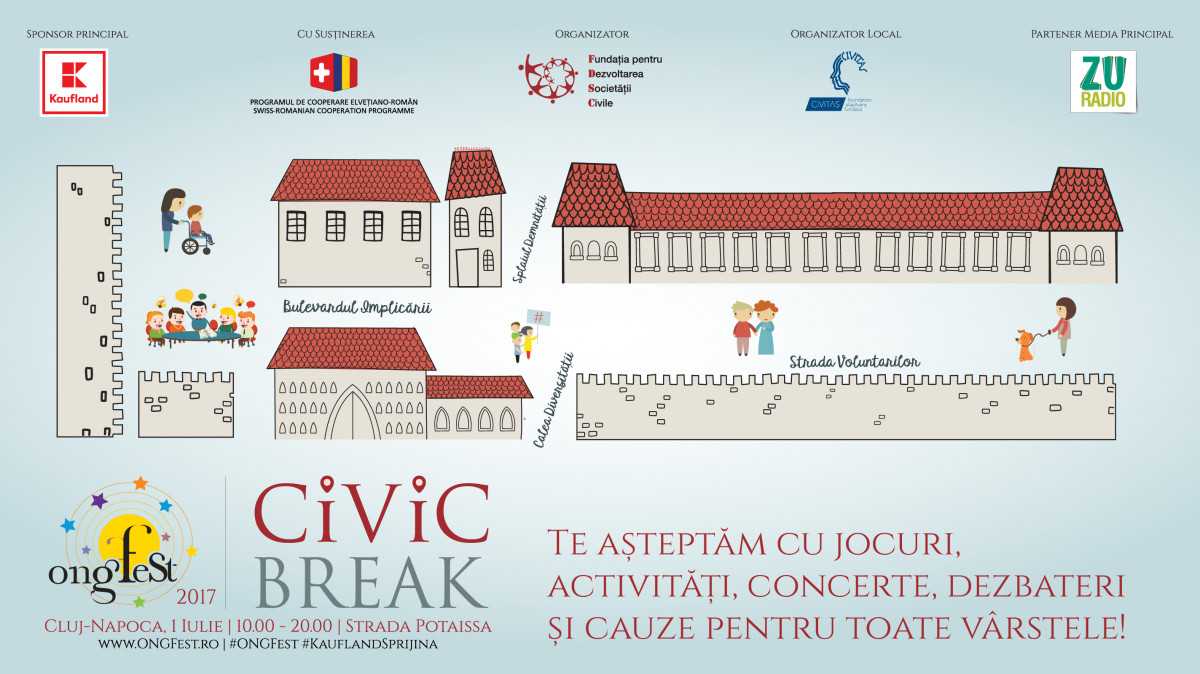 Practic, cetățenii de toate vârstele sunt invitați să petreacă o zi întreagă alături de organizații, să le cunoască mai bine și să afle cum se pot implica pentru o societate mai bună, într-un cadru informal plăcut și prietenos. Clujul este a treia oprire a Civic Break-ului organizat de ONGFest, cu sprijinul Kaufland România. Caravana a fost deja în București și la Iași.
Ziua, organizată ca o sărbătoare a societății civile, include ateliere de tot felul pentru copii și adulți (pictură, face-painting, țesut și croșetat, realizare de semne de carte, gastronomie sănătoasă etc.), dar și dezbateri, tururi ghidate gratuite prin centrul vechi, teatru senzorial de tip labirint, spectacole comunitare și concerte. Pe strada Potaissa seara se va încheia pe ritmuri de blues alături de trupa Straight From The Bottle. Programul complet al zilei este disponibil pe ongfest.ro. În plus, cei care doresc să ajungă la eveniment, o pot face gratuit, cu Uber, dacă introduc codul "ONGFest".
Atmosfera de vacanță civică va include premii și amintiri pe care Kaufland România le-a pregătit tuturor vizitatorilor din aventura Civic Break. Odată ajunși pe Strada Potaissa, participanții pot primi unul dintre cele 1000 de premii oferite de Kaufland România. Tot ce trebuie să facă este să accepte provocarea unei călătorii culinare.
ONGFest 2017 este organizat de către Fundația pentru Dezvoltarea Societății Civile (FDSC), alături de partenerul său local, Fundația Civitas pentru Societatea Civilă, cu susținerea Programului de Cooperare Elvețiano-Român. Sponsorul principal al evenimentului este Kaufland România.
Parteneri: Reprezentanța Comisiei Europene în România, Primăria Municipiului Cluj-Napoca, Tarom, Casa Municipală de Cultură Cluj-Napoca, Daisler Print House, Ema, H33
Partener media principal: Radio ZU
Parteneri media: Agerpres, Discovery Channel Romania, Revista Biz, 9 AM, Garbo, IQads, Știri ONG, Zile și Nopți, Gala Societății Civile, CSR media, Think Outside the Box, SMARK, România Pozitivă, HR Club, Blogunteer.ro, Monitorul de Cluj, Transindex, Actual de Cluj, Clujul Cultural, Cluj.com, ClujLife, Cluj24.