Un pic peste o lună de zile ne mai desparte de conferința și festivalul The Power of Storytelling, supranumite "Crăciunul din octombrie" al povestitorilor din industriile creative. Anul acesta gazdele DoR și Lateral aduc pe scenă jurnaliști care au câștigat premii Pulitzer pentru investigații îndrăznețe, psihiatri care vindecă orașe, doctori care-și tratează pacienții folosind povești și inovatori media care prezintă subiecte de interes public prin intermediul realității virtuale (VR).
A șaptea ediție The Power of Storytelling vine cu o temă relevantă – Closer – și cu un nou format, iar săptămâna aceasta organizatorii au publicat și programul evenimentelor.
The Power of Storytelling este o conferință despre puterea poveștilor de a vindeca și apropia oamenii, indiferent dacă le spunem în presă, social media, artă, antreprenoriat sau ONG-uri. Iar 2017 e un an important pentru povești. Lumile noastre sunt afectate de turbulențe, ne pândesc războaie la tot pasul, suntem temători, agresivi și divizați. Cele mai multe povești din ziua de azi sunt despre haos, teamă și schimbări nedorite. Însă poveștile bune pot crea o punte de comunicare și ne pot da o misiune comună. De aceea, tema acestui an este Closer – vorbitorii de la The Power of Storytelling ne vor împărtăși cum gestionează realitățile tulburătoare care ne înconjoară, de la migrație, la dezinformări, zone de conflict și naționalism în creștere. Ne vor explica cum le putem da o voce celor care nu sunt auziți și cum ne putem reafirma umanitatea prin povești.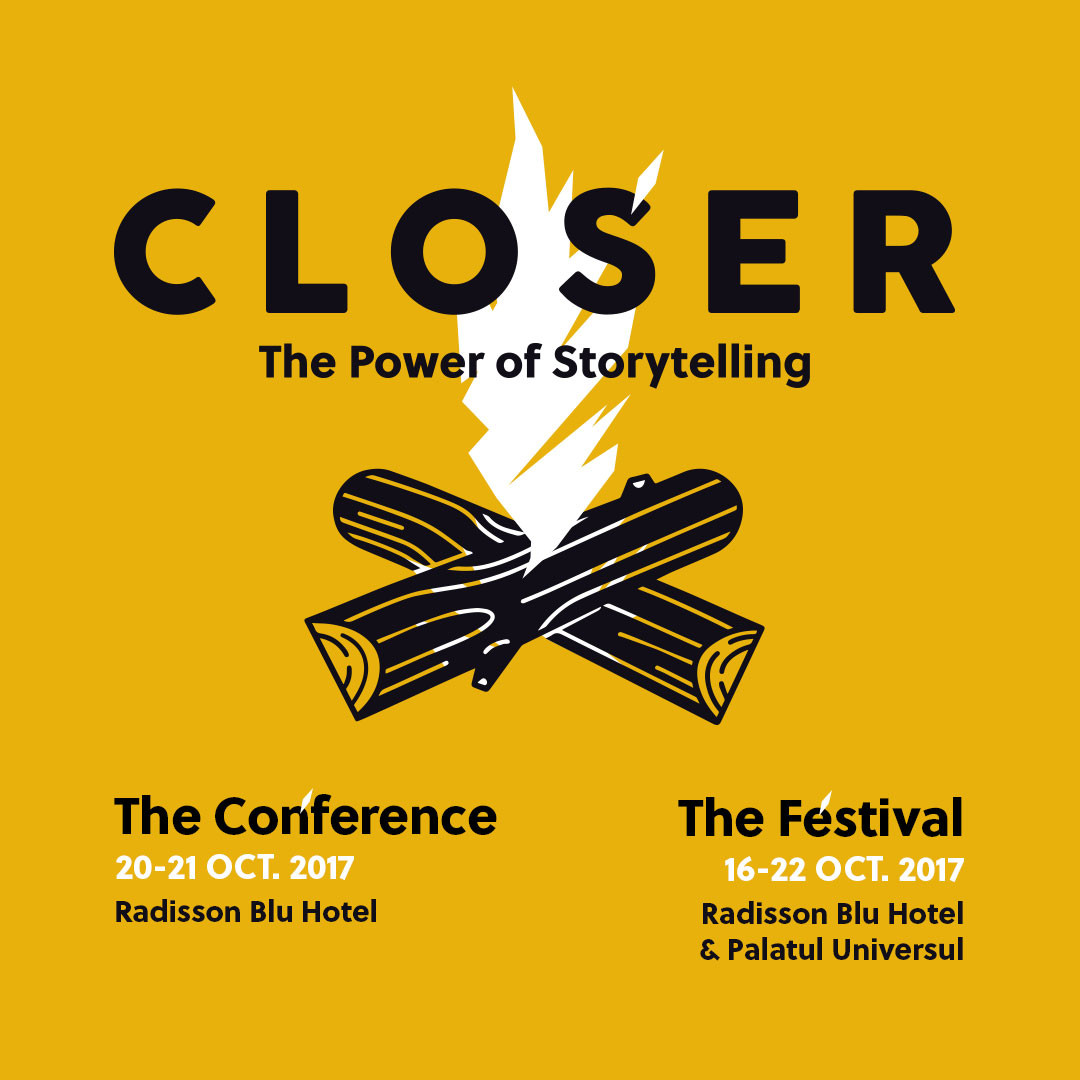 Printre aceștia sunt fotojurnaliști renumiți ca Finbarr O'Reilly (câștigător al World Press Photo în 2006) sau Elie Gardner (finalistă la Premiul Pulitzer în 2009), jurnaliști premiați ca Sarah Stillman (The New Yorker), Nikole Hannah-Jones (The New York Times Magazine), Tom French (câștigătorul unui premiu Pulitzer) sau psihiatri inovatori ca Mindy Fullilove, care vindecă orașe lucrând cu comunitățile din acestea.
Totodată, pe lângă conferința principală (20-21 octombrie) cu care și-a obișnuit participanții, The Power of Storytelling organizează anul acesta o sumedenie de evenimente conexe care fie vor implica anumiți vorbitori, fie vor avea legătură cu tema Closer. Aceste sesiuni sunt adunate sub umbrela The Festival (15-22 octombrie), o săptămână de evenimente cu și despre povești bine spuse. Printre acestea se numără:
O prezentare despre cum să faci un podcast împreună cu Pat Walters de la Gimlet Media. Pat va arăta echipamentele de bază și va explica diferitele tipuri de podcasturi, cum intervievezi pe cineva pentru radio, cum alegi bucățile bune de pe bandă, cum scrii un scenariu și cum editezi.
O sesiune show&tell despre cum să faci poze mai bune cu telefonul, alături de fotojurnalista Elie Gardner.
Proiecția unor documentare scurte de realitate virtuală (VR) ale The New York Times și o discuție cu Jenna Pirog, editorul VR al publicației, la VR Cinema în București.
Proiecția Under Fire: Journalists in Combat, un documentar câștigător de Peabody în care apare și fotoreporterul Finbarr O'Reilly. Filmul va fi urmat de un Q&A cu Finbarr.