Studentii pasionati de comunicare, marketing, digital, tech si domeniile conexe sunt invitati sa reinventeze experienta viitorului in saloanele de ingrijire. Misiunea le poate aduce premii in valoare totala de 30.000 de euro, in cadrul editiei 2018 a Competitiei Internationale de Business derulate de L'Oreal, Brandstorm.
"Brandstorm este o competitie ce se adreseaza studentilor si masteranzilor din orice universitate, an sau profil si le permite sa isi puna in valoare ideile inovatoare, in timp ce merg un pas mai departe si experimenteaza viata unui angajat L'Oreal. In fiecare an, studentii primesc o misiune diferita, insa numitorul comun este acelasi: tema le permite sa inoveze, sa provoace starea de fapt a lucrurilor, sa propuna solutii noi. Mai mult, cu ajutorul datelor de business furnizate de companie, pot face o punte intre notiunile teoretice si experienta practica. Desigur, nu este de neglijat nici provocarea de a iti prezenta ideea in fata unui juriu international, la Paris", a declarat Andreea Pavel (coordonatorul proiectului Brandstorm in cadrul L'Oreal Romania).
In fiecare an, Brandstorm se asociaza cu un brand sau cu o divizie din cadrul L'Oreal care ofera, totodata, si misiunea competitiei. Tema editiei de anul acesta, "Invent the professional salon experience of the future", le da participantilor ocazia sa devina adevarati lideri ai inovatiei, sa lucreze cu specialistii L'Oreal si sa capete experienta profesionala care sa le serveasca in cariera.
Pentru a participa, studentii trebuie sa se inscrie online pe brandstorm.loreal.com. Apoi, in echipe de cate trei, isi pot alege unul sau mai multe dintre brandurile diviziei de Produse Profesionale din portofoliul local sau international pe care sa isi construiasca ideea. Dupa inscriere, vor avea acces la date reale de business (informatii despre divizie, piata de produse profesionale, comportamentul consumatorului, responsabilitate sociala), coaching din partea specialistilor L'Oreal, mentoring academic si training-uri disponibile pe tot parcursul competitiei.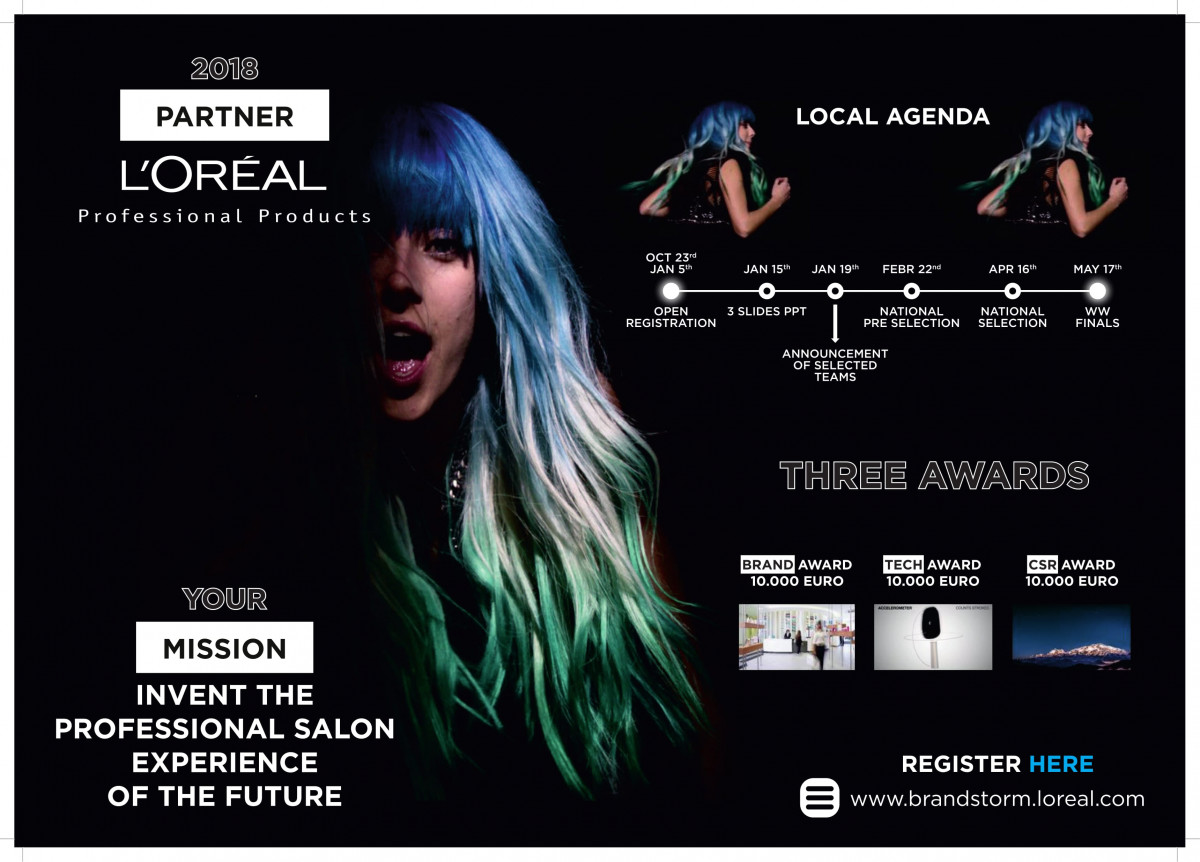 "Participarea la Brandstorm a fost ocazia perfecta sa ne dezvoltam networking-ul la nivel international, sa cunoastem mai bine compania, mediul de lucru si oamenii. Tocmai de aceea, dupa finalizarea competitiei am aplicat pentru un internship in cadrul companiei", a declarat Vlad Nicoara, Finalist al editiei Nationale a Brandstorm 2017. "Experienta este una inedita, trebuie sa te asiguri inca de la inceput ca ai ideile si strategia foarte clare in minte. De asemenea, nu trebuie sa uitam de partea de cercetare ce trebuie facuta inainte de a incepe lucrul efectiv la proiect. Brandstorm te poate dezvolta pe mai multe planuri, tot ce trebuie sa faci este sa te implici si sa dai tot ce ai mai bun pentru a castiga", a completat Sergiu Ropota, de asemenea Finalist al editiei Nationale a Brandstorm 2017.
In cadrul competitiei vor fi patru etape de selectie importante: Prezentarea initiala, Semi-finala Nationala, Finala Nationala si Finala Internationala de la Paris.
L'Oreal BRANDSTORM 2018 este un business game dedicat pasionatilor de comunicare, marketing, digital, tech si nu numai, organizat inca din 1992, iar in Romania este al cincilea an consecutiv cand aceasta competitie are loc. La fiecare editie, tara noastra a fost reprezentata de o echipa in finala internationala de la Paris.