PRIME România dă startul înscrierilor pentru cea de-a XV-a ediție a Congresului Național al Studenților la Comunicare (CNSC). Tema de anul acesta este Botvertising, iar evenimentul va avea loc în perioada 19-20 aprilie 2018, la Institutul Bancar Român (Strada Negru Vodă 3). 
Congresul este alcătuit dintr-o serie de conferințe care au ca scop prezentarea unor informații esențiale despre Botvertising. Conferințele vor fi completate de studii de caz menite să exemplifice strategiile construite și implementate de branduri și companii. Workshopurile tematice constituie o altă componentă importantă a evenimentului. Acestea îi vor ajuta pe participanți să pună în aplicare conceptele teoretice abordate în timpul conferințelor.
Botvertising reprezintă fuziunea dintre Chatbots și Advertising. Chatbots reprezintă o tehnologie avansată care permite oamenilor să mențină o conversație cu o entitate digitală. Aceștia sunt de două feluri: chatbots cu mesaje predefinite care funcționează doar asupra unor comenzi limitate și chatbots care au la bază inteligența artificială și sunt capabili de a susține conversații cât mai elaborate și chiar să își dezvolte propriul limbaj și bagaj de cunoștințe.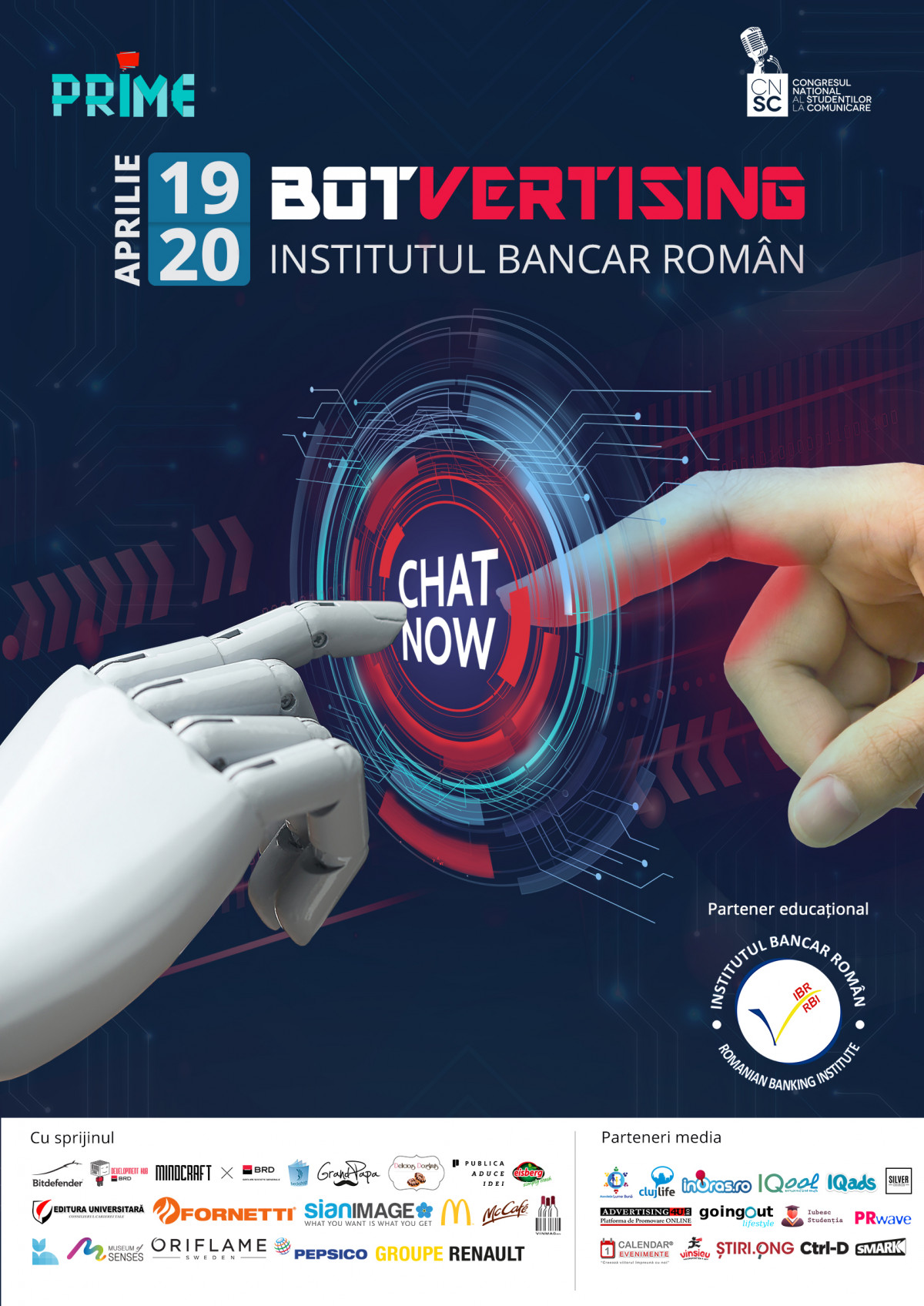 Prima conferință, Botvertising 101, va avea loc pe 19 aprilie, de la ora 10:00 și va debuta cu prezentarea conceptului. În cadrul acestei conferințe, participanții au oportunitatea de a afla cum se delimitează o entitate digitală de un robot propriu-zis și, de asemenea, vor fi prezentați factorii care au dus la apariția chatboților, dar și modul în care au evoluat aceștia.
Prima zi va continua cu Botbusters!, conferință ce se va desfășura începând cu ora 13:15 și va sublinia importanța chatboților în Social Media, Marketing și Advertising, va aduce în discuție brandurile și noile experiențe oferite consumatorilor și totodata, va reliefa avantajele și dezavantajele unui chatbot și va prezenta evoluția chatboților în spațiul românesc.
Cea de-a doua zi, 20 aprilie, va începe la ora 10:00 cu Me vs Mr. Bot, conferință prin intermediul căreia vor fi analizate problemele etice, sociale și morale din jurul inteligenței artificiale. Posibilitatea existenței unei empatii digitale, transformarea unui chatbot în asistent personal cu ,,normă întreagă", dar și atingerea unei creativități automatizate sunt doar câteva dintre subiectele abordate în cadrul acestei conferințe.
CNSC-ul va încheia anul acesta cu Digital Bots: From Fantasy to the Future. Cea de-a patra conferință va surprinde modul în care poate fi utilizată inteligența artificială în domeniul bancar și importanța introducerii chatboților în banking advertising. De asemenea, vor fi ilustrate și dezbătute subiecte precum: bătălia brandurilor în domeniul tehnologiei  și (r)evoluția chatbots.
Pe parcursul celor două zile de Congres, începând cu ora 16:00, vor avea loc workshopuri simultane susținute de către agenții de publicitate și companii. Workshopurile reprezintă un element fundamental al CNSC-ului, oferind participanților șansa de a lua parte la crearea unor campanii sub îndrumarea atentă a specialiștilor din domeniu.
Înscrierile la eveniment se realizează pe site-ul CNSC, la secțiunea Ia-ți bilet, sau prin transmiterea unui mail.
CNSC este susținut de partenerii: Groupe Renault, BRD - Groupe Société Générale, BRD - Mindcraft, PepsiCo, Bitdefender, McDonald's, Fornetti, Eisberg, Grand Papa, Editura Universitară, Editura C. H. Beck, Editura Publica, Sian Image, Oriflame, Vinmag, Museum of Senses, Delicious Doughnuts, Maudeco și partenerii media: IQool, IQads, Advertising4U, PRwave, Stiri.ong, IubescStudentia, GoingOut, VinSiEu, Ctrl-D, Smark, The Institute, InOras.ro, Clujlife, Refresh.ro, asociațialumeabuna.com, calendarevenimente.ro.
Partener educațional: Institutul Bancar Român.