Nu există un moment mai bun pentru a ne reiventa decât acum. Cu atât de multă informație la dispoziția noastră, este mai ușor să ne adaptăm strategiile de conținut la lumea de azi. De aceea, ContentDays #2 – FUEL TO REINVENT aduce inspirație direct pe ecranele de acasă pe 25 iunie, începând cu 15:30.
Cea de-a doua ediție se va desfășura în compania unei noi serii de experți internaționali în marketing, aflați pentru prima oară la o conferință dedicată publicului din România. Noi le zicem Liga 1 de Conținut, dar ei își zic: 
- Amy Woods – Fondator @Content10x
- Irene Michl – Content Strategist
- Seeda Ahmad Kreuzer – Fondator @Avantgarde Content Creation & Avantgarde Social Media
- Alenka Bester – Head of Digital Content Marketing @Zavarovalnica Triglav
- Koen Denolf – Managing Partner @The Fat Lady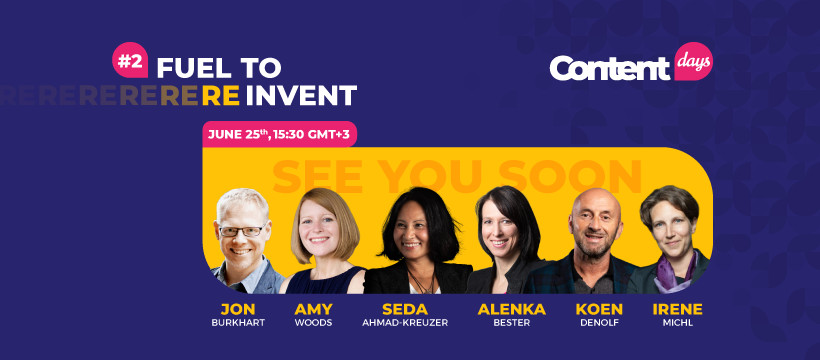 Pe parcursul după-amiezii în care se va desfășura conferința vom descoperi cum putem să ne folosim eficient de conținutul deja creat prin reinventarea lui într-un nou context, cum să aducem mai multă notorientate prin strategii consistente, dar și prin monitorizarea știrilor din social media și cum să regândim modul în care dezvoltăm conținutul pentru site-uri.
În plus, Jon Burkhart, content strategist și speaker cu multe premii la activ, ne va însoți din nou ca ghid și moderator în cadrul celei de-a doua ediții ContentDays. El revine alături de noi după prima ediție, care a adunat 350+ participanți pentru un livestreaming de 4 ore. Și, în linie cu tema pe care ne-am propus-o pentru cea de-a doua ediție, vom reînnoi de asemenea anumite aspecte ale conferinței, astfel încât și mai mulți pasionați de conținut să se poată bucura de ediția #2.
Un lucru va rămâne, însă, la fel: participarea la cea de-a doua ediție va fi în continuare gratuită, așa că ușile noastre digitale sunt deschise tuturor celor interesați.
"Când am luat decizia de a deveni noii părinți ai WeContent Conference, eram foarte dedicați spriinirii acestei platforme extraordinare de împărtășire de cunoștințe în cadrul comunității de marketing. Și, desi 2020 a adus provocări neprevăzute, angajamentul nostru de la bun început nu s-a schimbat. De aceea am făcut tranziția către un format prietenos pentru distanțarea social, un eveniment satelit gratuity și deschis tuturor.", Al Kamara (CEO @Wave Division).