Din dorința de a încuraja expresia artistică a creatorilor români, indiferent de vârsta sau ocupația acestora, Lights On Romania, împreună cu Betfair Romania Development, organizează competiția de eseuri "Lights on Words".
Tema pe care trebuie s-o ilustreze cei interesați să se înscrie în competiție este "Lucrurile pe care le-am regăsit în pandemie". Eseul trebuie să aibă maximum 500 de cuvinte și poate fi trimis până în data de 6 decembrie 2020, prin intermediul formularului pus la dispoziție pe pagina dedicată.
Toate eseurile vor fi citite de juriul special al concursului, iar cel mai bun dintre ele va primi premiul de 500 de Euro. Alte două mențiuni speciale vor fi acordate, în valoare a câte 250 de Euro fiecare. Premiile și numele câștigătorilor vor fi anunțate în data de 15 decembrie 2020 pe paginile de Facebook ale organizatorilor.
"Dincolo de planuri și vise amânate, 2020 a fost un an în care fiecare dintre noi am redescoperit puterea optimismului, solidarității și empatiei. Lansăm acest concurs tocmai pentru a nu uita lecțiile importante pe care le-am trăit. Așternute pe hârtie, cuvintele prind forță și vrem să inspire speranță într-un viitor ce se anunță, deja, mult mai bun.", Ruxandra Tereanu, președinte Leadership Team, Betfair Romania Development.
"Lights On Words este menit să aline, cât de cât, starea cauzată de ceea ce se întâmplă și ceea ce nu se întâmplă acum în lume. Prin așezarea gândurilor pe hârtie, poate cei care se vor înscrie vor reuși să și le ordoneze în gând. Credem, așa cum credem că lumina vindecă, că scrisul eliberează. Și sperăm că lucrurile pe care le-am regăsit în pandemie sunt mai de preț decât cele pe care le-am pierdut și nu le-am găsit… încă.", Larisa Jitaru, PR & Comunicare Lights On Romania.
Vă amintim faptul că Lights On Romania este un festival de light-art organizat de Asociația Daisler a cărui a treia ediție, denumită Solitude Edition, se desfășoară în Cluj-Napoca între 27 noiembrie și 6 decembrie. Pe parcusul celor 10 zile, în spații publice deschise vor fi expuse instalații de lumină create atât de artiști locali, cât și de artiști internaționali, după cum urmează:
Museum of the Moon - Piațeta Jean Calvin (strada Mihail Kogălniceanu);
MI-E DOR DE TINE & ȘI MIE - podul Elisabeta;
Cerebrum - zona grupului statuar Școala Ardeleană (strada Mihail Kogălniceanu);
Tunelul - Bulevardul Eroilor (înspre Cinema Victoria);
Breathe - Parcul Central Simion Bărnuțiu, pe aleea de lângă clădirea Universității de Artă și Design, înspre Splaiul Independenței;
Social Sparkles - Parcul Central Simion Bărnuțiu, pe aleea de lângă clădirea Universității de Artă și Design;
Oumua - Bulevardul Eroilor;
TE AȘTEPT - clinica Ginecologie 1 din cadrul Spitalului Judeţean de Urgenţă Cluj.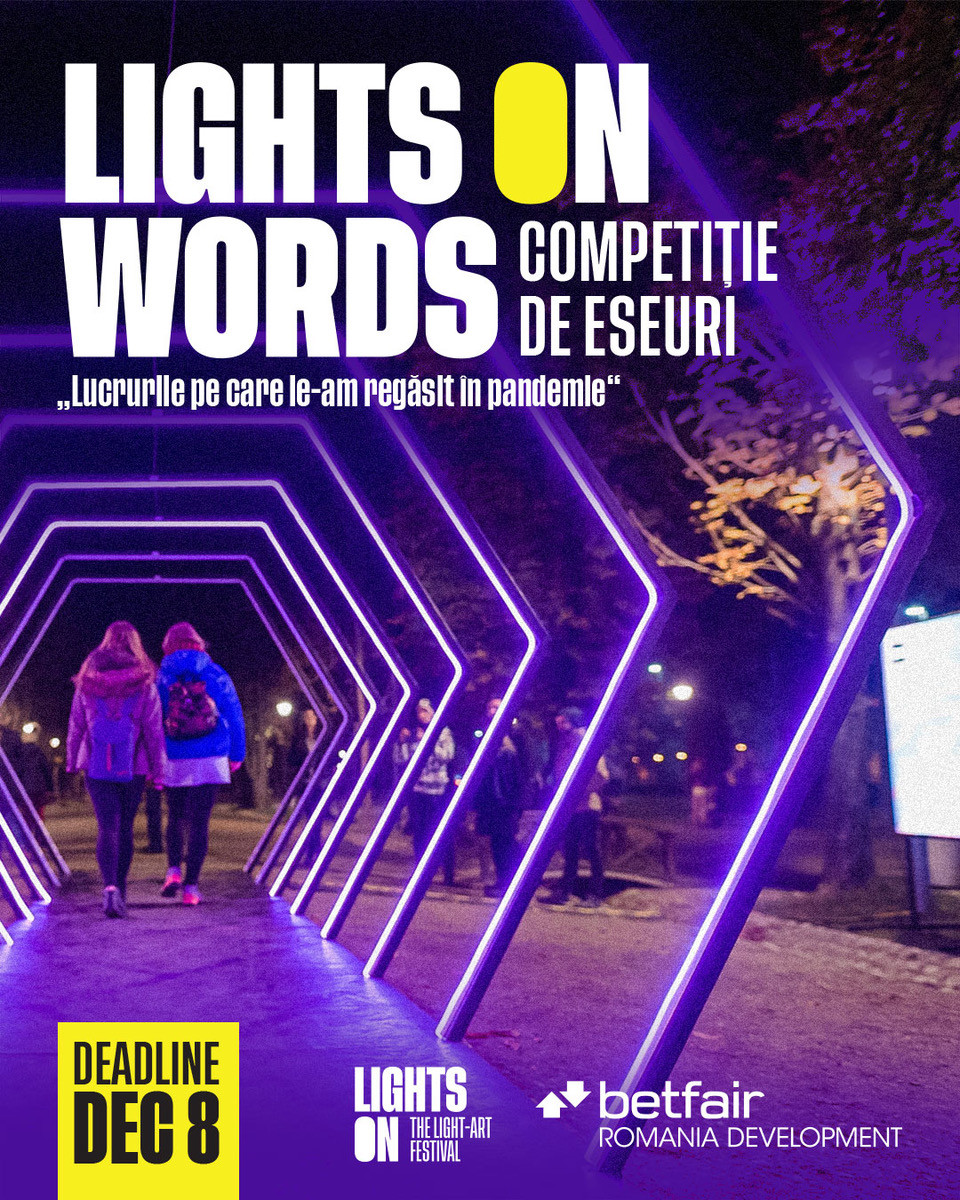 Betfair Romania Development este sponsor al festivalului și susține instalația de lumină Tunelul, care devine, în 2020, un loc al întâlnirilor imposibile. Un loc în care experimentăm singurătatea și faptul că nu putem fi alături de cei dragi. Permițând accesul prin fiecare capăt liber, Tunelul nu mai duce nicăieri, decât înspre propria persoană. Betfair ne invită să ne gândim la faptul că, deși pare că nu duce nicăieri (nici Tunelul, nici această perioadă), avem oportunitatea de a fi față în față cu noi înșine, și să nu uităm că lumina este parte vie permanentă a vieților noastre.