Distincția, obținută pentru prima dată în istoria de 148 de ani a rețelei FCB, vine în completarea titlului Adweek - "Agenția Globală a Anului 2020" și confirmă evoluția continuă, inovația și concentrarea constantă a rețelei asupra oamenilor și clienților săi, dar și asupra muncii creative pe care o realizează împreună.
FCB a câștigat la ediția curentă a Festivalului Cannes Lions 80 de premii, dintre care două Titanium, cinci Grand Prix, 15 Gold, 26 Silver și 32 Bronze Lions. De asemenea, FCB Health Network a primit titlul de rețeaua anului în domeniul medical.
"Realizările remarcabile ale FCB din acest an pot fi atribuite liderilor creativi care formează rețeaua noastră globală", a declarat Carter Murray, CEO FCB Worldwide.
Una dintre prioritățile de top ale lui Murray a fost crearea unui mediu în care oamenii talentați să poată progresa și crește.
"Această distincție incredibilă a reconfirmat succesul filosofiei FCB Never Finished și al scalei 456", a declarat Susan Credle, Global Chief Creative Officer FCB. "Și cel mai important, preocuparea și implicarea Consiliului Creativ Global (CCG) la nivelul întregii rețele de agenții deoarece, la fiecare doi ani, directorii noștri creativi se reunesc pentru a evalua și amplifica cele mai de succes proiecte din întreaga rețea globală."
Campania "Boards of Change", realizată de FCB Chicago pentru orașul Chicago și "Contract for Change", realizată de FCB Chicago / FCB New York pentru AB InBev au obținut în ultima zi a festivalului premiul Titanium - o distincție importantă acordată lucrărilor inovatoare, care deschid noi drumuri. "Boards of Change" a câștigat în total un număr impresionant de 14 lei, inclusiv un Grand Prix. "Contract for Change" a obținut 9 victorii importante în timpul festivalului, inclusiv apreciatul Grand Prix.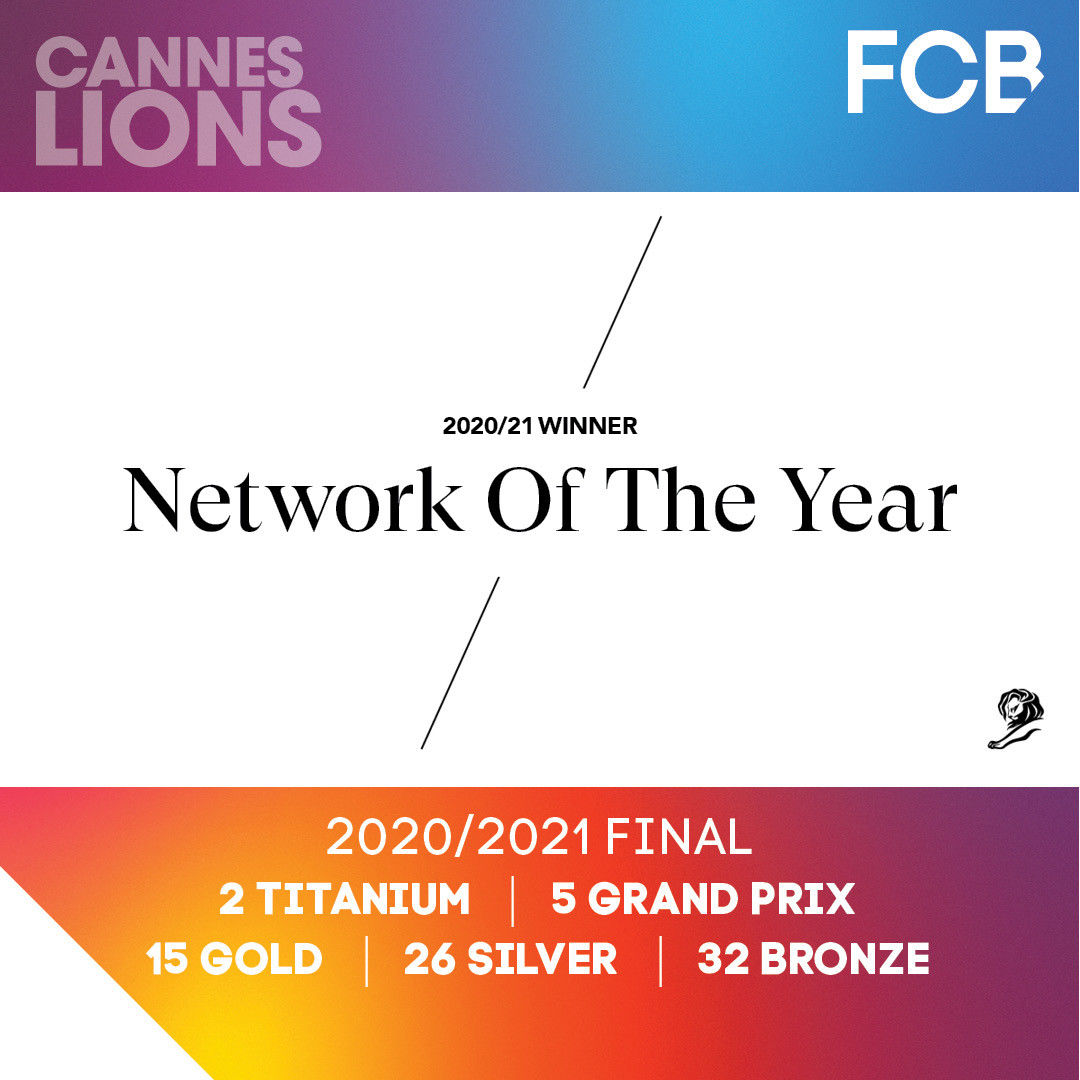 Alte rezultate remarcabile sunt plasarea FCB Chicago în top 3 pentru titlul de "Agenția Anului" și obținerea celor 24 de premii, urmate de FCB New York cu 18, FCB Canada cu 7, FCB Inferno cu 6, FCB Interface cu 7 și AREA 23, o companie a FCB Health Network, cu 11 lei, inclusiv două Grand Prix.