Ești pregătit să încerci noi experiențe Pop Culture?
Zile și Nopți, ediția de septembrie, a ieșit de la tipar, fiind tipărită în 156 de pagini, cu subiecte în exclusivitate din #muzică, #artă, #film,  #food&drink și #lifestyle. Din cuprinsul revistei vă recomandăm:
#MUZICĂ:
Cu nostalgie la discotecă, la cea mai mare discotecă... în aer liber;
Live is Life: de ce iubim muzica anilor '90?
Pop Star: Billie Ellish este "Happier Than Ever";
Vizita lui Paul Simon pe tărâm african;
Interviu: Mădălina Pavăl.
#ARTĂ:
Art Expo: Toamna expozițiilor de artă în Europa;
 Arta cinematografică: Istvan Szabo- "Muzica de operă şi opera cinematografică";
D.: Maeștri ai benzii desenate românești: Șerban Andreescu;
Performing arts: Sanja Latinovic;
Design: "Super September", luna design-ului în Europa;
 Artiști urbani: Lost.Optics;
Muzeul Pop Up: Art Safari 2021, o întâlnire unică, de neuitat, cu arta românească;
#FILM:
Toamna se numără… festivalurile de film;
Premierele lunii: "Shang-Chi și legenda celor zece inele" /"Lux Æterna" / "Otto Barbarul";
Documentar: România Sălbatică;
Dracula Film Festival: interviu cu Claudiu Bleonț;
Interviu cu Adrian Titieni;
Documentar: Interviu cu Ray Mears.
#FOOD&DRINK:
Mădălina Santa: Restaurantul – o nouă familie pentru un om singuratic;
Horia Ghibuțiu : Mămăliga ca delicatesă;
Gruia Dragomir: 5 locuri din țară unde mănânci o pizza bună;
Cosmin Dragomir: Elefantul din bucătăria noastră: fine-dining românesc;
Ștefan Chirițescu: Spumantul (îţi) face viaţa bună;
#LIFESTYLE:
Parfumul lunii septembrie: Fly Me To The Oud;
Spirits Award septembrie: Opihr Gin;
Editorial fashion. Alin Gălățescu:  The New MIX;
Design / Arhitectură: Conversia Uzinei de Apă, Suceava.
plus:
Retrospectivă: Cezara Dafinescu - "File din povestea unei actriţe încântătoare";
Pop-Up STORiEs: Designerii favoriți ai vedetelor anilor '80 ;
Povești de succes: Artesana: "Artizanii laptelui pur".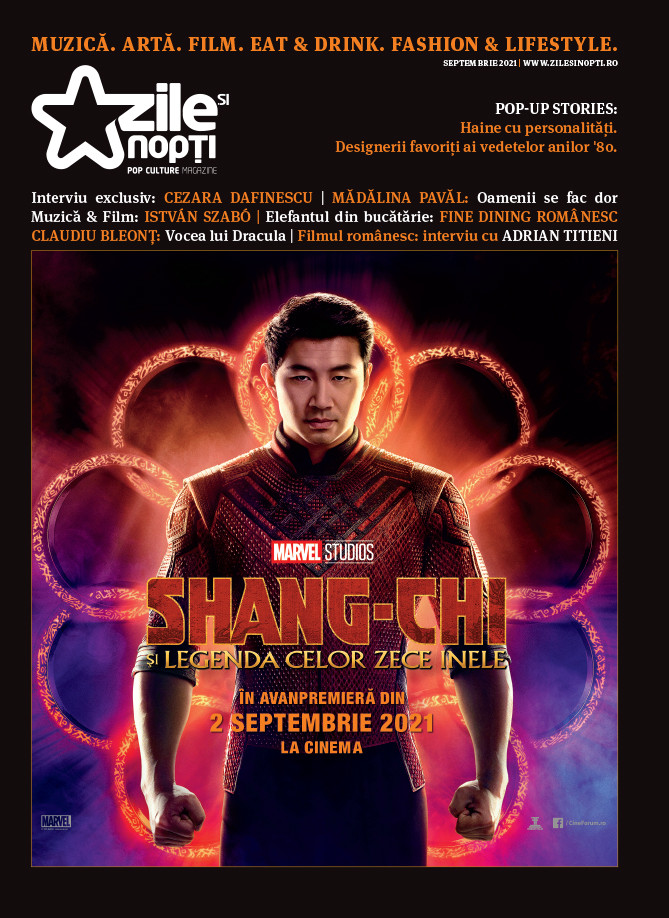 Răsfoiește revista ONLINE sau caută exemplarul tău gratuit prin oraș!
Zile și Nopți este o platformă de experiențe Pop Culture, cu apariții în print și online. Revista Zile și Nopți ediția de septembrie se distribuie gratuit în locații atent selecționate din București, Brașov, Cluj-Napoca, Iași, Timișoara, Sibiu și Oradea.