When the place you called home suddenly turns into a ruin, worry becomes the constant feeling that follows you no matter where you're going. This is the reality which the artist Oleksandra Ruth has been experiencing since the morning of February 24th. Uncertainty is the feeling she learned to navigate every day so that she can continue to create and help her people. Oleksandra worked in the advertising industry as a graphic designer, until she discovered the passion for sticker illustration. It was the creation of stickers that led her to the project Bombs and People. Artists against war, a charity exhibition hosted by the gallery Celula de Arta and Carol 53 which can be visited until April 2.
In the first days since the beginning of war, Oleksandra felt that she couldn't express herself creatively and she chose to invest her time in volunteer work. The inspiration came from the heroic military stories which quickly became a symbol for the resistance of the entire Ukrainians in the face of injustice. Each one of the stickers that are part of the exhibition starts from such a story - "the ghost of Kiev" or the mass production of Molotov cocktails – all of them show that Everything is Ukraine. Oleksandra told us about how her life changed since the beggining of war, about the admiration she has for her country and her wish to contribute through her art.
Your artistic journey
Hello, my name is Oleksandra Ruth, I am an illustrator from Rivne (Ukraine) and my general field of creation is themed illustrated sticker packs. I got into this kind of art quite recently. For the past few years, I worked as a graphic designer in the advertising industry. Later I became interested in illustration, went to an art school for a while and engaged in self-education. I like the sticker art because it is interesting and fun. This is a visual conversation with the viewer in the language we perceived everything, when we were children.

How the news of the war reached you
In the morning of February 24th, after reading a message in the Telegram that the war had begun and for a while I couldn't really process it. I felt fear, uncertainty, confusion and I was worried about my family and relatives. During that day, I sent lots of messages and made lots of calls to relatives and friends to find out if they were safe. I can't stop saying how much I admire Ukrainians at this difficult time, the way we know how to love, support and protect each other. We are like one big family. In the first days of war, due to anxiety, I could not do anything creative, but I really wanted to help in some way, so I worked as a volunteer and took care of my loved ones.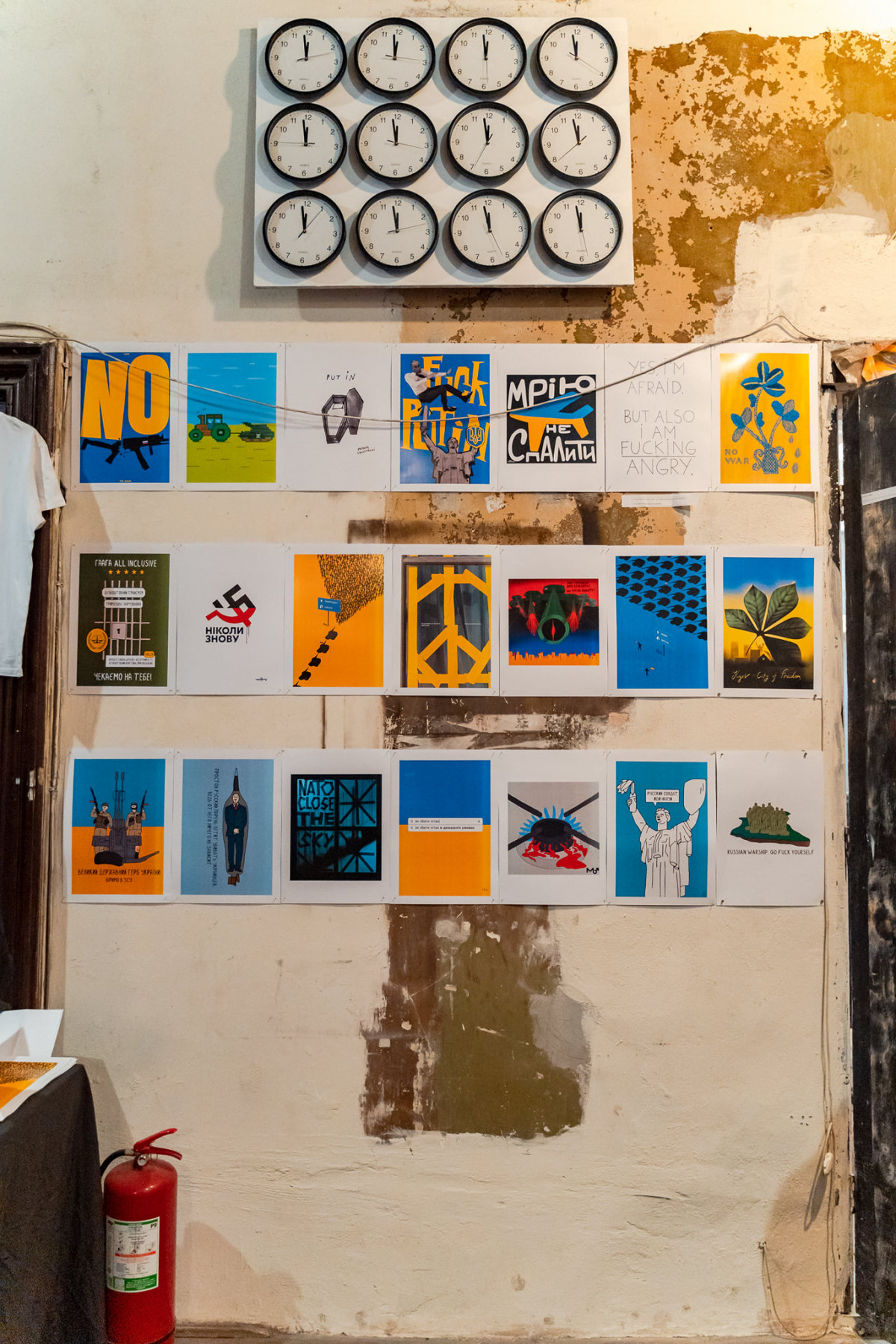 Worry is a constant feeling
I'm worried. This is the permanent emotional state, but I get used to it. However, I have already learned how to transfer this to activity, which helps to adapt to the new reality. I live in the part of Ukraine where there are no active battles. It is one of the rear centers of humanitarian and volunteer support.
The exhibition Bombs and People. Artists United Against War
I think it all started when I posted my sticker pack in the illustration community on Facebook, where a lot of people saw it. And Olya, probably, too. She texted me and asked me to take part in the exhibition. I was happy and agreed, because it's very interesting. This is another voice of Ukraine about Ukraine that will be heard abroad.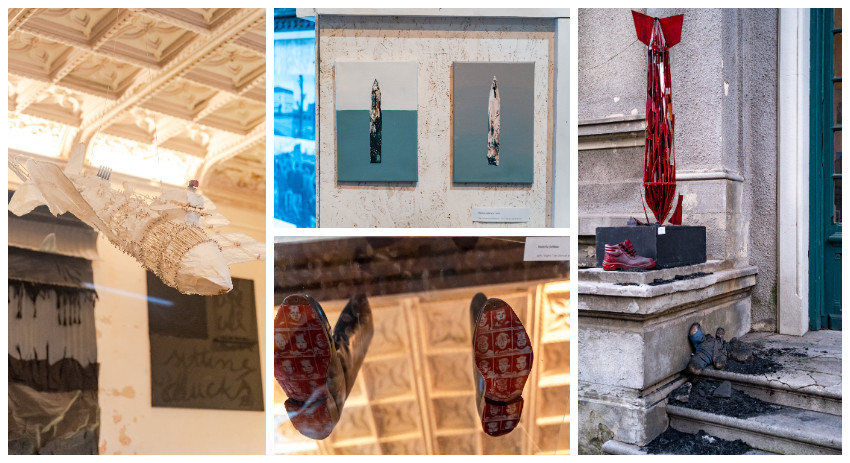 Your work for the exhibition
My work for the exhibition is a sticker pack of 10 illustrations entitled "Everything will be Ukraine/ Vse bude Ukraine", that I developed primarily for volunteer purposes. Anyone can add and use it in Telegram. It was also sold in printed form to raise funds for the needs of the Armed Forces of Ukraine.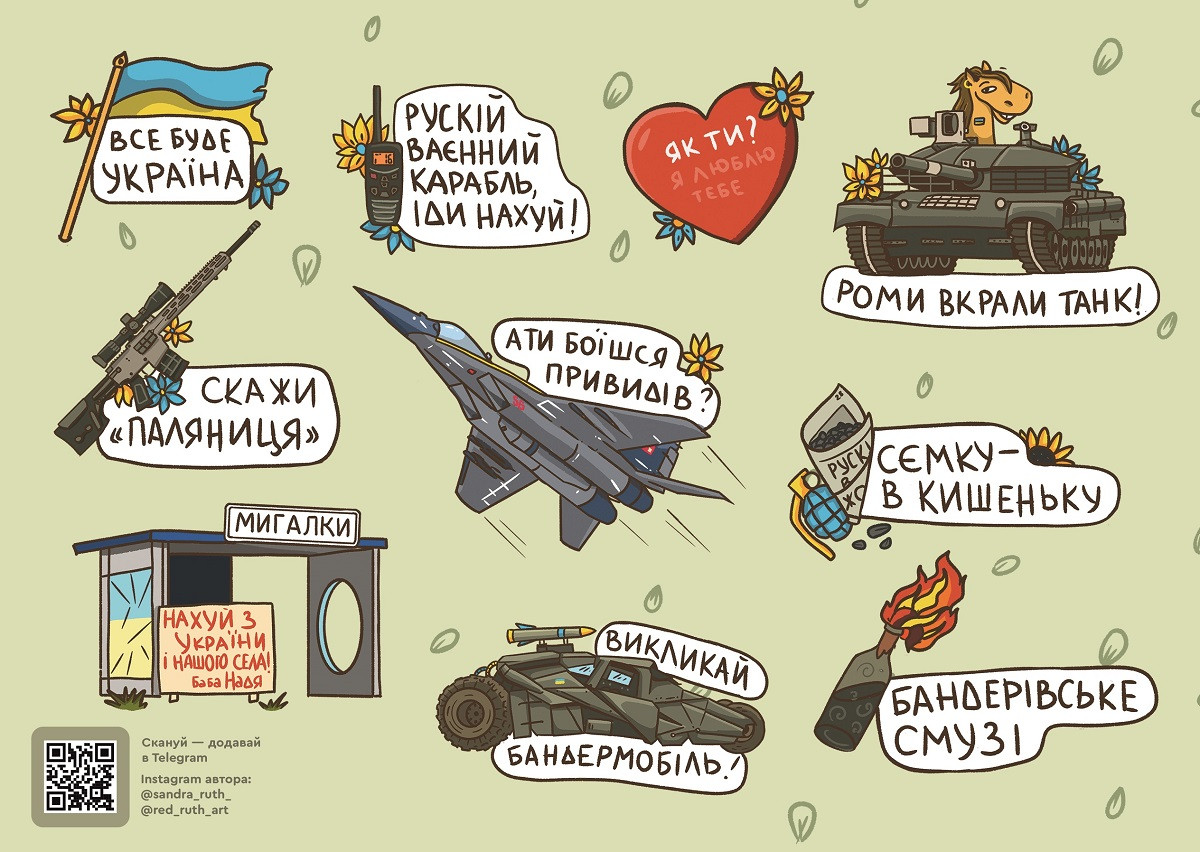 I took a real military story, that has already become a meme on social networks, as a basis for each sticker. The one about the fearless pilot called "the ghost of Kiev", who skillfully shoots down enemy planes, or about the mass production of Molotov cocktails for territorial defense — all these stories illustrate how fearless, strong and invincible Ukrainian people. Even in the darkest times, we try to stay humorous with "Cossack drive".
Art in times of war
Art speaks to its audience through feelings. It helps people understand, it teaches empathy, it appeals to the depths of everyone's humanity, to moral values and to the ability to love. These things motivate us to act on the call of the heart. Protect and support. Be worthy. Be human.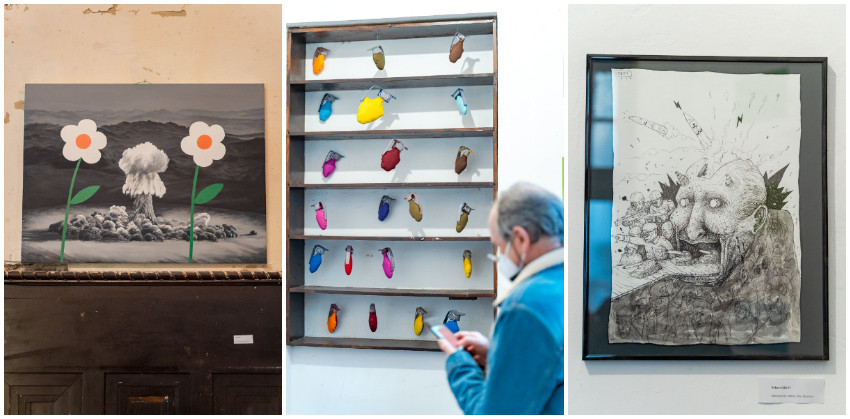 The role of the artist in such contexts
These days I understood and felt the power that artists have and that can influence people in times of war. It's about support, understanding and communication. It was a revelation for me when I got such touching feedback about my work. For me it's just stickers, for others — a way to communicate, a way to convey to others their feelings and make them smile.
The Ukrainian artist community
Everyone is united in a powerful community with a clear goal and objectives. We actively work on a volunteer basis as creative forces of Ukraine in order to counter the enemy in the war, doing what we do best.