Dacă ești o persoană creativă, căreia îi place advertising-ul, să lucreze în echipă și care este la curent cu toate informațiile din domeniu, atunci ai găsit locul potrivit pentru dezvoltarea ta profesională și personală. Proiectul Ingenius este construit pentru persoanele ca tine.
Asociația Studenților Economiști din România (ASER) este asociația studențească ce aduce la un loc tineri dedicați și entuziaști, care pun pasiune în tot cea ce realizeaza, având o tradiție de 18 ani și bucurându-se în prezent de un număr de 190 proiecte implemenate ce au influențat pozitiv 10.000 studenți.
Proiectul Ingenius este unul din proiectele Asociației Studenților Economiști din România (ASER), care oferă studenților oportunitatea de a lua contact cu mediul advertising-ului, să afle informații din domeniu și să facă networking cu oameni specializați.
A IV-a ediție a proiectului este destinată studenților din 3 centre Universitare: ASE, Universitatea București și SNSPA de la licență și master. Proiectul se desfășoară în perioada 22 martie - 5 aprilie 2017. Acesta cuprinde 2 etape, care au rolul de a integra studenții în mediul advertsing-ului, de a oferi informații calitative și contact direct cu oameni din domeniu.
Prima etapă, Conferința cu tema "Major trends of advertising" va avea loc pe data de 16 martie.
În cea de a doua etapă cei 30 de participanți vor fi împărțiți pe echipe și vor avea de rezolvat un brief real dat de o companie, iar la sfârșitul proiectului va avea loc un pitch, când fiecare echipă își va prezenta ideea de campanie în fața unui juriu format din persoane din agenții de publicitate. De asemenea, vor avea parte de training-uri pe diferite domenii, vor intra în contact cu persoane importante și vor merge în agenții de publicitate.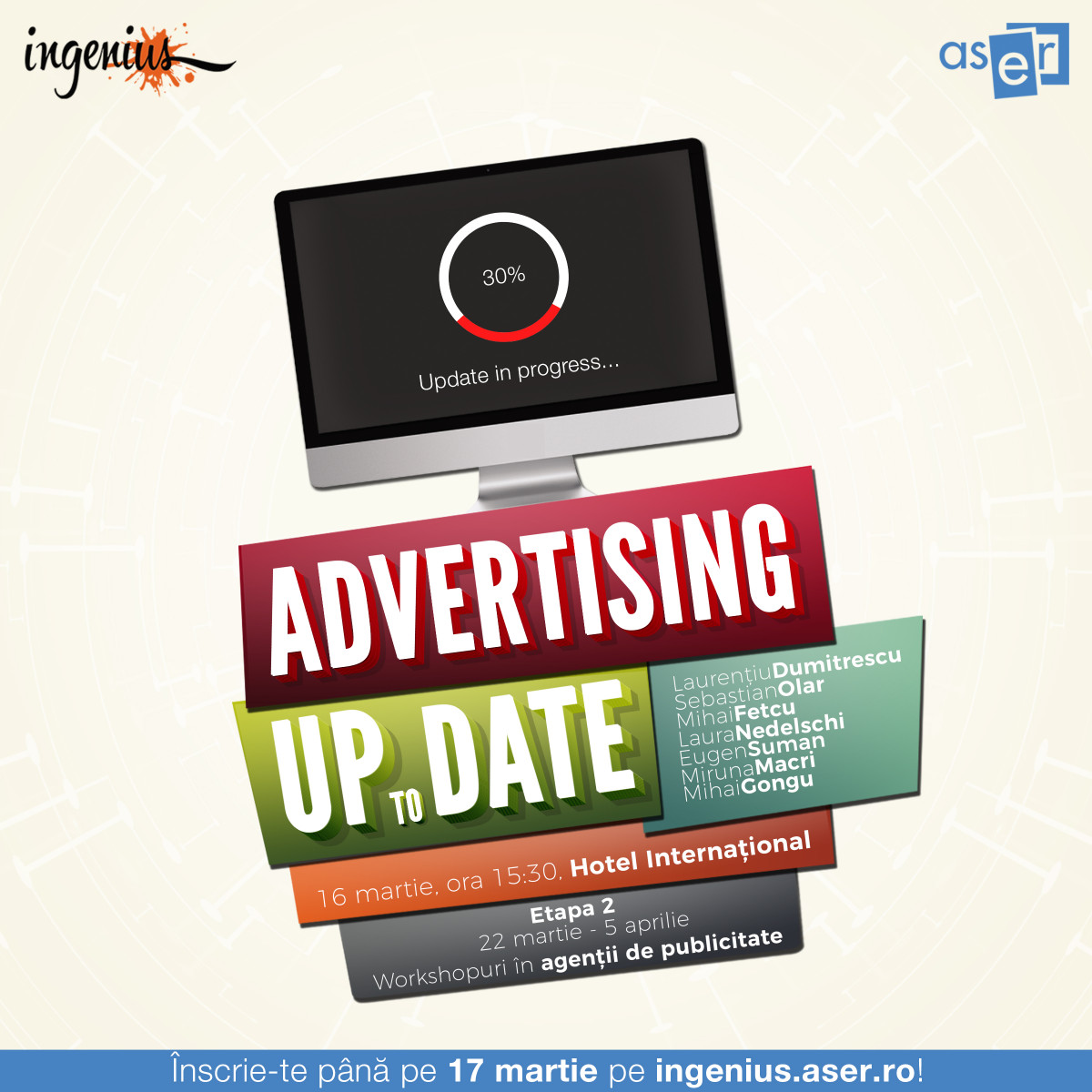 La finalul proiectului participanții vor avea o imagine de ansamblu asupra acestui domeniu, își vor da seama în ce departament se potrivesc în cadrul unei agenții și se vor bucura de o experiență plăcută. Vor primi o diplomă de participare și posibilitatea obținerii unor întâlniri one to one cu persoane din domeniu.
Inscrie-te în proiect online până pe data de 17 martie 2017 și află noile informații din mediul publicității și descoperă în ce departament te potrivești.