George Tannenbaum has been working in advertising for 28 years, during which he has gathered so many awards for creativity and efficiency that he counts them by the dozen in his resume. Since 2009 he has been handling everything about the Ameriprise Financial account at R/GA New York, named digital agency of the decade by AdWeek. He does remarkable things during his spare time as well, like the Ad Aged blog, listed as one of the most influential advertising blogs by Business Insider. A wordsmith, he can write anything, from scripts for award-winning ads to funny out-of-office replies. Today we add an AdStory to the list of things he did creatively.
I grew up in the suburbs of New York City, splitting my time between Yonkers, a gritty adjunct of the Bronx, and the more sylvan environs of Rye, New York—an upscale town on the shores of the Long Island Sound. I did spend a lot of time in Manhattan. As a teenager, it became something of my playground. And when I reached college age, 17, I left suburbia to attend Columbia in an out-of-control Manhattan. These were wild and woolly days in New York. Crime and homicides were off the charts. These were the streets I grew up on.
I have no old pictures of me. I was raised by wolves.
I suppose the craziest thing I did in high school was just, in general, goof off. I grew up in the early 70s, which were a crazily radical time in which we thumbed our noses at all authority. I think it wasn't one crazy thing I did, but a general disdain for all that was "establishment."
In college I studied my ass off. I've always been a loner and in college my loneliness really bloomed. I realized how much I loved learning, and spent 10 hours a day in the library.
Since it became clear early on I wasn't going to become a pitcher for the Yankees, I dreamed of becoming an English professor at a small, elite college. My father was in advertising and suffered two heart-attacks by the time he was 45. I blamed them on the stress of the business and wanted to stay far away.
I was in graduate school studying English Literature—on my way to a PhD. I ran out of money and turned to the only "profession" I knew—advertising.
I love advertising. Not every day, but four days out of ten. Or maybe 12. I find it challenging, stimulating, frustrating but fun. And it's a decent way to make a living, especially if you do work that few others can do.
What is great about working in advertising is that once you get to a senior level you have some control over what you work you do and who you work with. I can avoid somewhat the blowhards, the poseurs and the schmucks.
I am most proud of my five years on IBM. Very good, interesting and smart work that delivered real business results.
The most rewarding moment in my career was when I was just a kid and Hall of Famer Amil Gargano called the client specifically to sell a radio spot I had written. He was a legend and he went to bat for me.
What is great about R/GA New York is that they leave me alone.
My desk has always been a mess. I always work on a thousand things at once and need my resources around me. I am not a filer, so I leave everything on my desk. I think looking through piles of disparate papers is a form of problem solving.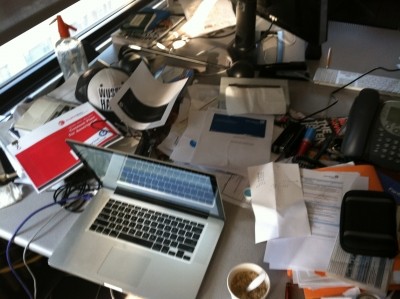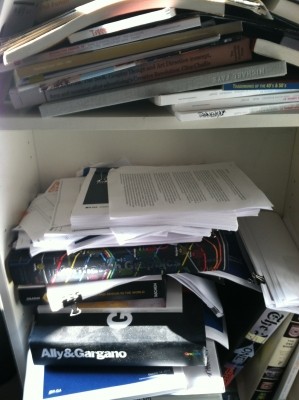 Places where I brainstorm. The subway. My shower. The cross-town bus. When I have a problem it runs around in my head like a hamster in a cage. I think about it everywhere, no matter what I am doing until I come up with something I like that I share with my partner. Then we unravel some more until we get someplace.
I have no favorite place to fish insights. Everyplace is my favorite place.
Great creative campaigns have three things in common: Clarity. Simplicity. Surprise.
The best clients are the ones that listen. The worst clients are the ones that don't listen. I feel most frustrated when people don't listen.
In my opinion, the best ad campaigns ever are:
TVC: Apple 1984. They broke through on the world's largest stage and established a differentiated brand ideology.
Online: I rarely if ever see an online campaign that enters my consciousness. It's a combination of the small size of the ads and generally speaking their lack of entertainment value.
Print: Volkswagen print ads from the glory days of DDB. Still the best ads ever written. Simple, persuasive, intelligent and witty reasons to buy the car. Reading old VW ads is like graduate school in copywriting.
Ambient: I thought the London Eye, sponsored by British Airways was a brilliant "advertisement". I experienced BA without even booking a flight.
Brand Communication: Everything Apple does is letter perfect. Every point of contact builds on the value of the brand. They seldom if ever slip up.
The best piece of advice I ever received from someone in the industry is "The best revenge is a better ad."
I read everything I can put my hands on. The New York Times, a book a week. In my browser history you can find about 75 links from The New York Times.
My best source of inspiration is New York City. Long walks with my dog along the East River.