Martin Lindstrom, cel mai apreciat guru de marketing si branding din lume, vine la Bucuresti, pentru a sustine conferinta "Get inside the customer's mind". Evenimentul se va desfasura pe 2 octombrie, la Radisson Blu Hotel.
Obiectivul conferintei este de a contribui la dezvoltarea creativitatii si comunicarii brandurilor si se adreseaza specialistilor din marketing si comunicare.
Cu o experienta de peste 20 de ani in acest domeniu, Martin Lindstrom le va impartasi participantilor un tip cu totul special de knowhow bazat pe neuromarketing. Aceasta stiinta demonstreaza vulnerabilitatea consumatorilor in momentul cumpararii unui produs bazata pe reactiile diferite de la nivelul creierului. El este de parere ca brandurile se folosesc de temerile si pasiunile noastre care isi au temeiul in fundamentele biologiei.
"A venit vremea pentru urmatoarea generatie de branding contextual - arta trimiterii mesajului potrivit catre publicul potrivit la momentul potrivit", declara Martin Lindstrom.
Pe parcursul intregii zile, vor fi dezbatute subiecte despre perceptia brandurilor si viitorul lor in 2015, marketingul subliminal, modul in care religia si reclama ne influenteaza creierul in luarea deciziilor, brandingul personal si felul in care este inteles.
In calitate de consultant al unor companii precum Disney, Pepsi, Philips, Microsoft, Mars, Mercedez-Benz, expertul international in branding a studiat comportamentul cumparatorilor chiar in propriile lor case pentru a intelege secretele din mintile acestora. Astfel, el va explica modul in care functioneaza viitoarea generatie de product placement si care este cea mai potrivita metoda pentru branduri.
MARTIN LINDSTROM – BEST SELLING AUTHOR
Martin Lindstrom este un scriitor apreciat. "Brand Washed", "Buyology" si "Brand Sense" sunt printre cele mai vandute carti de marketing. Mai mult, "Buyology" a fost cartea de marketing a anului 2009 in toata lumea.
De asemenea, Martin a scris numeroase articole pentru "Wall Street Journal", "Financial Times", "USA Today", "Newsweek", "Fast Company".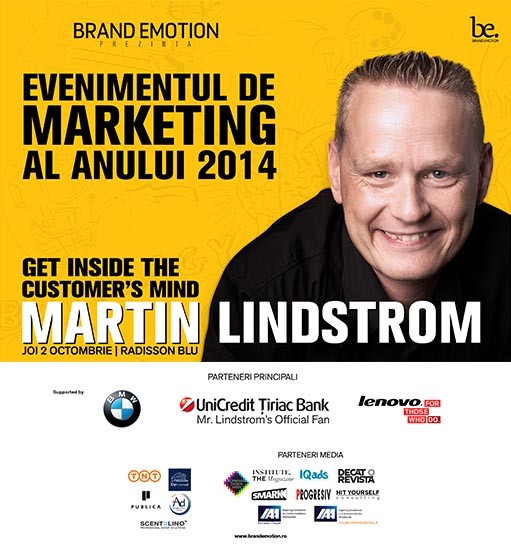 Conferinta este organizata de agentia Brand Emotion si este sustinuta de companiile: BMW, UniCredit Tiriac Bank, Lenovo, Publica, TNT, Kepi Consult, Ad Production Grup, Scent Link si de partenerii media: SMARK, IQads, INSTITUTE The magazine, Romanian Design Week, Magazinul Progresiv, Decat o revista, Hit Yourself Consulting si IAA.
Biletele pentru conferinta  "Get inside the customer's mind" pot fi achizitionate online.