Pentru un site nu tocmai generalist, IQads a scris anul acesta despre Trump mai mult decat despre Coca Cola. Ei bine, in ciuda artificiilor de marketing de toate felurile aruncate impotriva candidatului republican, Donald Trump este noul presedinte al Statelor Unite ale Americii:
Nicio surpriza pentru Simpsons: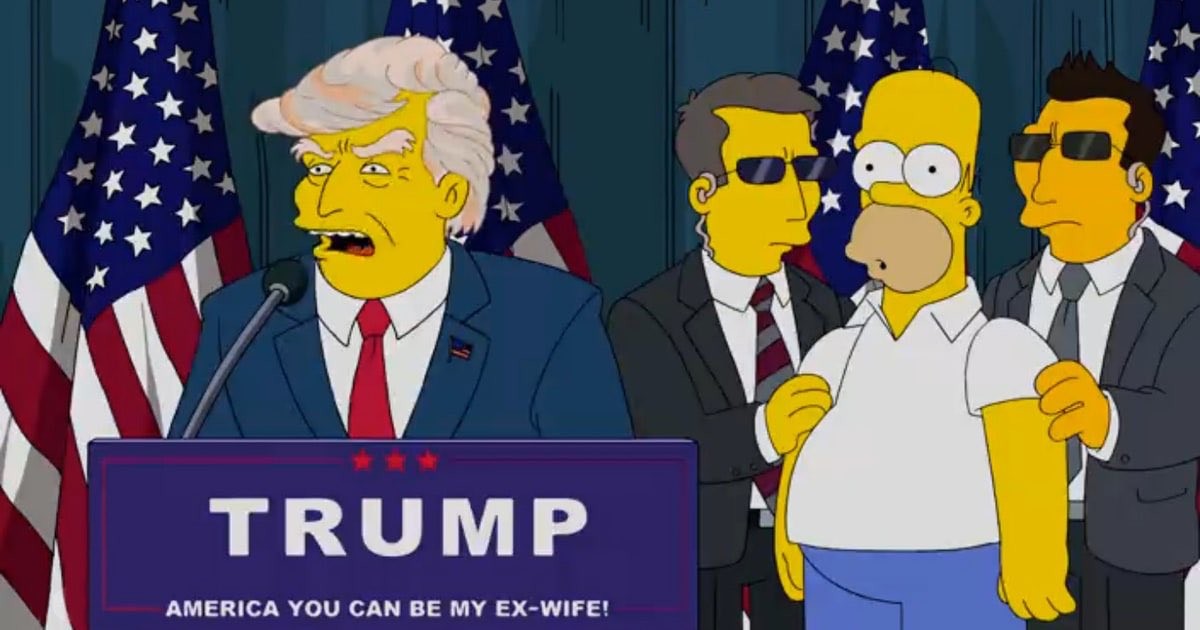 Oricum, spre deosebire de hazul general din campanie, glumele de internet de azi dimineata au fost temperate. Ca si cum o mare mahmureala ar fi cuprins brusc retelele sociale.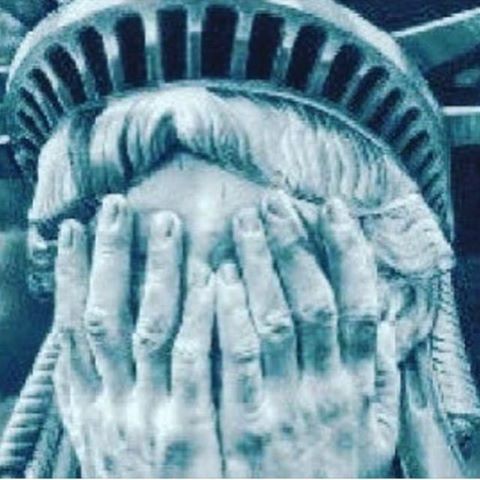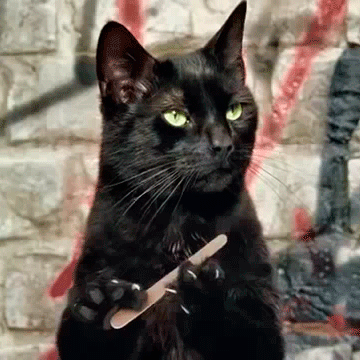 Principala tema de discutie a fost iminentul sfarsit al lumii.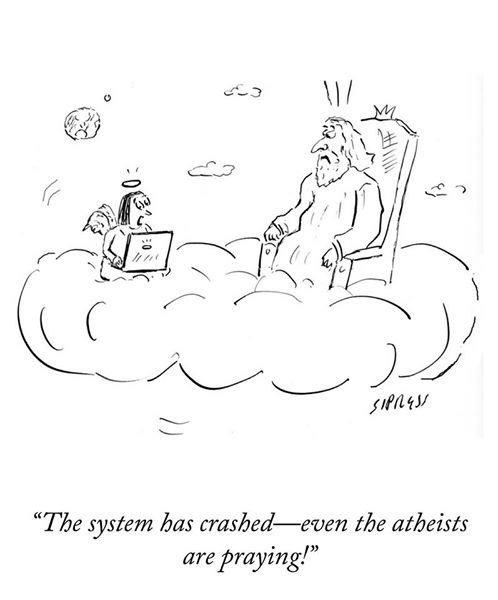 Cu variantele Apocalipsei, sfarsitului omenirii si al civilizatiei, stiti profetiile. MotherJones are un ghid mai exact al viitorului, desprins chiar din promisiunile lui Trump. Prima lui zi in biroul oval arata asa:

Nu a inceput bine ziua, ca Adweek anunta cum site-ul de imigratie ale Canadei a cazut: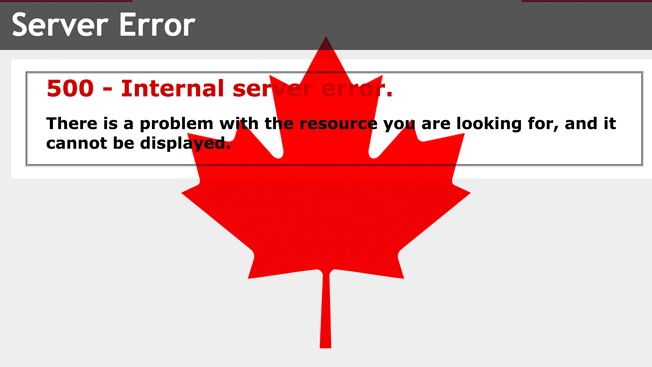 The Onion merge pe titlul acesta: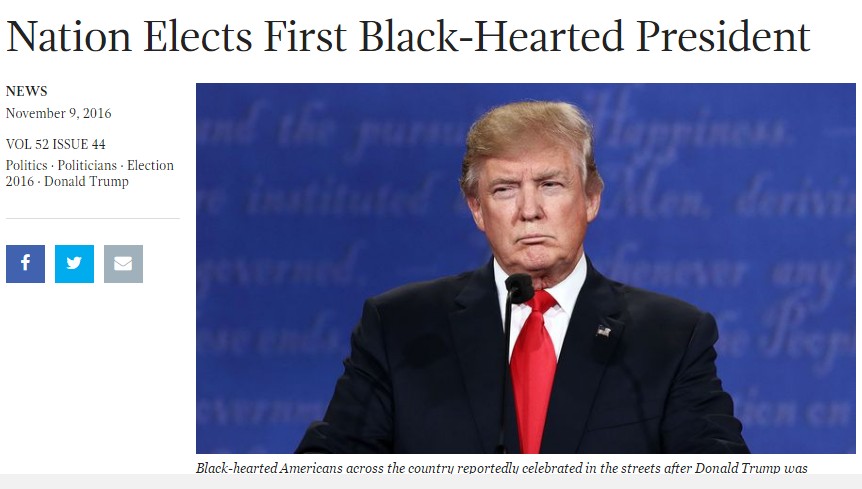 Sa facem si un tur al titlurilor serioase, asa cum o cere momentul: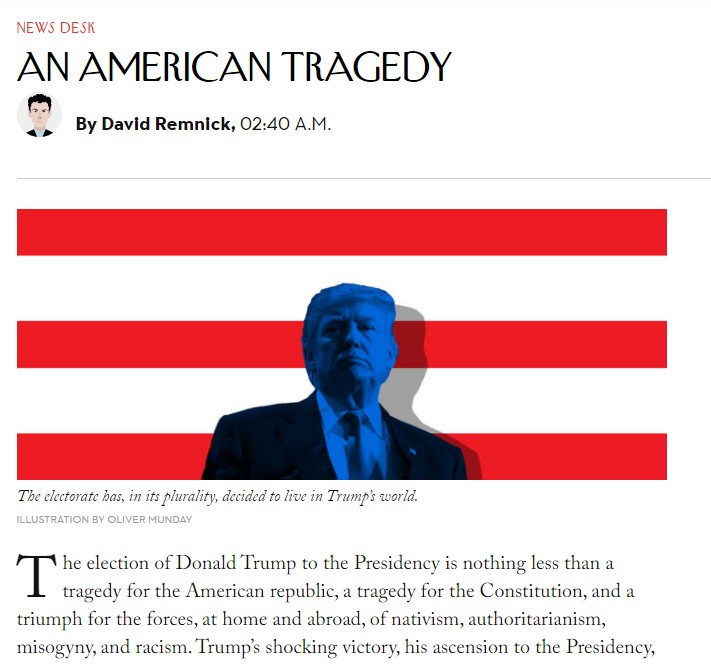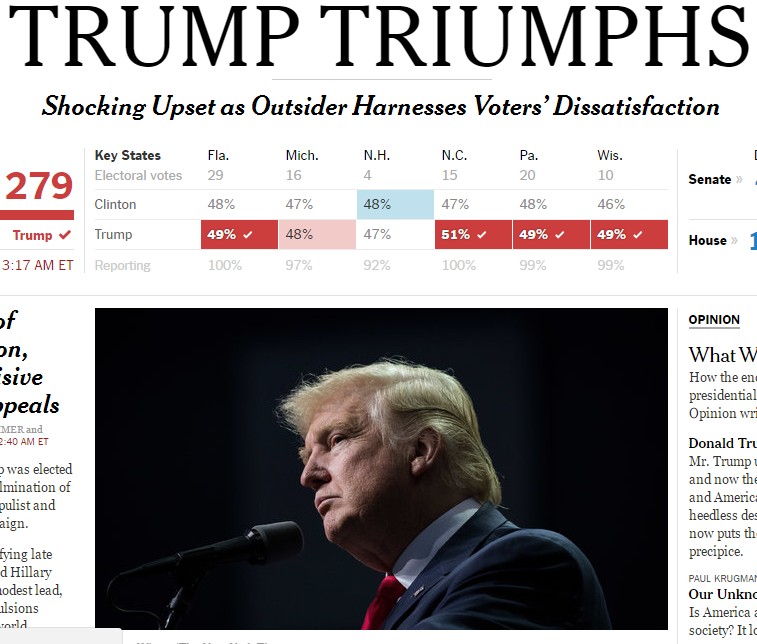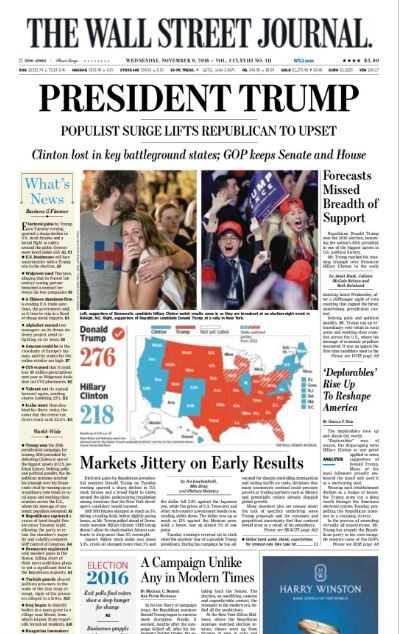 Si niste pareri, mai mult sau mai putin vioaie:
Donald Trump a devenit presedintele Statelor Unite cu o victorie la scor in alegeri. Republicanii au castigat tot ce puteau castiga. E victoria Americii reactionare, izolationiste, o America a trecutului.

Dar in acelasi timp e o victorie care scoate in evidenta si mizeria celeilalte Americi: mediile care in unanimitate si-au pierdut echilibrul, impartialitatea si decenta, favorizand-o pe fata pe Hillary Clinton, institutele de sondare a opiniei publice care-au dat-o favorita, in unanimitate, pe Clinton chiar in preziua alegerilor (cum isi vor mai justifica ele existenta?), institutiile americane care ar fi trebuit sa fie impartiale si totusi n-au fost.

Toate aceste instrumente de manipulare arata ca America ar fi fost urata, partinitoare, mincinoasa chiar si in cazul victoriei celeilalte parti. Vai, nu a fost o lupta a binelui contra raului, ci a raului tolerabil contra celui intolerabil.
Adrian Raileanu isi imagineaza discursul perfect:
Donald Trump's perfect speech:

"I started a joke
Which started the whole world crying..."
Teodor Tita face harta istoriei:
istoria nu s-a oprit si nici nu o ia inapoi.
a luat-o intr-o parte.

a trecut santul de la marginea drumului si, in momentele astea, zburda voios pe campii
Larisa Ghitulescu, despre moartea marketingului:
Ai presa influenta de partea ta, tunuri neoprite impotriva adversarului pe care din bufon nu-l scoti, endorsement din toate partile, virale, staff-uri, Madonne si staruri rock + powered by Obama si... pierzi?

Traim cumva moartea marketingului by the book? Apusul leadership-ului de laborator? This is not politics news. This a leadership disaster. Nu masele o scrantesc, ci elitele. Sau nu - si-atunci spectacolul este absolut grandios.
Radu Alexandru se bucura in numele trolilor:
Can't stump the Trump. What a time to be alive!

La fel cum negrii au asteptat toata viata un negru presedinte, si noi, trolii, am asteptat primul troll presedinte. E un castig pentru noi toti, astia care insulta oameni gratuit si o ard arogant. Destul! Nu vom mai fi marginalizati!
Le Frigaro il cauta pe Nicusor Dan: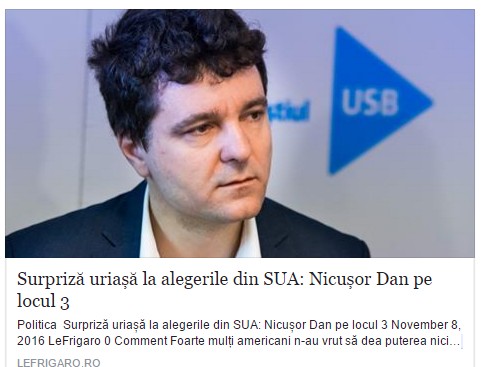 Sa mergem si pe Twitter putin, pentru o portie noua de depresie: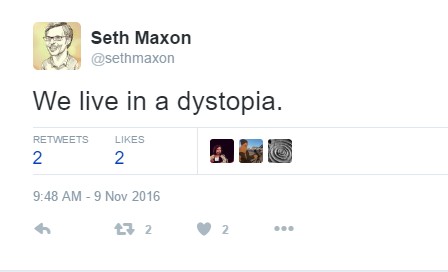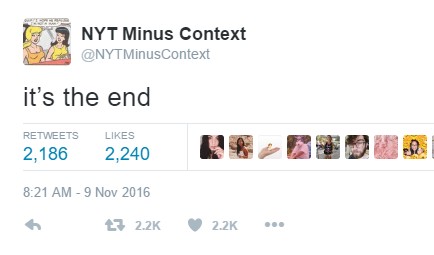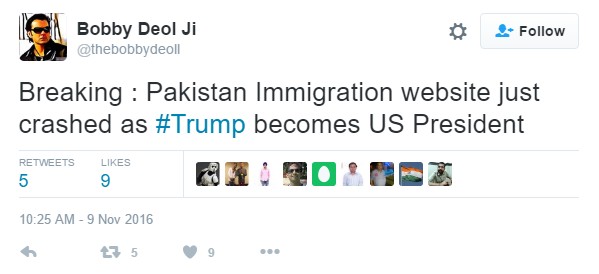 In fine, Alex Petrescu propune imnul zilei: 
S-au mai vehiculat si variantele urmatoare:
Gata, acum suntem pregatiti si pentru alegerile din Romania. Ganditi-va din timp la melodiile de a doua zi.