Luna ianuarie a fost oricum marcată de evenimente neprevăzute. Tot așa, parcă de nicăieri, finalul ei aduce o surpriză: episodul pilot al Bucharest Film Awards. Pe 27, 28 și 29 îți aducem filme independente, lungi și scurte, de prin toată lumea. Proiecțiile și workshop-urile vor avea loc la Simbio și la Unteatru, de la amiază până noaptea – târziu, cu intrare liberă, dar cu număr limitat de locuri.
For films in charge of change
Bucharest Film Awards este o competiție internațională de film ce promovează la această primă ediție cele mai bune 45 de producții independente, selecționate de 5 cineaști din UK, Estonia, Italia, Mexic și România din peste 500 de proiecte înscrise. Poziționându-se ca o alternativă în raport cu zona cinematografică comercială, festivalul devine un mediu de exprimare a creativității, expresivității și inovației. Astfel, în cadrul evenimentului, publicul va putea intra în contact cu noi forme de abordare a cinematografiei și perspective fresh, ale filmmakerilor profesioniști și nu numai.
În timpul celor trei zile de festival vor fi proiectate lungmetraje și scurtmetraje de ficțiune, documentare, filme experimentale, student films, dramă, sci-fi, thriller, comedie, romance, music videos, și web shorts - filme păstrate în medii cu circuit închis, la care Bucharest Film Awards îți facilitează accesul gratuit.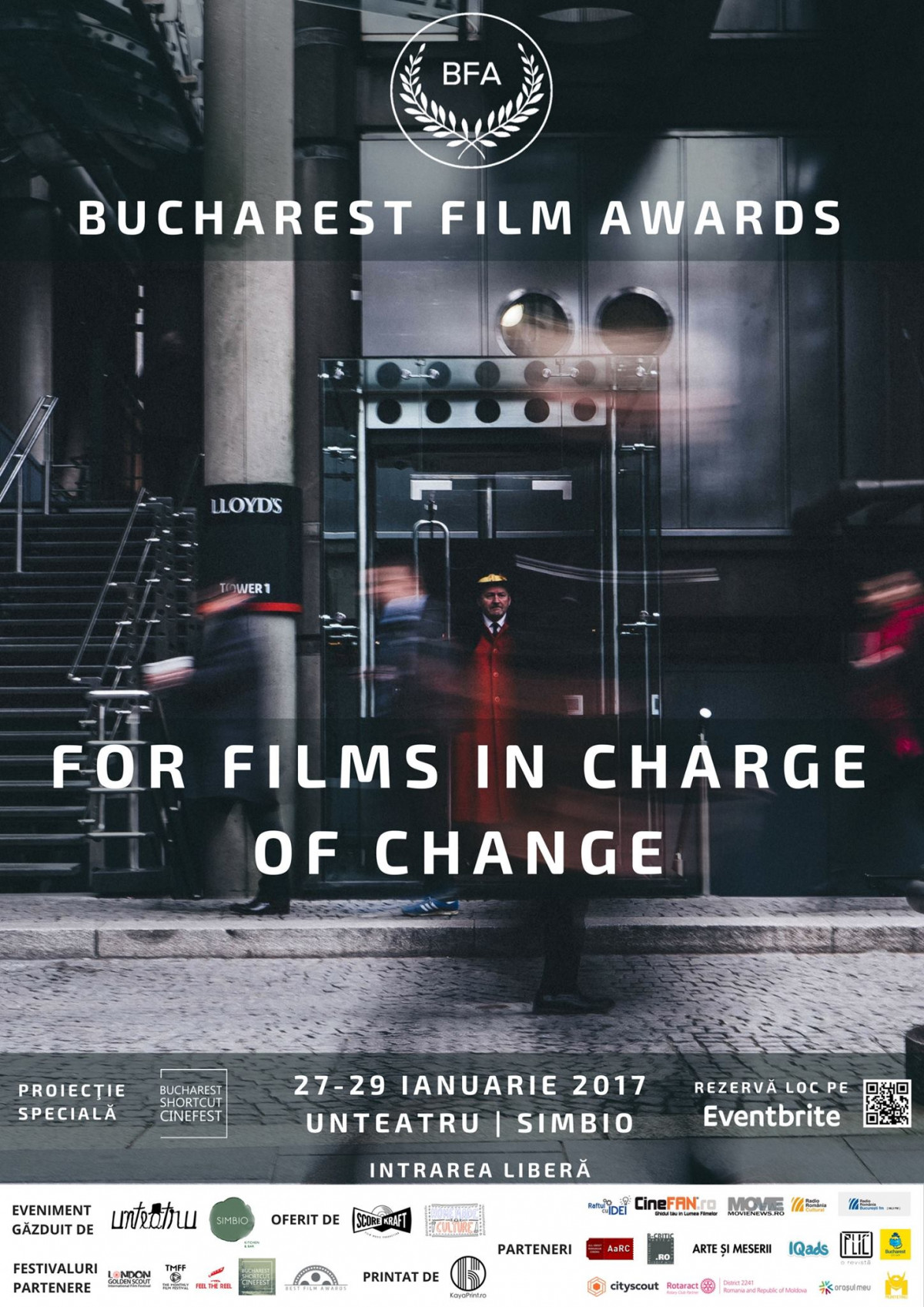 Atelierele Bucharest Film Awards
La fel de accesibile vor fi și workshop-urile incluse în programul festivalului. Sâmbătă, 28 ianuarie, la Simbio, Tudor Voican (lect.univ.dr în cadrul Departamentului de Scenaristică al Facultății de Film din  UNATC - scenarist și producător, cunoscut pentru titluri precum Marilena de la P7 - 2006, California dreamin' - 2007, Medalia de onoare - 2009 sau Periferic - 2010) va susține un atelier de scenaristică. Duminică, 29 ianuarie, în ultima zi de festival, la Unteatru, va avea loc un workshop de muzică de film susținut de ScoreKraft, una dintre puținele companii de producție de  muzică de film din România care colaborează constant cu nume mari din industria filmului Hollywoodian (Hans Zimmer, Thomas Bergersen, Tina Guo sau Lisa Gerrard).
În cadrul primei ediții Bucharest Film Awards vor fi acordate 18 premii pentru trei categorii. Unul dintre câștigători va fi desemnat de către public, fiecare participant la eveniment având ocazia să voteze filmul preferat.
Evenimentul va beneficia de o serie de proiecții speciale, în parteneriat cu Bucharest ShortCutCinefest și Feel The Reel - International Film Festival din Glasgow, United Kingdom.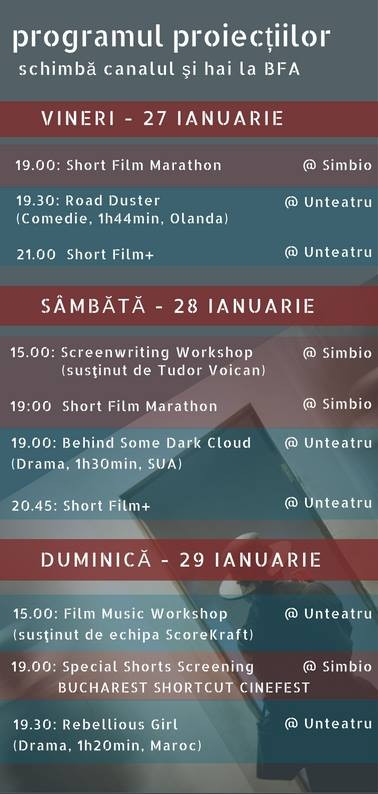 Eveniment oferit de: ScoreKraft, Homemade Culture
Găzduit de: Unteatru, Simbio
Parteneri media: Bucharest City App, AaRC- All about romanian cinema, Revista Arte și Meserii, Raftul cu Idei, IQads, Plic.O revistă, CineFan, Radio România Cultural, București FM, Munteanu, Orașul Meu, MovieNews, B-critic, CityScout
Festivaluri partenere: Bucharest ShortCut Cinefest, Feel the Reel - International Film Festival,  Best Film Awards, London Golden Scout, The Monthly Film Festival
Mulțumiri speciale: Rotaract Cișmigiu, Kaya Print