PRIME România deschide anul 2018 cu un eveniment nou. Revista PR Forward se lansează pe 15 ianuarie, la ora 17:00, la Cărturești Verona (str. Pictor Arthur Verona, nr. 13-15) și te invită să descoperi printre rubricile revistei ce înseamnă să ții pasul cu viteza schimbării. 
De-a lungul numerelor anterioare am descoperit în fiecare an povești și secrete din agenții, iar noul număr te invită să vezi ce înseamnă Comunicare la viteza 9.0 și cum viteza tehnologiei influnțează lumea Comunicării. De la domenii total diferite, vei afla cum invitații noștri au dat "update" și s-au orientat spre PR sau Publicitate, de la cinematografie, muzică sau fashion.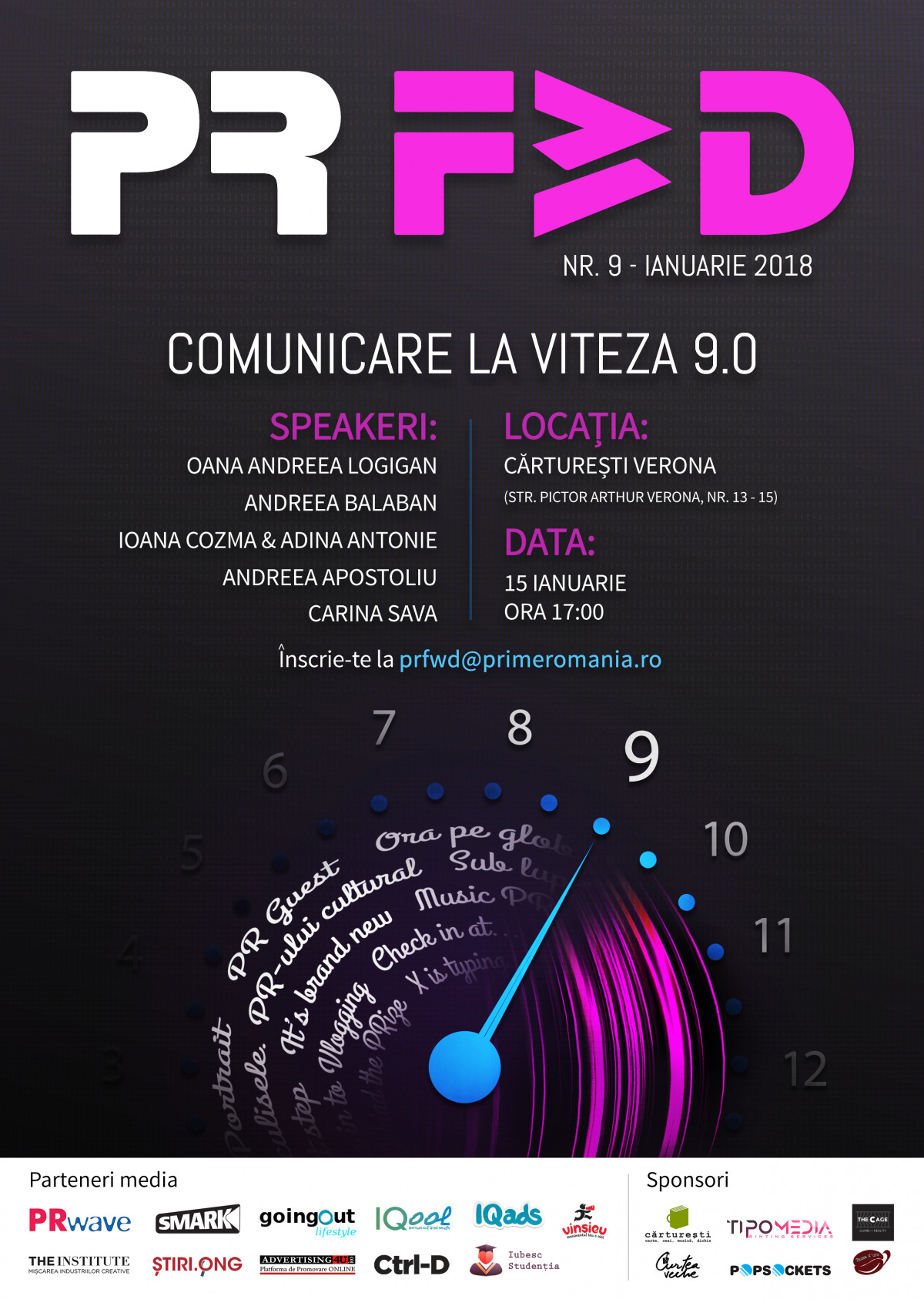 Aflăm mai multe de la...
Revista se deschide tradițional cu rubrica PR Portrait, unde o avem invitată pe Oana Andreea Logigan, PR Director @MSLGROUP The Practice. Cu multă experiență în domeniu, Oana o să ne dezvăluie mai multe secrete din spatele campaniilor de succes.
Aflăm primii pași spre un job într-o agenție de la Andreea Apostoliu, Junnior Planner @Geometry Global Bucharest.
De la Epilog la melodii în limba engleză ale trupei VAMA, descoperim cum e să fii Managerul unor muzicieni consacrați alături de Carina Sava.
Lights, camera, action! Andreea Balaban vine și ne povestește mai multe despre de fashion și beauty vlogging.
Student din Provincie le-a unit, iar acum Ioana Cozma și Adina Antonie vin să ne povestească despre cum ideile mici sau proiectele din facultate pot deveni mari.
Cum participi?
Pentru înscrieri, trimite-ne un mail la prfwd@primeromania.ro, până pe 14 ianuarie, ora 23:59, cu numele și numărul de telefon.
Te așteptăm luni, 15 ianuarie, începând cu ora 17:00, la Cărturești Verona (str. Pictor Arthur Verona, nr. 13-15).
PR Forward este susținută de partenerii: Cărturești Verona, TipoMedia, Curtea Veche Publishing, Popsockets România, The Cage Escape Room, Tazza d'oro și de partenerii media: IQads, Smark, The Institute, IQool, PR Wave, CTRL-D, Iubesc Studentia, Going Out, Stiri ONG, Advertising 4U.
Revista PR Forward este este o revistă online realizată de studenți pentru cei pasionați de Comunicare și Relații Publice. Reunește interviuri cu specialiști în PR, Advertising sau
Comunicare, influenceri online (bloggeri, vloggeri etc.) și articole proprii axate pe studii de caz ale unor campanii reușite, noutăți în domeniu și nu numai.