Dupa ce marti a raspuns timp de cinci ore la intrebarile senatorilor americani, miercuri seara a urmat partea a doua a audierilor. Daca in prima zi, raspunsurile fondatorului Facebook au fortat limita lui "Nu stiu", de data asta cele mai repetate replici au fost
"Nu vindem datele" 

"Poti avea control total asupra datelor tale"
Un video care explica mai bine tipurile de date la care nu ai control:
Alte declaratii importante:
"Inevitabil, va fi nevoie de anumite reglementari"

"Cred ca este important ca oamenii sa stie exact cum sunt utilizate informatiile pe care le distribuie pe Facebook. Am facut o serie de erori in modul de conducere a companiei"

"Acum a devenit clar ca nu am luat suficiente masuri pentru a evita utilizarea unor instrumente in scop negativ. Ma refer la difuzarile de stiri false, la ingerintele straine in alegeri, la promovarea unor mesaje care instiga la ura, la dezvoltarea de aplicatii si la protejarea datelor private.

Nu am avut o perspectiva a responsabilitatii suficient de larga, iar aceasta a fost o mare eroare. A fost o eroare si imi pare rau. Eu am fondat Facebook, conduc compania si sunt responsabil pentru ceea ce se intampla in companie"
Intrebat insistent de Ben Lujan de ce Facebook colecteaza date si despre cei care NU au conturi in retea si ce fel de date, Zuckerberg a spus ca nu stie raspunsul.
 - Asculta Facebook ce spunem?

- Nu colectam verbal nimic si nu avem contracte cu nimeni care sa asculte sunetele ambientale. Multe dintre cazurile prezentate ca fiind uimitoare legate de conversatii sunt coincidente sau un om care vorbeste despre un lucru il cauta apoi pe internet si apar reclame legate de acel lucru
Un rezumat de la New Yorker, aici. Combinat cu o perspectiva filosofica de la The Guardian:
Asking Zuckerberg philosophical questions, like how he thinks we should deal with questions of hate speech, treat him as a thought leader, a reasonable philosopher king.

Accepting his failures to catch discriminatory housing ads, for instance, treats him as a good-hearted actor with limited resources, instead of someone who is making monopoly margins and billions in profits
 Un articol din Wired cu cele 98 de categorii de useri: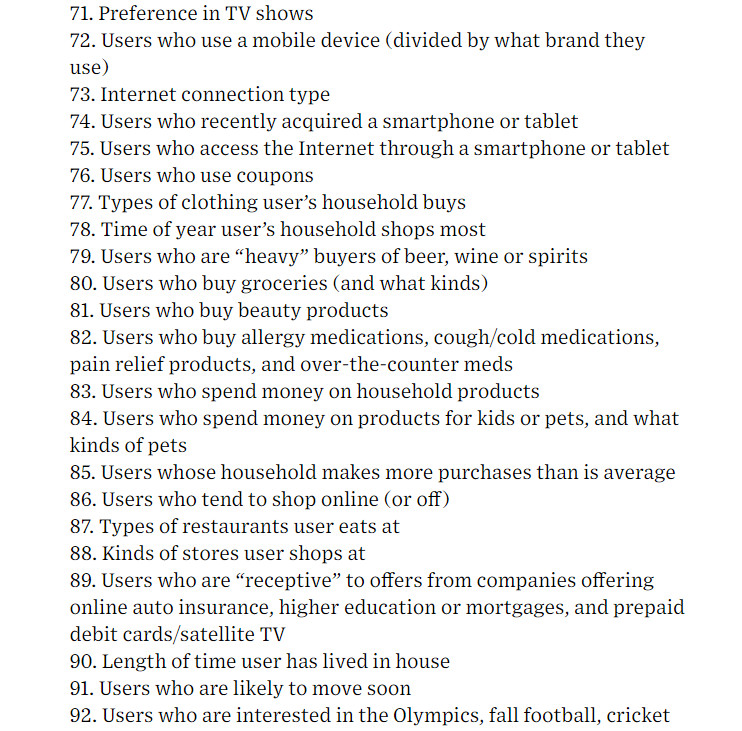 Intrebarile venite din partea senatorilor au constituit iar motiv de dezbatere. In special, cat de familiarizati sunt acestia cu notiunile despre internet si Facebook. O intrebare de la Wired in acest sens: If Congress doesn't understand Facebook, what hope do its users have?
De unde si seria de postari cu Zuckerberg care explica internetul celor in varsta: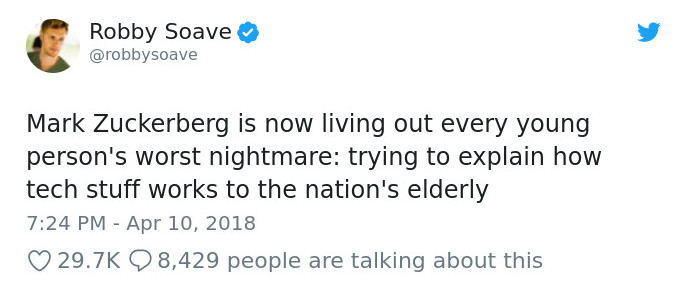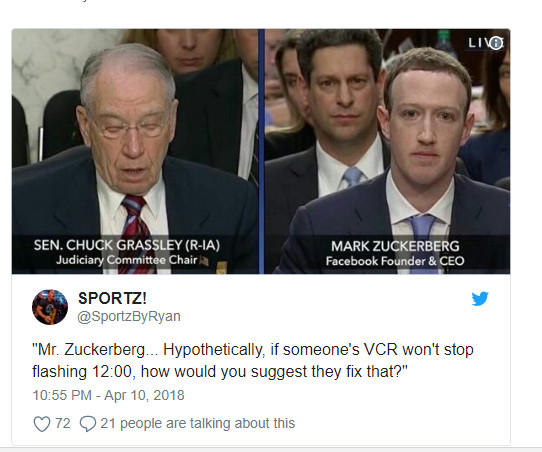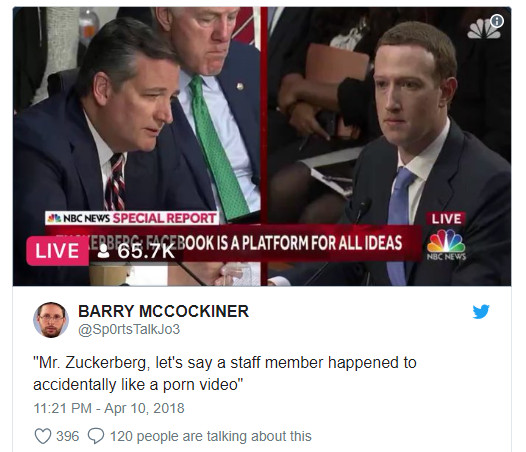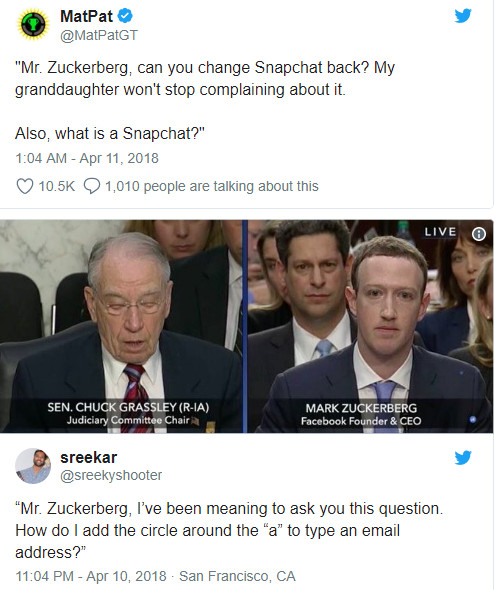 In Romania, lucrurile s-au vazut asa:
Scandalul Facebook e un punct bun de interogatii vizavi si de ceilalti giganti tech:
Si, la final, traditionalele glumite cu androizi: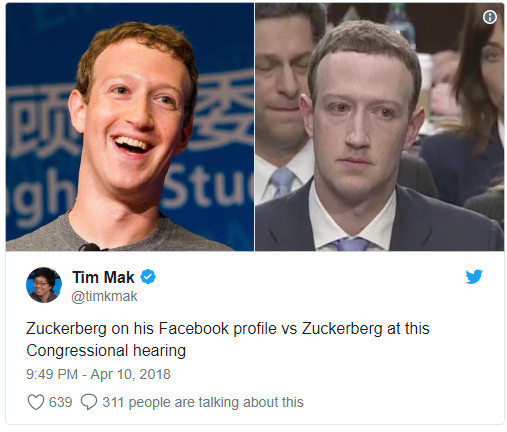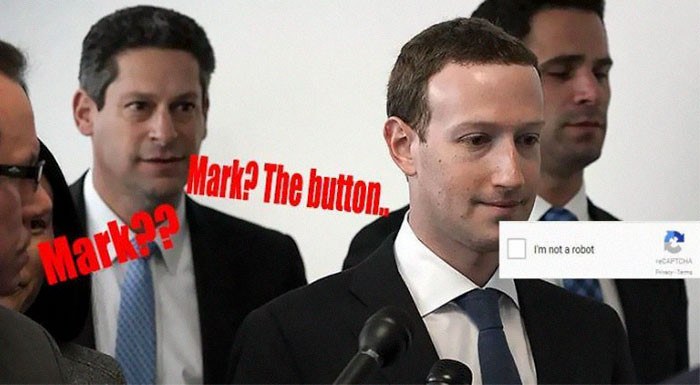 Cea mai misto a venit insa de pe Reddit ieri: