Morcheeba, legendara trupă de trip hop din Marea Britanie, se alătură lineup-ului AWAKE Festival, primul boutique festival din România, care are loc în perioada 17-19 august 2018, pe Domeniul Teleki din Gornești, Mureș. Mai mult, la ce-a de-a doua ediție AWAKE lansează Telekom Electronic Beats, noua scenă curatoriată de All You Can Dance /FORM Space. JAMES ZABIELA, EELKE KLEIJN sunt headlinerii Telekom Electronic Beats Stage din acest an.
Cu o activitate de aproape două decenii și nouă albume la activ, Morcheeba este îndragită pentru mixul eclectic de rock, muzică electronică, R&B, pop și trip hop. Skye Edwards şi Ross Godfrey vor încânta fanii AWAKE cu un setlist ce include cele mai cunoscute piese ale trupei, dar și melodii de pe noul album "Blaze Away", ce a fost lansat pe 1 iunie.
Povestea AWAKE este completată de parteneriatul cu Telekom Electonic Beats, una din cele mai importante platforme de promovare a muzicii electronice contemporane. Electronic Beats conectează iubitorii de muzică electronică la cele mai avangardiste curente, comunități și manifestări, prin conținut digital de calitate și susținerea talentelor locale.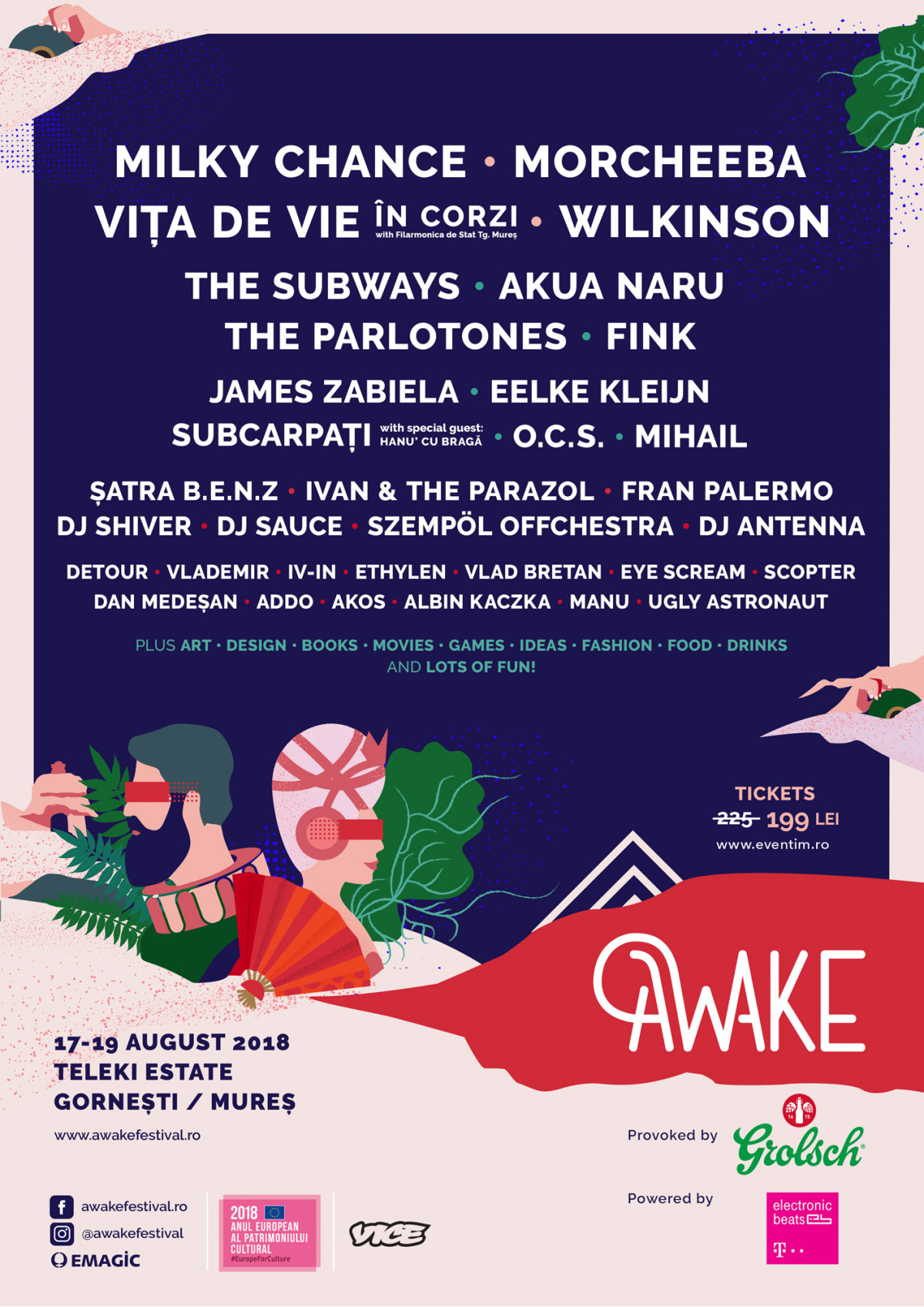 Curatorul scenei, All you can Dance /FORM Space, este o comunitate ce a revoluționat viața de noapte din România, prin oferta muzicală propusă și promovarea creativității în toate formele ei.
Printre artiștii scenei Telekom Electronic Beats se numără și James Zabiela, DJ-ul care s-a remarcat prin complexitatea lui muzicală și îmbinarea loop-urilor, efectelor și editării live. Cu două albume la activ, Eelke Kleijn a încântat publicul iubitor de muzică electronică la unele dintre cele mai importante festivaluri internaționale, precum: Ultra Music Festival, Balaton Sound sau Sensation.
Noii artiști se alătură celorlalte nume confirmate la AWAKE 2018: Milky Chance, Wilkinson, Vița de Vie "În Corzi", Akua Naru, The Subways, The Parlotones, Fink și mulți alții.
AWAKE se va desfășura în perioada 17-19 august 2018, pe Domeniul Teleki din Gornești, județul Mureș. Participanții se vor putea bucura de multe zone și activități, precum: o bibliotecă în aer liber, scena din copac, cinematograful în aer liber, platforma de discuții Feed Your Mind. Artdoor, concursul de instalații artistice de mari dimensiuni din cadrul AWAKE, ajunge și el in 2018 la cea de-a doua ediție.
Biletele sunt disponibile online, dar și în magazinele partenere: benzinăriile OMV, magazinele Vodafone, Orange, Germanos și librăriile Diverta. Din 17 mai, până joi, 16 august, în perioada de SLEEPY BIRD, abonamentele vor fi disponibile la prețul de 199 lei, respectiv 225 lei cu camping.