In the middle of a successful advertising career, Conn Bertish found himself having to deal with a debilitating diagnosis: a rare type of brain cancer. Faced with this reality, the creative director started gamifying his disease. Meaning, he used his creativity to produce hundreds of materials - scribbles, sketches, installations - to help overcome the fear and uncertainty he was dealing with. Later on, he discovered that he was legitimately supporting his medical treatment by leveling up his immune system, according to psychoneuroimmunology (PNI). 
And that would be a very short version of the story behind Cancer Dojo, an app he developed & launched after winning the battle against cancer, with help from top professors of Oncology, Sport Science and Mental Health. A video Conn posted online explaining his thinking led to his participation, three weeks later, to South Africa's "largest gathering of international Oncologists". 1400 professionals heard and applauded the initiative, as many felt something was missing in the traditional approach to patients.
Ever since, the project has been going strong; in the next two years, Cancer Dojo should get to no less than 250.000 patients, and Conn plans to spread his message further, throughout Europe and the United States. 
Nowadays, Conn also works with brands as a purpose consultant, guiding clients to a more sustainable way of doing business.
He believes the thinking behind Cancer Dojo can be applied to creative ad professionals, making them happier, healthier and "harder to kill". The topic was covered at the ADC Focus on Impact event in December. The full story can be found below.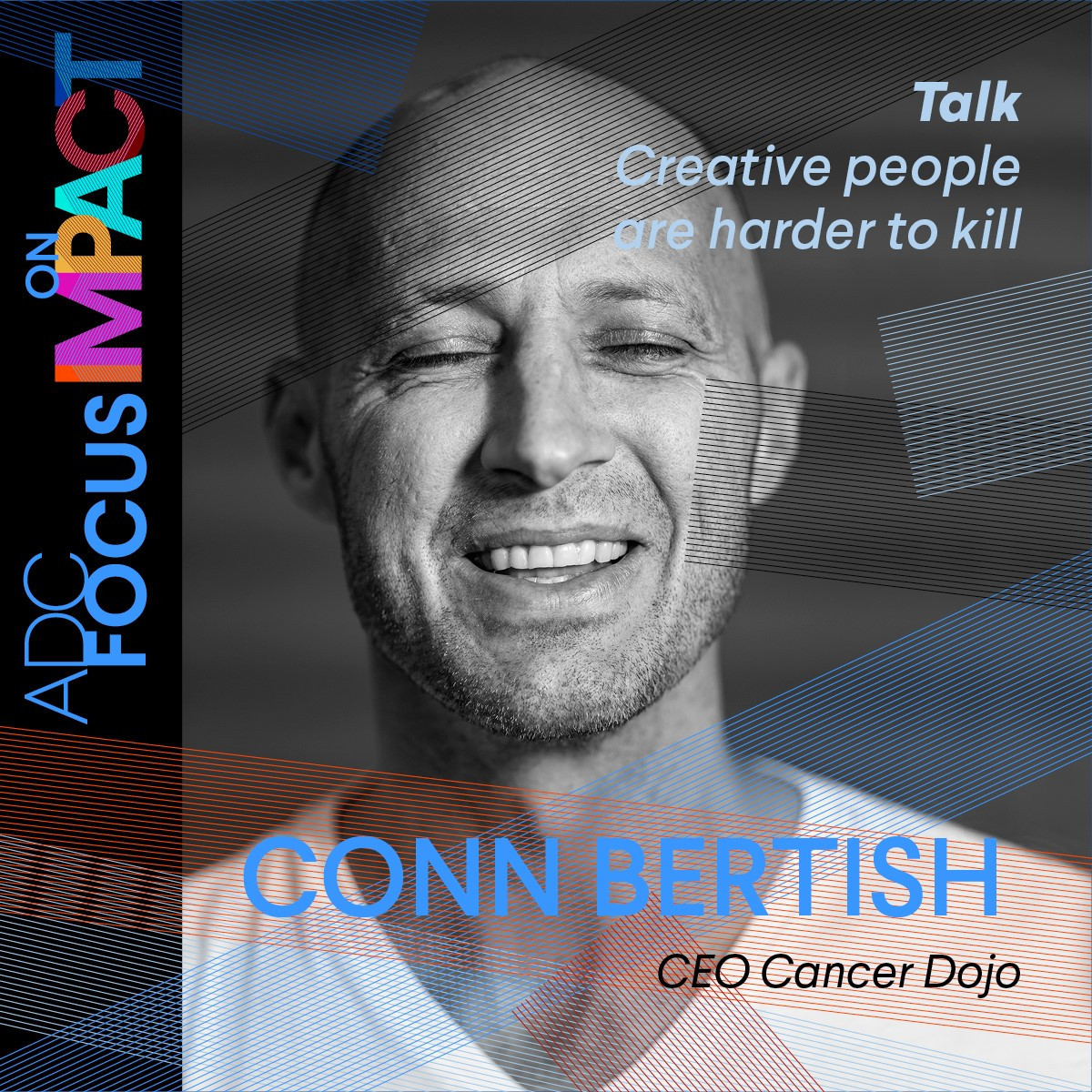 Versiunea in romana a interviului se afla chiar aici.
The advertising age
Advertising chose me. I've always been interested in creativity and human behaviour - so I naturally fell into the advertising world. I found that my love of solving challenges with humour, creativity and insight-led ideas was not only my talent, but something I would also struggle with, for many years, in my successful career as a creative director of some of South Africa's most successful agencies.
My struggle with traditional advertising was both moral and sustainability based: I felt that the unreserved approach to selling products at all cost was pretty disingenuous considering the global social and environmental pressures facing our planet.
It took having cancer to kick me into gear - and to focus more on doing the work I believe I was born to do - which is to use my skills as a creative director, strategist and speaker to generate positive solutions and methods to help people and brands overcome scary challenges.
This shift in direction started with range of more socially-led projects, like the "My First Book" campaign for the Global Literacy Foundation and others. This thinking was fueled further by my tenure as Creative Director for the 2014 World Design Capital Cape Town - when I saw first-hand how simple design thinking could transform peoples lives at scale. 
Soon after beating cancer in 2013, I realised I had to resign from my role as executive creative director of South Africa's then largest digital agency, to follow my purpose and put my skills to real work, that made a difference.
Putting your own experience into Cancer Dojo
The idea of Cancer Dojo was born throughout my rather crazy and offbeat journey through my rare adult brain cancer.
Using my skills as an artist, creative director and extreme athlete (I was competing as a Red Bull big wave surfer at the time I was diagnosed), I began a process of literally gamifying cancer by creating hundreds of metaphoric scribbles, sketches, installations and writings that enabled me to build my own resilience - both psychologically and physiologically - to help me overcome my fear, my sense of helplessness and ultimately helped me beat cancer.
These simple acts of augmenting my treatments (utilising creativity and targeted metaphoric thinking) harnessed the sciences of Resiliency and Psychoneuroimmunology to help me boost my immune system over time and recover from the very real possibility of death from brain cancer.
With the urging and support of some of South Africa's top professors of Oncology, Sport Science and Mental Health - who had all been involved to some degree, I was made to realise that my job of teaching others to do the same was an all important one - and one that I would need to dedicate much of my time doing. Thus I began building of a creative support solution for cancer patients and a process for everyday humans and brands facing tough challenges.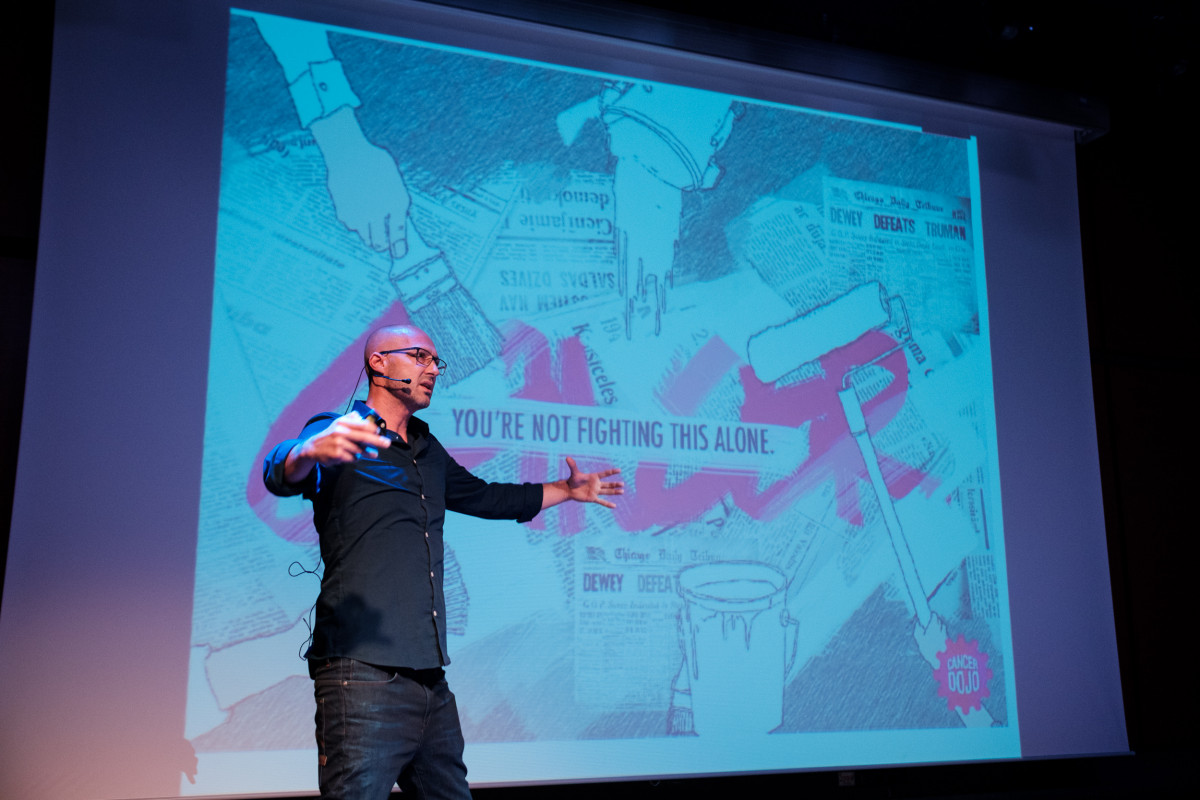 How did you test/validate the idea?
Upon releasing a simple video of my thinking online, I was approached by two of South Africa's top professors of Oncology who gave me some serious feedback and then support to make it real. Three weeks later they called me to deliver the opening talk at South Africa's largest gathering of international Oncologists.
It was pretty daunting sharing my thinking with 1400 oncologists from around the world. I was amazed and inspired by their incredibly positive response. After my talk, I was flooded with support and cheers from the audience, who all felt traditional medicine was missing a "trick" - and that was the need to engage the patient and humanise medicine in a way that humans could become part of their own healing.
After that, there was no turning back - my purpose was etched in my scars.
Here's a great quote that sums up Cancer Dojo thinking by the host of the event: "A positive mindset is critical – a Positive patient and a positive family are going to survive the rigours of the treatments more easily. This is where Cancer Dojo can help." - Professor Alan Davidson, Head of Oncology at Red Cross in Cape Town.
Delicate areas in gamifying, essentially, a terrible illness
When creating something breakthrough or new, there are many issues to navigate. Cancer obviously is a tricky one, yet we've included doctors' views from the get-go and have been guided by survivors, oncologists and patients on our tone and methodology.
We've also created a constant feedback loop in the app journey - we've added comment sections and emoji and mood inputs with challenges across all Cancer Dojo's 16 levels of positive behaviour change. We did this so we can continue building and optimising as we go forward.
We've realised our app will never be finished, it will just continue to become richer and more useful over time and as we grow.
Features you'd found most helpful during your own experience
We've included a scribble / sketch tool in the app that challenges patients to engage and use thinking, creativity and doing - to get involved in their own healing in a myriad of ways. This simple engagement example is key to the benefits of Cancer Dojo's ideology of a participatory healing process to benefit immune function and give patients a better chance of a more positive cancer outcome.
To inspire this thinking there are also over 400 images, challenges, gifs, videos, scribbles, tips and health hacks that have been generated by our Dojo Crew of supporters around the world - who gift us amazing content on a regular basis.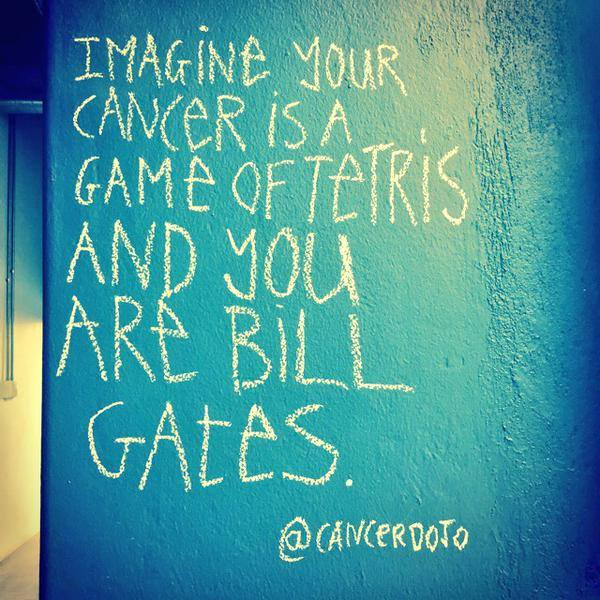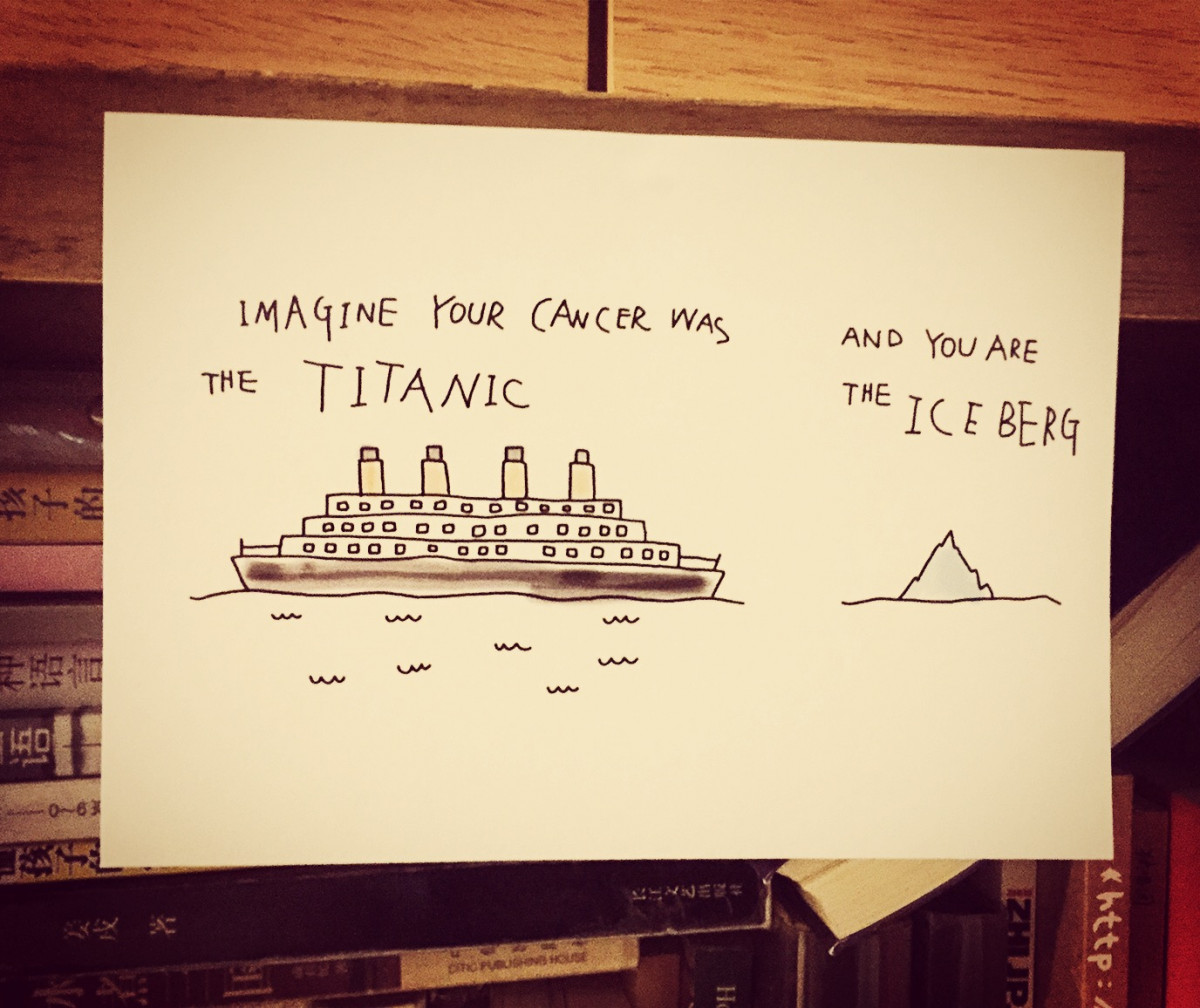 Running a social enterprise & consulting brands on purpose
I get up in the morning with a fire in my heart to help solve world issues, that is my job. And although it's hugely more rewarding, it does demand far more rigour and resilience - as the start-up world is a wild ride. I'm forging ahead by drinking my own Dojo Thinking Cool Aid to overcome these challenges by performing creative acrobatics everyday. There is no safety net, I'm all in.
I believe all brands should begin embracing this more socially entrepreneurial mindset - it is a responsibility that has been lacking since the beginning of advertising. I also believe the traditional models of advertising aren't sustainable given the current state of the planet - and connected humans on it.
There needs to be a shift in purpose: Away from purely monetary-based - Toward a more authentically, socially and environmentally, purpose-based approach to branding and communication. And this is the work I do as a consultant and Purpose Creative Strategist and guide.
Every brand can be linked relevantly to a global or local issue in sync with their product, message and output - it takes thinking, commitment and dedication. I'm excited to say there's a global shift in this direction and I'm currently working with a few inspired global brands, doing exactly this.
It is truly a special time to be a creative person on the planet and I think the future, with it's many challenges in more exciting than ever.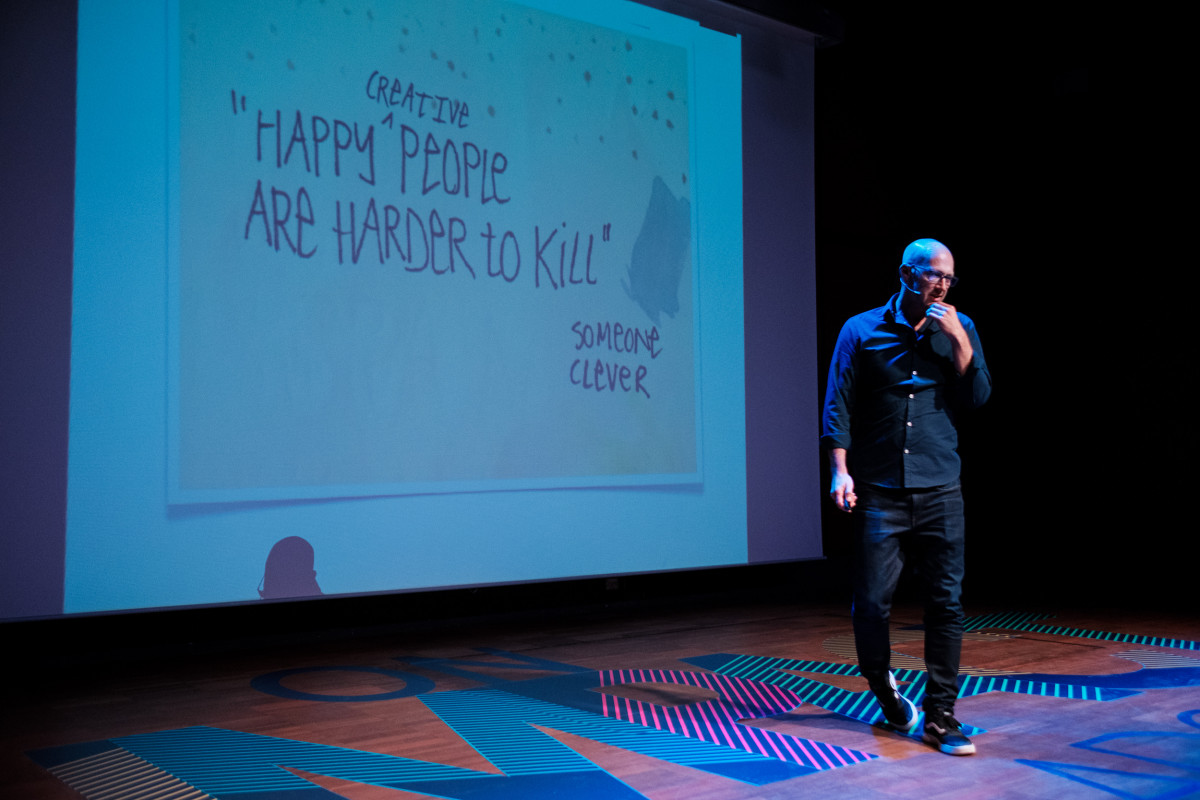 What's next in store for Cancer Dojo & Dojolabs PTY?
Scale and sustainability. I want to spread the Cancer Dojo message across Europe and then into the US over the next 2 years. I plan to find and partner with the right investors and like-minded organisations to help get the app into the hands of 250.000 patients within the next 23 months. 
I also want to use this same thinking to make industry people happier, healthier, more productive and harder to kill - so I'll be running extreme creative workshops in Europe this year, starting with a two-day workshop at the Pi School in Rome on the 14th to 15th of June. 
I'm on a mission to empower people and brands to find and utilise their powerful, innate creative purpose - to help them navigate a growingly challenging landscape.