Trecearea timpului își pune amprenta peste multe lucruri, iar Publicitatea nu reprezintă o excepție. Anul acesta, PRIME România te invită la Visually Speaking - From Ad to Ad: The Challenge of Time, un eveniment inedit în care accentul va fi pus pe modul în care au evoluat de-a lungul timpului tendințele în lumea advertisingului. Evenimentul va avea loc joi, 28 martie 2019, la The Fool (Calea Victoriei 118) , începând cu ora 14:00 și va dura aproximativ trei ore.
La ediția de anul acesta, invitații noștri vor merge pe axa timpului pentru a oferi o privire de ansamblu asupra evoluției creației din Publicitate. Astfel, Paul Cotor (Head of Creatives @ Minio Studio) și Marius Cioroabă (Copywriter @ Minio Studio) vor analiza și vor dezbate împreună cu participanții elementele relevante care au stat la baza execuției și trendurile în materie de publicitate din piața românească și internațională din diferite epoci. De asemenea, în cadrul workshopului, vom încerca o reinterpretare și o aducere în actualitate a unor afișe și campanii publicitare vechi.
Cum participi?
Cei care doresc să primească feedback de la speakerii invitați pot încerca să facă o "schimbare de look" unor afișe vechi, astfel încât să fie la modă în vremurile noastre. Aceștia pot fie să explice schimbările pe care le-ar aduce, fie să editeze afișul vechi și să trimită varianta reinterpretată la adresa events@primeromania.ro până duminică, 24 martie, ora 23:59. Totodată, cei care doresc să participe la eveniment se pot înscrie prin completarea unui formular până la data de 27 martie, ora 23:59.
Intrarea este liberă.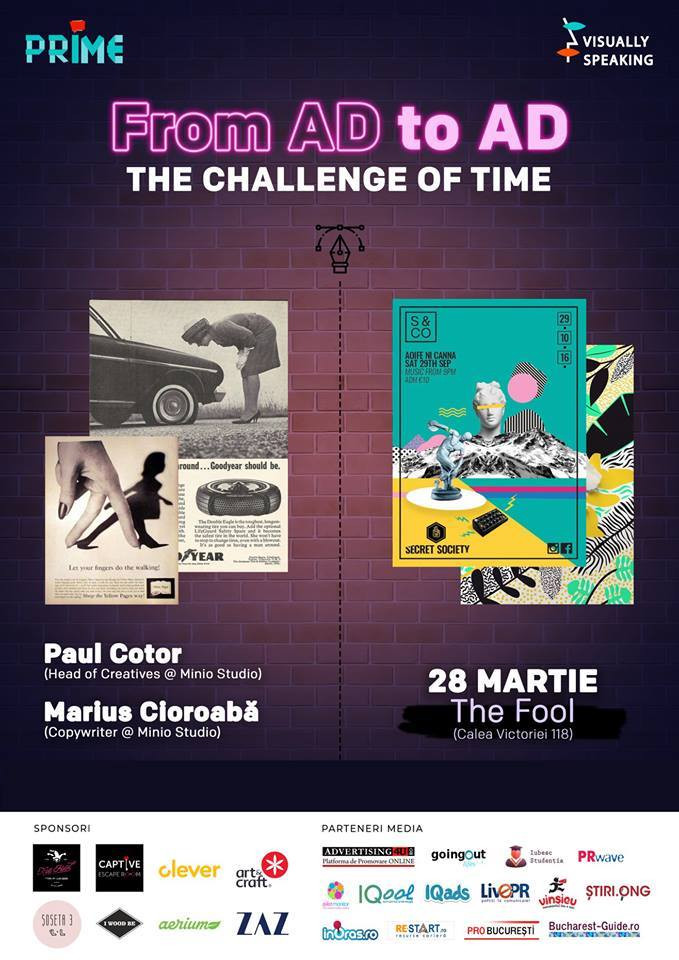 Visually Speaking este un eveniment cu un concept unic, care își propune să aducă pasionații de Comunicare și de Art Design față în față cu o echipă de creație dintr-o agenție, pentru a discuta împreună aspecte legate de tainele Publicității. Astfel, au loc o conferință și un workshop interactiv, într-un mediu informal, prin care se încurajează creativitatea în rândul tinerilor. Prima ediție a evenimentului, Visually Speaking: Bridge between Cultures, a avut loc anul trecut și a pus accentul pe diferențele culturale care se reflectă în producțiile creative, atât în Publicitate, cât și în alte industrii (film, teatru, muzică).
Sponsori: The Fool, Șoseta 3, Aerium, I wood be, Romanian Art&Craft, Zaz, Captive Escape Room, Clever.
Parteneri media: IQads, IQool, PRwave, Iubesc Studenția, Going Ouț, Știri ONG, Advertising 4U, vinsieu.ro, inOras.ro, Live PR, Re-star.ro, Ze-list, probucuresti.ro, Bucharest-Guide.ro.