Minio Studio și Rowenta au făcut o echipă imbatabilă în această vară, câștigând simpatia consumatorilor cu o campanie de comunicare ce și-a propus să-i ajute pe bărbați să fie în trend în materie de barbă și tunsoare în 2018.
Într-o vară marcată de Campionatul Mondial de Fotbal din Rusia care a acaparat atenția bărbaților, Minio Studio și Rowenta au pariat pe o campanie atipică, dedicată acestora.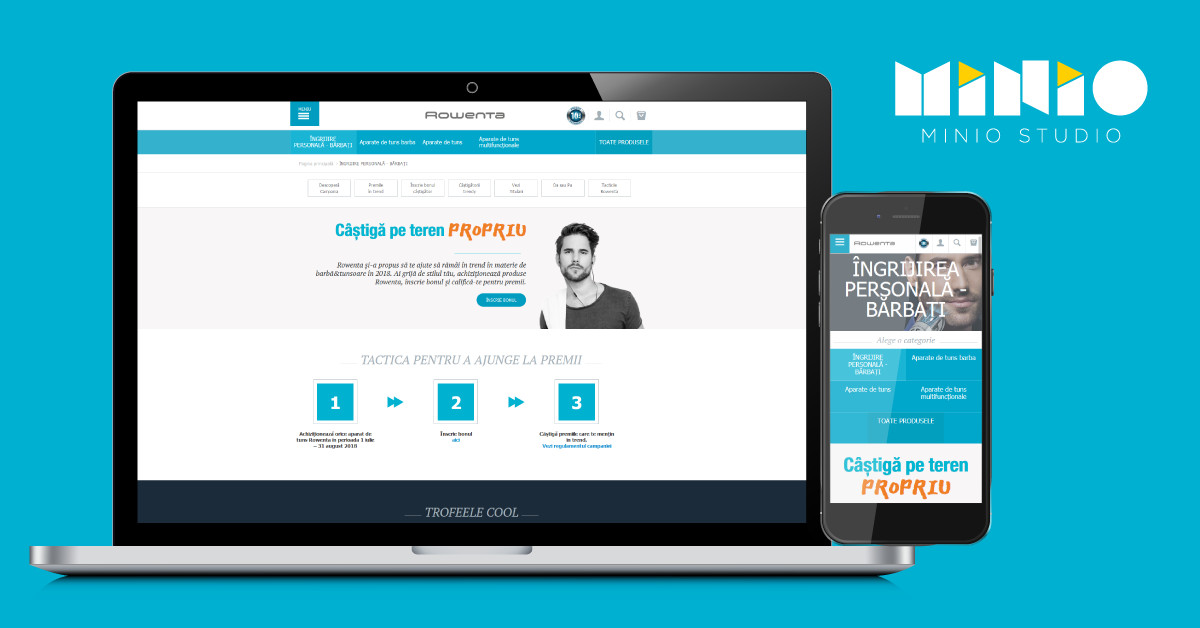 "Câștigă pe teren propriu" a adus în atenția consumatorilor români un subiect foarte interesant, grooming-ul, adică aranjarea bărbii și a părului. Campania a avut ca scop conștientizarea în rândul  bărbaților în ceea ce privește nevoia de stil când vine vorba de tunsoare sau aranjarea bărbii.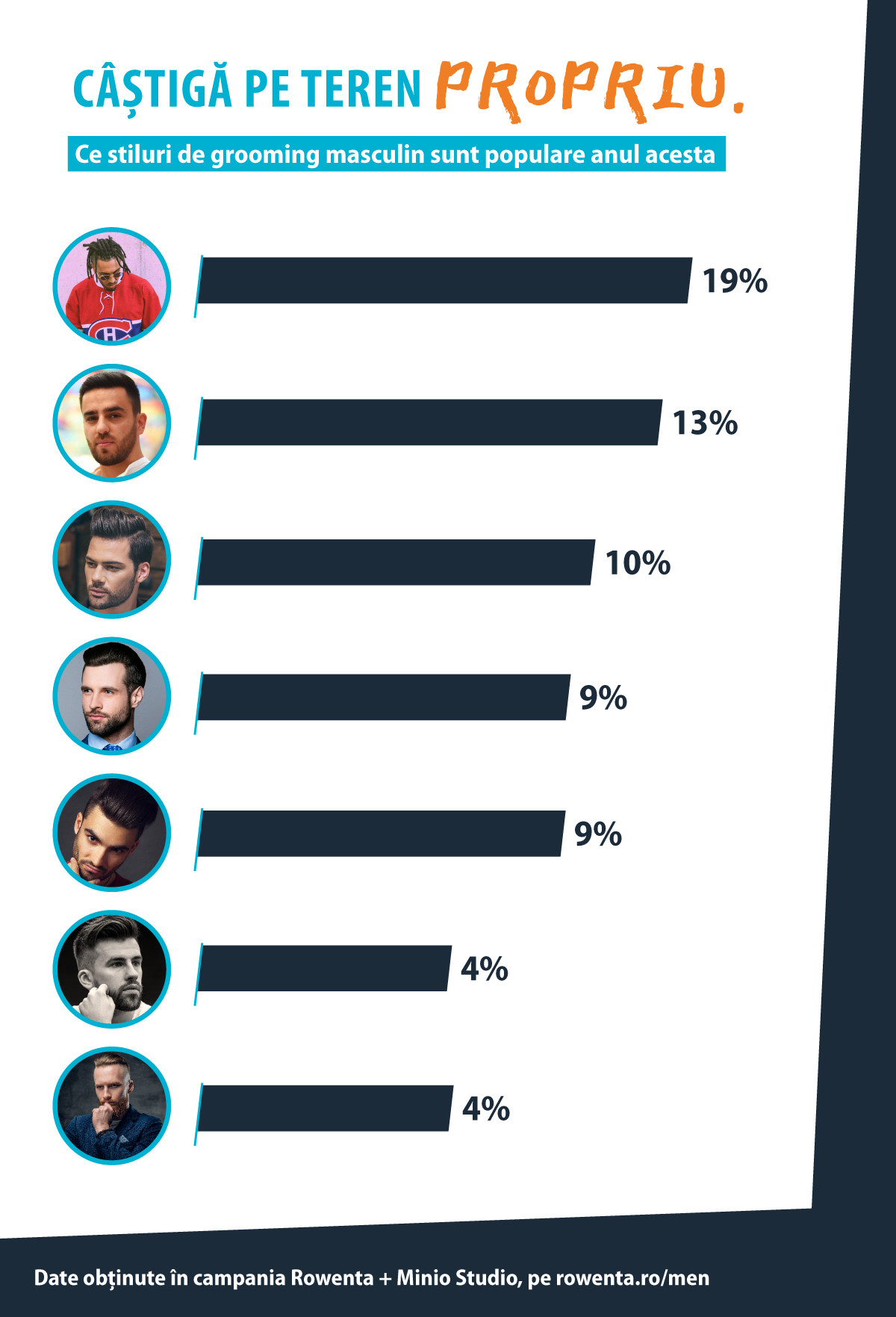 Și chiar dacă s-ar fi putut spune că intră în "competiție" cu șansa a doua, echipa Minio Studio - Rowenta a reușit să trezească o nouă percepție a bărbaților în legătură cu stilul.
Componenta principală a campaniei a fost cea de digital. Consumatorii au putut accesa platforma on-line rowenta.ro/men, unde au avut la dispoziție tutoriale video cu sfaturi utile. Profesioniștii le-au arătat diferite stiluri de tunsoare și aranjare a bărbii, folosind aparatele AirForce Precision și AirForce Ultimate, cele două produse-vedetă ale campaniei. Astfel, full goatee, buzz cut sau man-bun au încetat să fie termeni necunoscuți pentru bărbați. Și pentru că nu s-a dorit totuși ignorarea celui mai iubit sport de către bărbații români, clipurile video au fost comentate ca o partidă de fotbal.
Pentru că bărbații iubesc cu adevărat competiția, Minio Studio și Rowenta au creat una pe site. Reprezentând fiecare un stil diferit, influencerii campaniei, Alex Velea, Florin Ristei, Mariciu și Silviu Pașca, au putut fi votați în competiția stilurilor DA sau PA.
Campania s-a desfășurat și în magazine, acolo unde Minio Studio a realizat mai multe tipuri de execuții. 
"Rowenta este un client open-minded, care înțelege felul în care oamenii, în ipostaza de consumatori de produse, s-au schimbat dramatic în ultimii ani. Campania "Câștigă pe teren propriu" este una complexă, îmbinând aspecte educaționale, funcționale, promoționale și umoristice. Credem cu tărie că oamenii cu care vorbim nu gândesc în canale de comunicare. De aceea, oferim mesaje relevante și experiențe potrivite pentru mediul și contextul în care se află. Și ne bucurăm când avem aceeași viziune cu clienții noștri, așa cum s-a întâmplat în cazul echipei Rowenta.", afirmă Ioana Mucenic (CEO Minio).
"Conceptul propus de Minio ni s-a părut creativ și ne-am bucurat când am văzut că și publicul este de aceeași părere. Ne-am dorit un concept out of the box, cu elemente care să ne scoată din stilul clasic de comunicare, iar "Câștigă pe teren propriu" este o campanie în care mulți dintre consumatori s-au regăsit.", spune Gabriela Velicu, (Category Manager Rowenta).
Cele două echipe
MINIO STUDIO
Ioana Mucenic – CEO
Paul Cotor - Head of Creatives
Cristiana Pană – Head of Strategy
Cosmin Slăbescu – Account Manager
Theodora Tanczos – Digital Account Manager
George Bonea – Copywriter
Marius Cioroabă – Copywriter
Alex Cazacu - Copywriter
Dan Cernăianu – Art Director
Max Amza – Senior DTP
Marius Marin – PR Manager
ROWENTA
Gabriela Velicu – Category Manager
Andreea Cazacu – Trade Marketing Specialist
Alina Cuzmin – Digital Manager