In urma cu nici o luna aflam cele 3 designuri castigatoare in urma evaluarii publicului si a juriului din CIVIC 5D Design Challenge. Cei 3 castigatori au venit dupa 5 saptamani de competitie, in care am primit din partea comunitatii de designeri din jurul IQads peste 150 de inscrieri care respectau brieful propus de reprezentantii Honda: un design care sa exprime grafic 4 atribute principale ale noii serii de masini Honda Civic 5D (X): Sportiv, High-Tech, Elegant si Performant.
Juriul, format din Mihai Sandu (Marketing & PR Manager, Honda Trading Romania), Andrei Constantin (Creative Director, Two & From), Laur Ciorobea (Marketing & PR Specialist, Honda Trading Romania) si Stefan Buda (Marketing & PR Coordinator, Honda Trading Romania), a oferit mai multe directii in ce priveste conceptele creative pe care designerii le puteau adopta - spiritul si brandul Honda, traditiile brandului din zona curselor auto-moto, istoria sau pop culture-ul japonez.
Iar lucrarile castigatoare, dupa cum a rezultat, apartin culturii japoneze, doua traditionale, iar una mai contemporana. Astfel, designurile care au convins au originat dintr-o opera de arta clasica, o legenda traditionala si, respectiv, un film-cult din anii '90, foarte apreciat in Japonia contemporana.
Vedem in continuare cum noul model Honda Civic 5D si-a imbracat designurile grafice in viata reala.
Locul I - "The Great Wave"
Lucrarea castigatoare, inspirata de xilogravura artisului japonez Hokusai "Marele val de la Kanagawa" si apartinand antreprenorului Alexandru Ion, a concretizat un look elegant, care translateaza inovatia tehnica din crearea operei la acea vreme in inovatiile tehnice ale modelului Honda Civic 5D, cum ne povestea si Alexandru despre gandul din spatele lucrarii.
CIVIC 5D in haine noi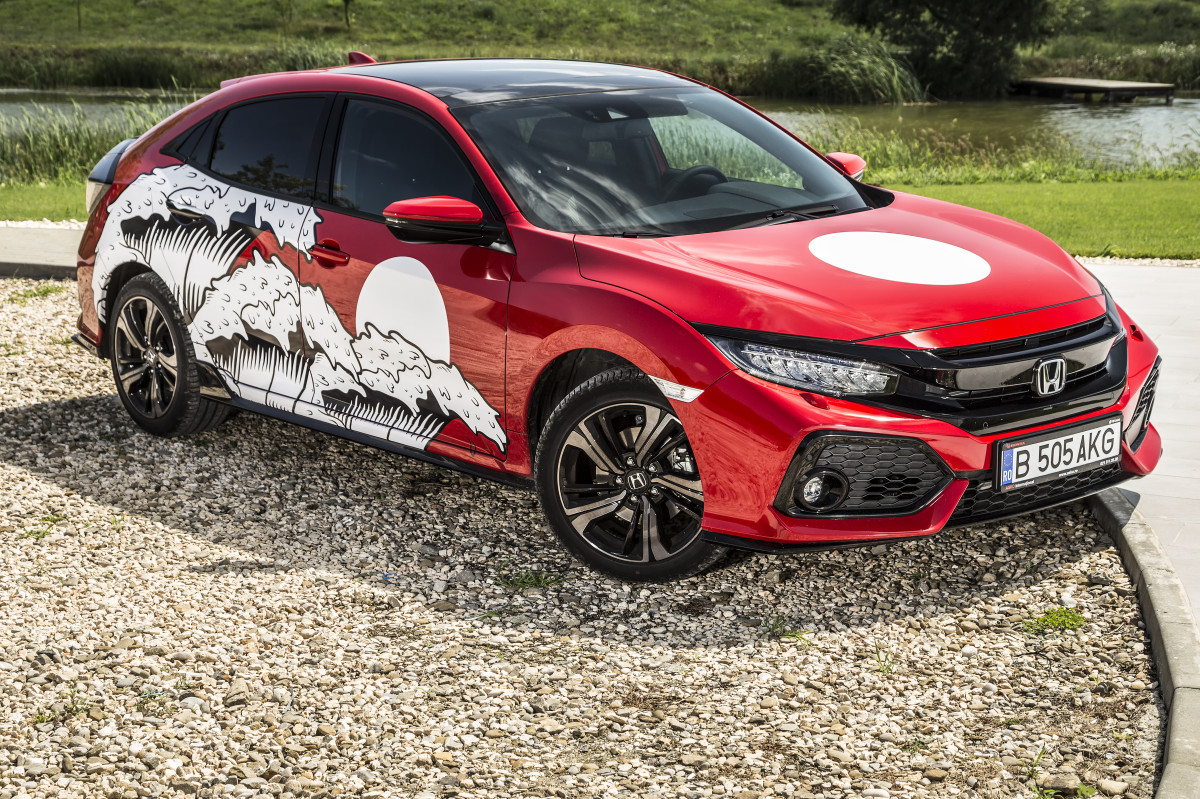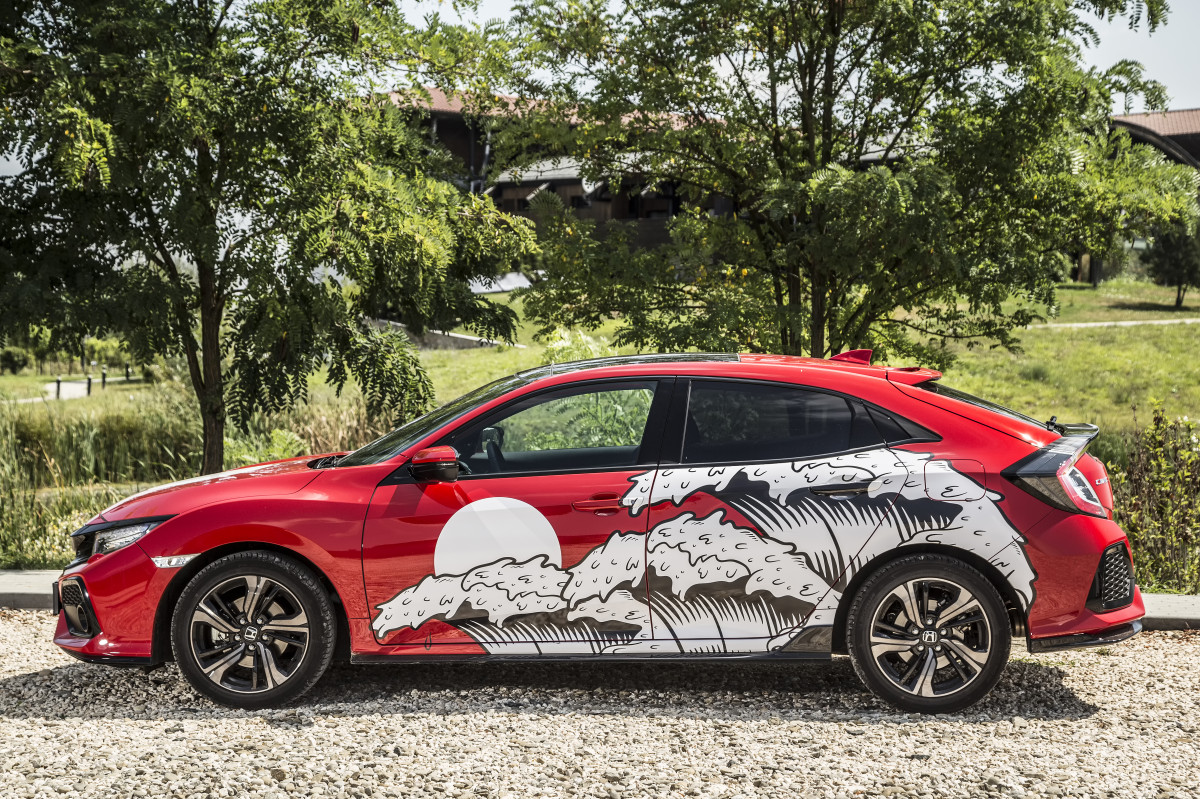 Locul II - "Ghost In The Shell"
Ocupantul locului secund, Cosmin Gradinaru, Creative Director, n-a stat departe de shootingul ce i-a implicat una dintre cele 3 propuneri trimise in concurs, inspirate de filmul-cult japonez "Ghost In The Shell". Rezultatul duce cu gandul spre High-Tech si retele neuronale, exact cum a fost gandita inscrierea initial: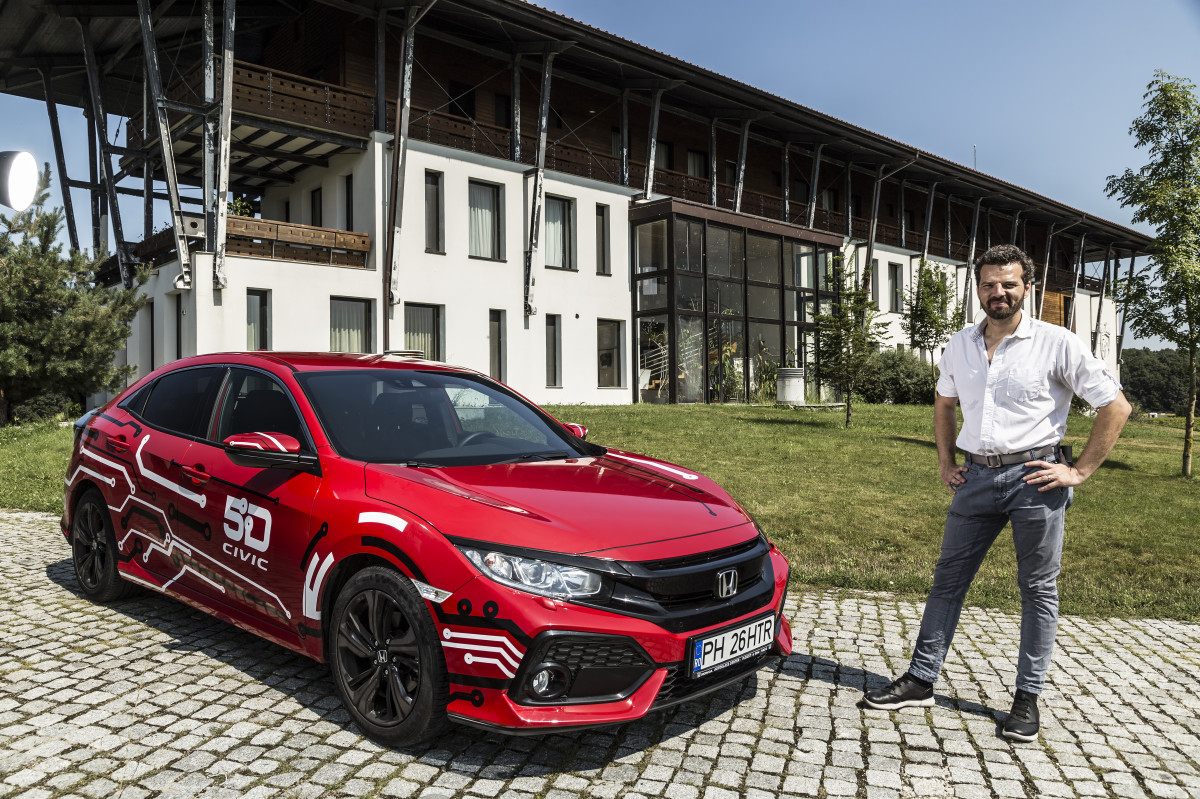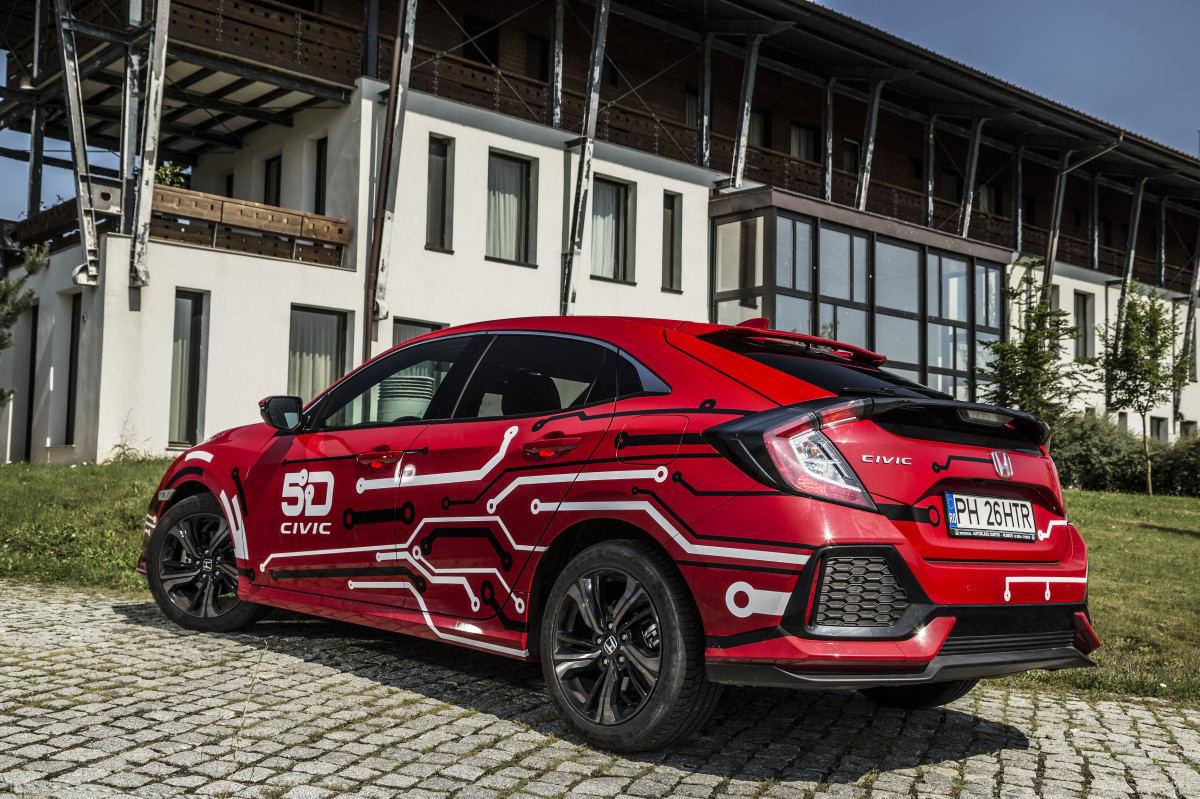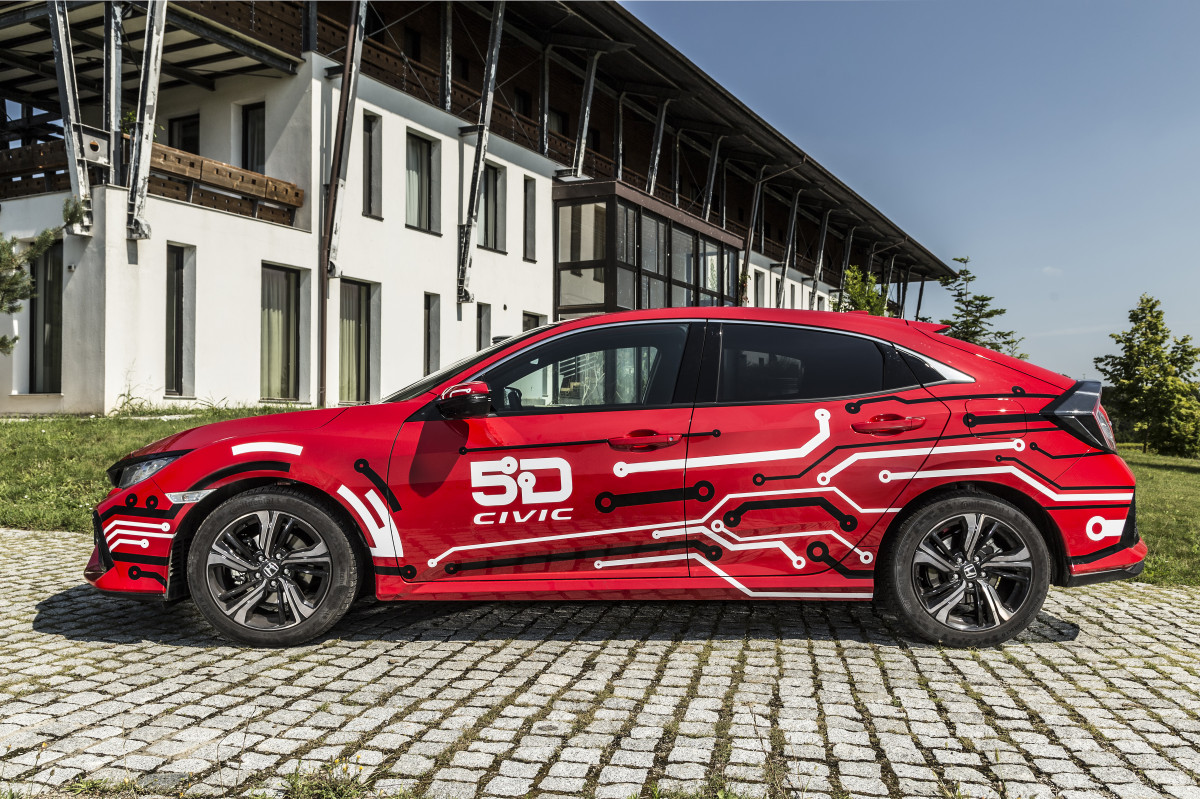 Locul III - "C1-V1-C: Millennial Cranes"
Iata cum arata si designul iesit pe locul 3 dupa evaluare. Castigatorul este designerul Alin Patru care s-a inspirat dintr-o legenda japoneza potrivit careia o dorinta ti se va indeplini daca impletesti in origami 1000 de cocori de hartie. In cultura japoneza, ne povestea Alin, cocorii simbolizeaza longevitate, echilibru, onoare si libertate - "cateva dintre atributele brandului Honda pe care am vrut sa le pun in evidenta".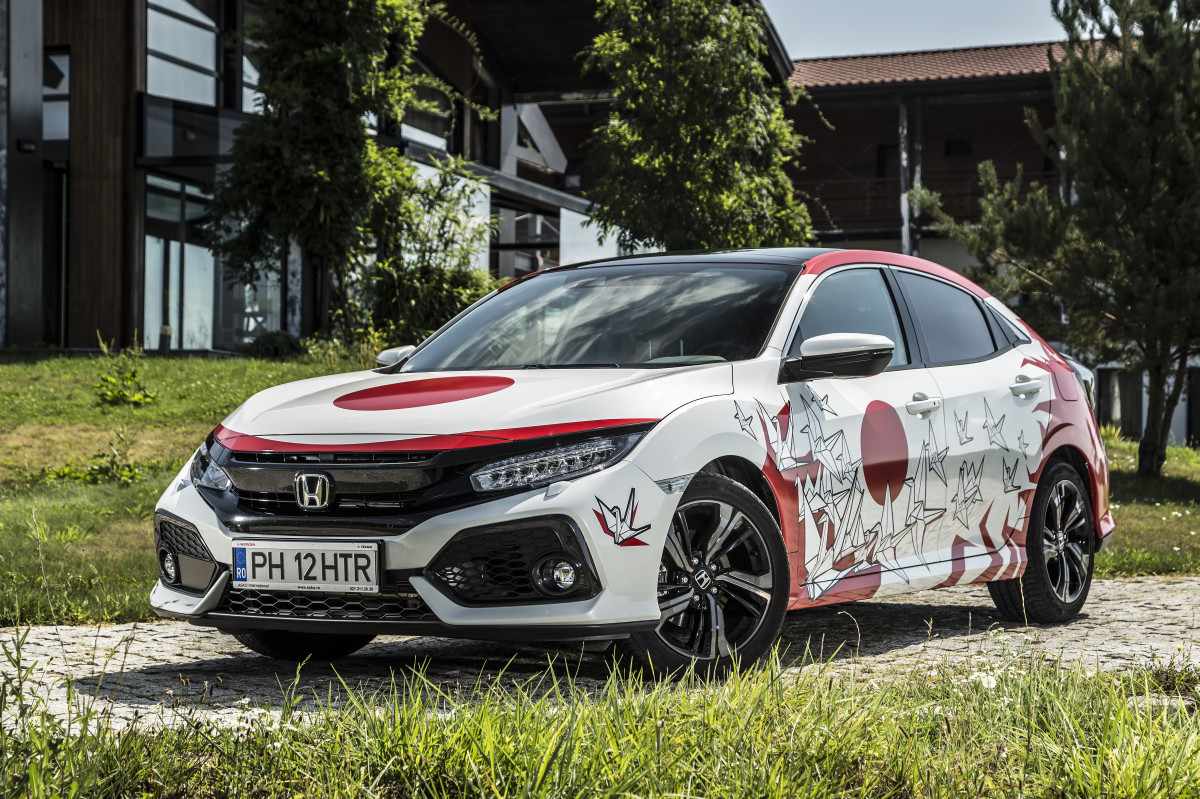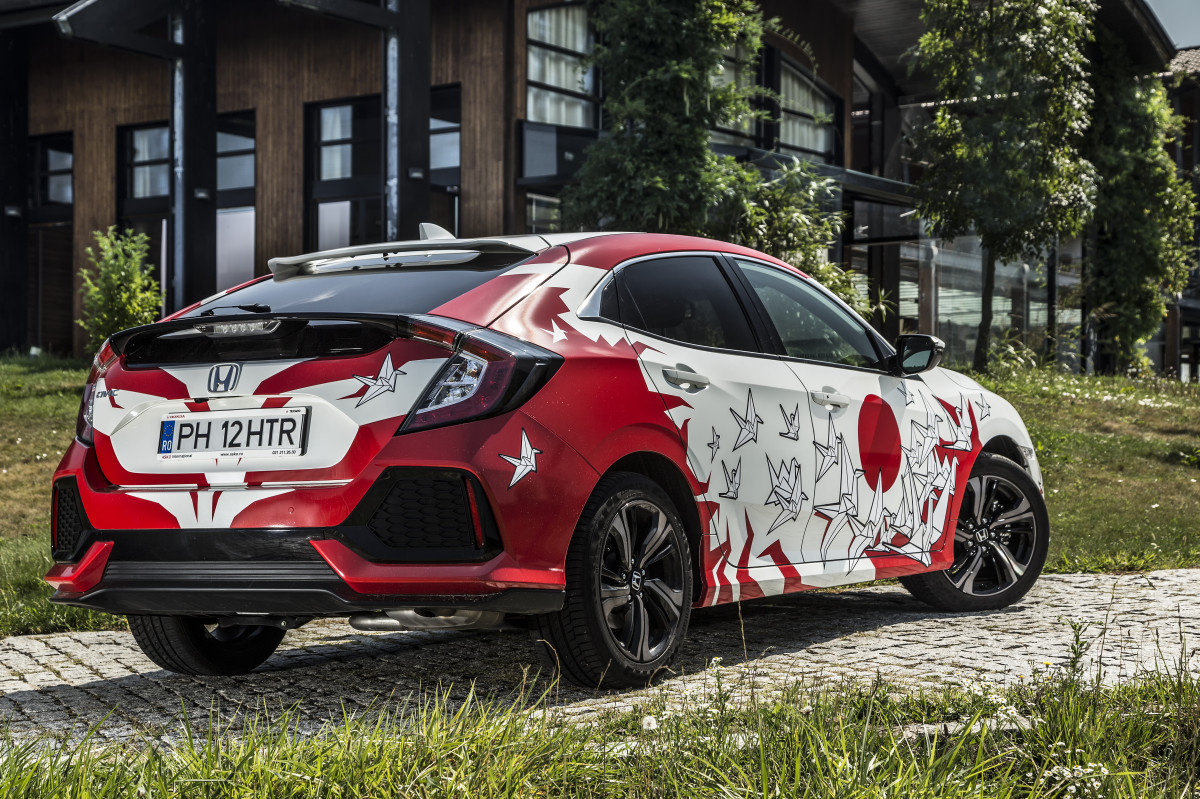 Despre intreg parcursul si rezultatele competitiei, Laur Ciorobea (Marketing & PR Representative, Honda Trading Romania) ne-a declarat:
Originalitate, curaj, expresivitate – acestea sunt cuvintele ce ne vin in minte. Am fost placut surprinsi de numarul de creatii ce au reusit atat sa valorifice aspectul spectaculos, avangardist al masinii, dar in acelasi timp sa fie remarcabile si potente ca designuri de sine statatoare.

Am apreciat vastele surse de inspiratie, de la mostenirea japoneza, curse WTCR sau pop-culture cu inspiratie Sci-Fi, pana la motive abstracte ce redau spiritul si emotia din spatele masinii. Poate din acest motiv nu exista doi membri ai juriului ce ar fi pus aceleasi 3 designuri in top, insa cele 3 designuri castigatoare sunt cu siguranta cele ce au reusit sa rezoneze cu fiecare dintre noi.

Le multumim concurentilor IQads pentru pasiune si implicare si, bineinteles, ii asteptam si in Showroom daca vor sa vada masina si in spatele monitorului ;)
Si noi ii felicitam din nou pe castigatori, alaturi de toti ceilalti participanti, pe care ii asteptam din nou la urmatoarea competitie creativa desfasurata pe platforma TheCreator. Inspiratie sa fie!