Alyona Olehivna Savranenko, known as Alyona Alyona on the European music market, is one of the popular rap music artists now. In 2019, The New York Times included her in the list of "15 European Pop Acts Who Matter Right Now". She has been composing and singing since she discovered Eminem's music at the age of 12, but she didn't make her first recordings until she went to college.
Alyona became famous in 2018 after uploading on YouTube the video "Little Fishes", for which she filmed in a swimming suit. She was 27 years old and worked as a pedagogue. She went viral, quit her job and continued to sing about self-acceptance and self-love, body positivity and life situations that happen to her every day.
"I think people's opinion about themselves is influenced by all the messages that television and social media promote. That you have to be in certain beauty standards. I sing about beauty like this: each person is beautiful his/her own way".
Alyona was recently in Romania for the first time, in Timișoara, where she performed on the big stage from Piața Unirii, at the opening of the European Capital of Culture.
When the war started, the artist volunteered in Kiev for a few months, but later she decided to go on tour with her music and talk about what's happening in Ukraine. We talked to her about the current life of Ukrainian artists and about her music.
The life of artists in Ukraine currently
Ukrainian artists do a lot of work for our people. First, volunteering, then they do everything they can in their social media. We all do, constantly speak about the war and all this situation my people are going through. People who are around the artists living in Ukraine always take something, maybe from Europe, maybe from another part and they bring to Ukraine in order to help soldiers. Then, we can talk about touring. In Ukraine, there are concerts that artists give, but super small, super underground, they don't get to many people in one place. It's not about money, in the end, it's about hope, it's about attention, it's about giving energy to people who need it. Artists who are still in Ukraine do that, artists who are in Europe connect with the refugees or they give some gigs because many of Ukrainians are now in Europe, introducing Ukrainian music to European people.
We are also planning a tour in Ukraine, in April. Hope everything will be good and we can keep it.
Your message for Romanian people
Believe in us! My country still needs you! Thank you for helping my people this entire year since the war started, because I know how much Romanian people has helped the Ukrainian people.
Back in time, about the moment you fell in love with rap music
I was 12 and I used to write poems and pop songs, like Britney Spears, you know? But then, I started listening to rap music, mainly Eminem. I understood that I have to use short lines in poems, but in rap I could use long lines. And I was like: "Wow! I have to start writing this!". And I started writing, but not yet rapping at that time. One day, I heard some rapper who was almost my age and he had already taken out some music on audio tape. I told to myself "He is younger than me, so if he can be a rapper, I can be too". I started rapping, but not recording and I did this for 6 years.
What happened next
When I was 18, I went to the University and I found a guy who had a microphone. With his help, I started recording, uploading songs on the internet. And I did this for almost 10 years. I become famous only at 27.
Before, I had some videos but it was a typical rap video with wall, graffiti, "yo-yo, check it out", then I started writing unusual rap about myself, about what I feel, not about street, life, you know? And we shot an unusual video.
We shot a video with me in a swimming suit, for "Little fishes", it was a little bit swag, a little bit provocative because I was a pedagogue in the kindergarten. It was unusual and it blew away, many people saw it, they shared it on social media and I became famous in one day. Shortly after, I resigned from the kindergarten.
Most toxic clichés regarding human beauty that you sing against
Many girls and many men look at themselves and say that they are not beautiful. I understand it's about our roots, our childhood, but I think people's opinion about themselves is influenced by all the messages that television and social media promote. That you have to be in certain beauty standards. I sing (and talk) about beauty like this: every person is beautiful, even if it is tall, small, slim, fat, black, white, with his own eyes, nose, boobs, hair, hands, tattoos, piercings. Each person is beautiful his/her own way. I think standards are bad and I believe that people came to this world – and I use often these words in my songs – to spread love and to be happy. So, how can you spread love, if you don't love yourself? How can you be happy if you hate the others, if you humiliate or shame somebody? I talk not only about people who don't love themselves, I talk also with those who are haters.
Self-acceptance and love
I taught them myself. It was a situation in my life when I was 20 and something. I was in the University and went to the stage to perform a stand-up, made some jokes had fun, then one girl came to me and told me "Alyona, I wanna be like you". But this girl was looking like a super model. I started laughing and asked her why she wanted to be like me. She said that because I was so talented and people watched me and I had many friends. "You are not scared to get out on stage and be yourself", she told me.
Later on, that day, I thought about that discussion and I wondered what I preferred, if I were to choose: to have her body but without my talent or to be like I was, in my body and with my talent. I would choose the same I am today because I am charismatic, I am a poet, I am friendly, kind, beautiful. It was then I decided that I have to accept myself as I am, love myself the way I am. My parents did not teach me selflove, I taught myself. And I understood something: if you don't love yourself, nobody will love you. It's that simple.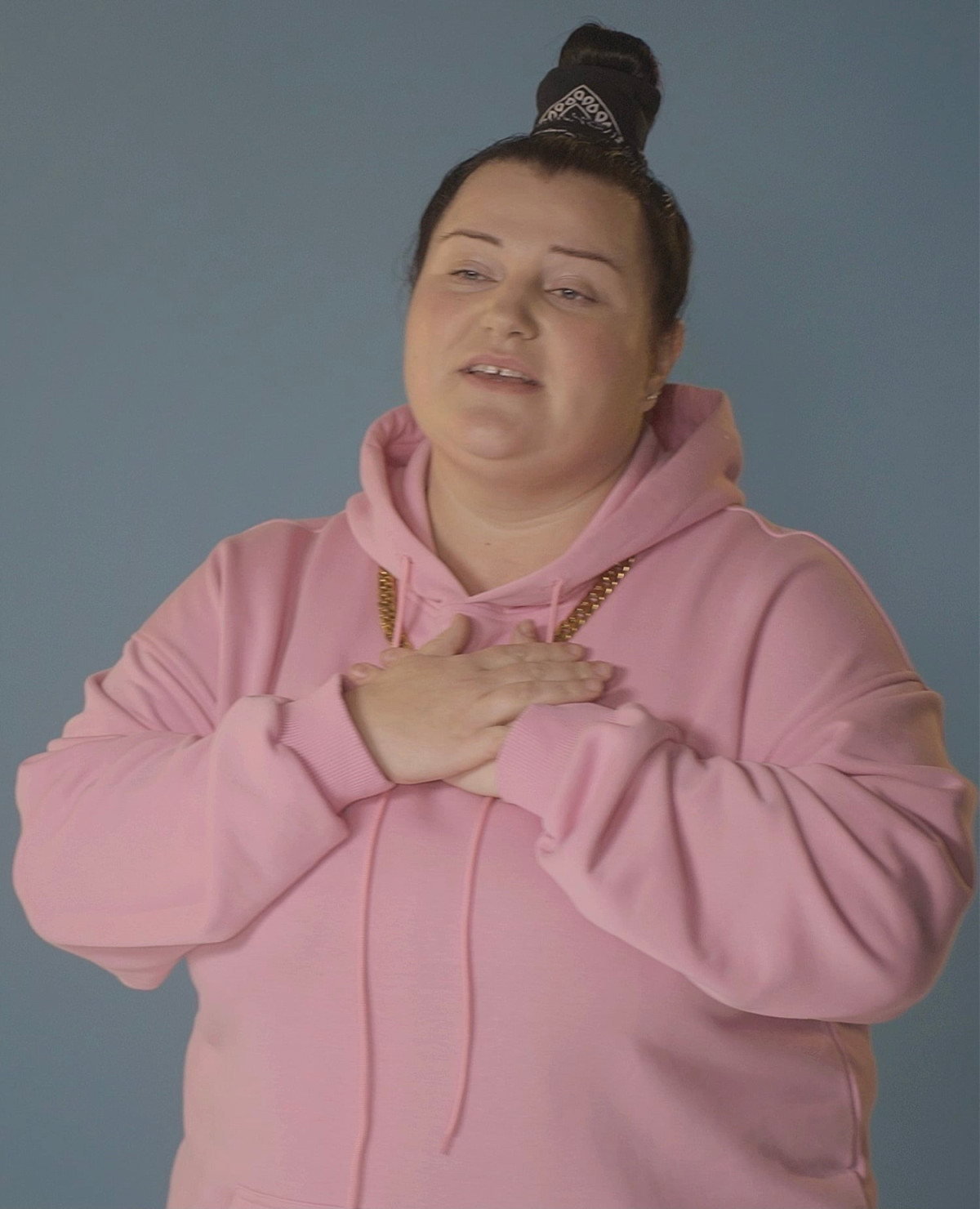 What inspires you currently
People inspire me everywhere I go. Stories inspire me, nature, I love to travel. Sometimes I like to spend time in nature without people. I find inspiration in books also. And some life situations. For example, I can go by some train and I see a mother talking badly to children, or see a different situation, when somebody is kind to somebody. Such life situations inspire me to write music.
Your superpower as an artist
The fact that I am an authentic artist. For instance, I go on stage always as I am, no make-up on. I have a lot of energy and I love spreading out positive messages through my music. I think I came to this world to be a good person and my music helps me to spread kindness all over the world.