Tarek Atoui is an artist and composer with a solid background in music, working with sounds and electro-acoustic music for over 25 years. Currently, his art is centered on spatial works, which are based on instruments, performance and sounds activation in various forms and manifestations.
He was born and lived in Beirut until he was 18, when he moved to France. In parallel with his studies in economics, Tarek began to study and create sounds and music. He says that sounds become energy and can be perceived also with other organs besides the ears. Also, he states that sound acts as a catalyst for human interaction.
Tarek has presented his work worldwide and won Suzanne Deal Booth/FLAG Art Foundation Prize in 2020. Tarek Atoui currently lives and creates in Paris.
"The act of listen for a deaf person is multisensorial. That is something that changed a lot my work and how I see sounds. Because, for me also, sounds are not something I perceive with my ears only, but something that sometimes I see and I feel. Even in the silence I can perceive sounds".
Tarek Atoui designs complex and innovative instruments that he uses in his workshops and performances. For the show held recently inside the Synagogue from Timișoara, Romania, he built a special musical device. Before starting his powerful performance, he told the audience that he enclosed in that box all the sounds he captured in ports around the world.
The performance held by Tarek Atoui was part of the central exhibition Chronic desire – Sete cronică, opened until 23rd of April.
More about the show from Timișoara
This show is like a journey through different sounds of the water. I collected many different sounds from big harbors all over the world. All these, guide me in my show, but then, of course, I improvise a lot around them, with the instruments I built for this performance. So, there are not only recorded sounds, but also sounds I produce with my instruments, from electronic sounds, to percussion. My performance is like a bouquet of sounds and colors, a collage of things from different cultures and countries. I prepared a lot of materials, I have built this device that allows me to use all these sounds, but, at the same time I experience much more satisfaction and fulfilment when my audience inspires me to improvise.
The collection of the sounds
There is this project, called Water's Witness, that we've been doing for almost 8 years. The idea of this project was to go out and collect sounds from cities that were historically harbors. So, I've been traveling around the world in cities like Abu Dhabi, Singapore, Porto, Beirut, Istanbul. I've gathered a collection of harbor sounds but I also captured what was around the ports, because it's not only ships and containers sounds, there are lots of sounds in every port.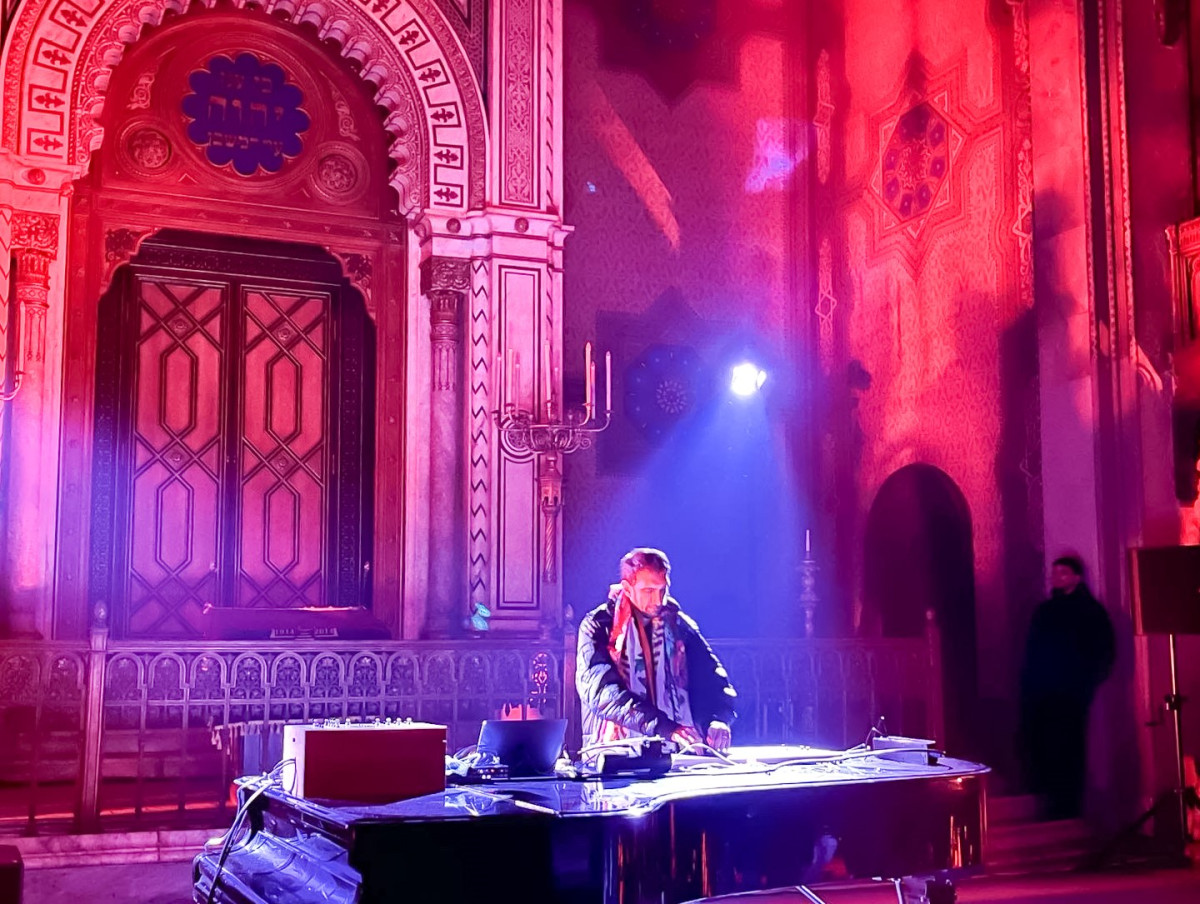 Your fascination about harbors. Where does it come from
It has two grounds. First of them: I come from a harbor city myself, Beirut, and I grew up by the harbor, I've seen the life there. But there were times, like during the civil war, when it was not accessible. Second: I studied economics in parallel with my sound studies. One of the subjects I liked was the history of economics, and one of the information that stayed the most with me was how certain countries developed a strong economy just because they had harbors. So, they built their economy out of free zones, out of commerce on water and port facilities. The place of the harbors in these cities was like an autonomous territory within a territory, that used to be the central point of life with market squares, restaurants, trading.
Today, the harbors became disconnected from the cities, as it's not easy to get in there because you need lots of authorizations. And people don't really know what's happening there, beyond the harbor's walls. So, for me, doing this project, was like an attempt to reconnect these two realities - city life and harbor life – through sounds.
Your passion for sounds
It came at a late stage of my life, it did not come when I was young, I grew up without any musical education, actually with nothing special in music awareness. My passion for sounds appeared around age of eighteen, when I discovered avant-garde music. It all started when I left Beirut and came to study in France, that was the starting point. It was also then when I began learning computer programing for music making, recording sounds, building electronic instruments. From there, things started building up.
Perceiving sounds with other organs than ears
I talk a lot about this topic, because it is somethings I've learnt working with deaf people, who do not perceive sounds with their ears, but perceive them with the rest of their body. With the fingers, the skeleton, the legs, the eyes. The act of listen for a deaf person is multisensorial. That is something that changed a lot my work and how I see sounds. Because, for me also, sounds are not something I perceive with my ears only, but something that sometimes I see and I feel. Even in the silence I can perceive sounds. So, you see, the notion of sounds is something very large. In my current project, that I also brought to Timișoara, people can perceive the physicality of the sound because I use speakers, electronics and subwoofers. In other projects that I've done so far, the experience of the sounds is much more divers.
Your special instruments
For some of my performances I build the instruments, like the ones I built for the show from Cetate Synagogue Timisoara. I built a lot of instruments for several projects, all types of instruments that produce all types of sounds, instruments for deaf people, instruments that produce old sounds. There are always and influence or something that inspires me when I am making new musical machines. This is very interesting for me because not only they make new sounds, but if you played them differently, they teach you and inspire you in new ways of playing music.
What happens with the instruments after the shows
I keep them in my atelier, I collect them, I live with them (laughs). I have a place full of instruments. Between my music and art, some of my instruments become parts of some museum collections, like art works. Others I keep for myself and for my friends. And there are others that we produce in many versions and big quantities that people can buy, or I can donate some in my workshops or to the kids I teach sometimes.
Over the years, I built many instruments, some are small, some are big, there is a variety of purposes they can serve, each has a history and a meaning. I like keeping them in my studio because I never know when I can need one again.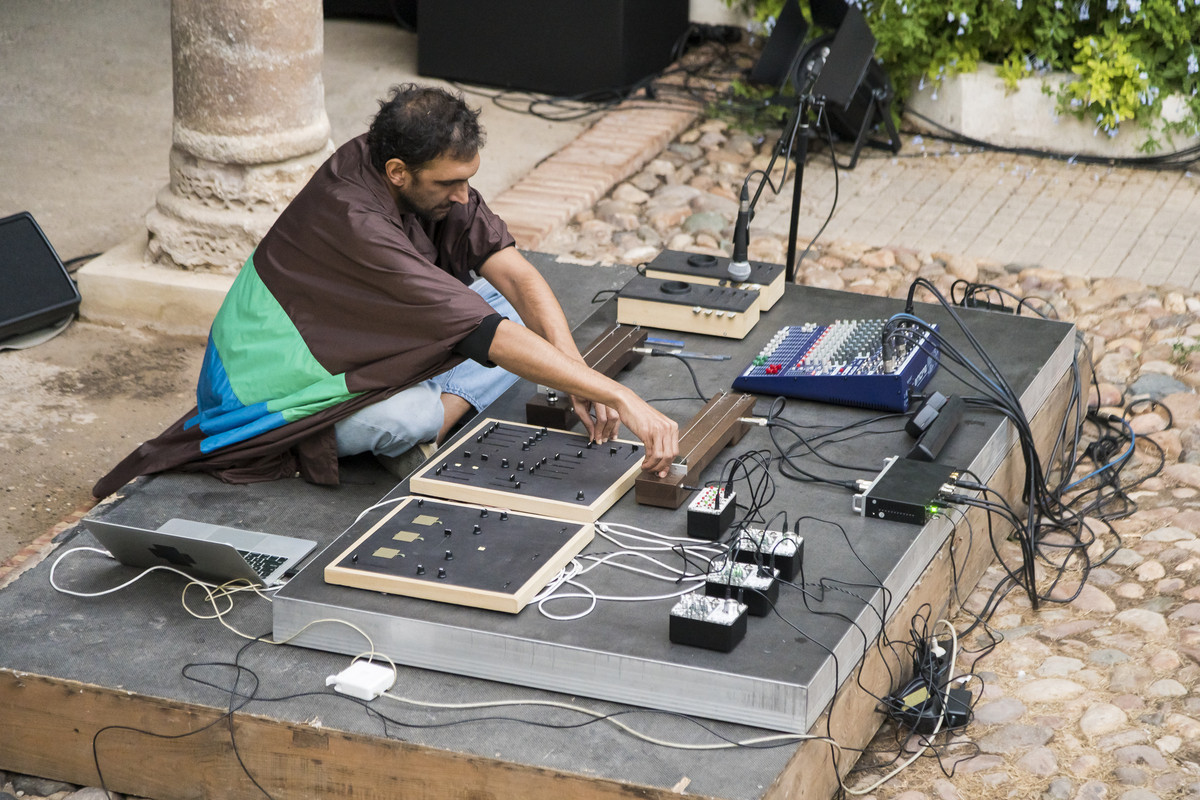 The learnings of the years you lived a nomadic life
It was a great period, to live such life for eight years, moving around the world with just a suitcase. It made me the person and the artist I am today. It taught me humility, I wouldn't say patience (laughs), because I am not a patient man, but it showed me how important is to be like that and it inspired me to try to be patient. It taught me to listen to people, to listen to places, to communicate beyond language and to be comfortable in any situation.
The life of a foreign artist in Paris
I moved to France twenty five years ago, but settled in Paris ten years ago. It took me lots of time to establish my situation in France as an artist. There are pros and cons, if you come from Europe is easier, for the others, harder. Nevertheless, Paris offers lots of facilities also for foreign artists, not only for the French ones. It has a good infrastructure, you can have access to funds, you can get a studio, you cand get support, you can show in many venues. All these are very good.
However, I never considered myself part of the French cultural scene. I travel a lot, my work is international, my identity as an artist is multiple. What I like about Paris now is that I have a framework and, from there, I travel all around the world. This is how I keep my balance, moving. I am not talking only about physical movement, but also between cultures, countries, people. I would say it is very important for an artist to avoid staying in one place.
How would you define your art
In constant movement and evolution, like myself. I am at high stage of my artistic life and going even higher. I feel very lucky, I am in a very good creation period because I have lots of ideas and things I work on. What inspires me today is education and sharing my art with a variety of people, not just my art and music audience. But, also, with children and people who, like me, did not have access to art and culture in their youth. That is something I am passionate about currently, sharing my work to a wide audience.
Then, the trajectory of my work is an important aspect for me. You see, all my projects have a way of being mixed, combined together, then they can be changed to reach different types of people: young, old, amateurs, connoisseurs. That is the dimension of my art. I haven't ever felt stuck as an, my art is a in a continuous evolution.
What do you think people take from your art
There is a lot to take from my art, there are so many sound colors in it. Some are recognizable sounds, some are very abstract and emotional, so people are able to relate to them through their own experiences, through their own history. I am sure each sound generates different emotions, reactions, thoughts in people. That is what I like most about my work, it open gates towards intimate parts and each person lets these sounds pass through their own interior, in their own way.