Discovery, achievement, imagination. These are the artistic chapters of Raynor de Groot (aka Coloray). Raynor has experimented with many types of music and stage formulas, but the most important thing in his creative process is emotion. Even if the music industry is increasingly influenced by social networks, followers & likes, the purpose of creators is the same: to make people stop for a few moments and feel "something else".
"Recently I've been exploring new ways of looking at music, new ways to feel 'healed' or feel taken to a different space within music. It's a chapter that is still really new, but I'd love to keep exploring this path, hopefully in the future creating a sound and space for me and other people to go to feel warmth and love", says Raynor.
Coloray will perform in Bucharest on May 26, as part of Alternative Culture. We talked with him about music and the creative process, the importance of image and how Social Media is changing the music industry.
Landmarks in your becoming
Interesting! I think there's a big split in what I was doing pre-pandemic and post-pandemic. I used to be in a duo called Tunnelvisions, and I had been touring a lot and producing together with Emiel between 2016-2020. Those years were very formative since it was all about fun, discovery and seeing how much we could learn. I started releasing music as Coloray in 2019 and immediately I knew that path was going to be different. Not working in a duo or a group makes it all different. Suddenly it's more about what your voice is as an artist, and not what the collective idea is of the act. Up until now I've been discovering that, starting with being active as a vocalist and producer, and now also live artist. Now I have realised where my strengths lie, and what I want to do in the future, being to dive deeper in the art of music making and keep on discovering new paths both in the studio and live on stage.
If I were to give the chapters names it would be discovery, realisation, imagination.
Your relationship with music
I started making music at an early age, mostly because my mom used to sing a lot around the house. I started singing too and developed a passion for that. A friend of mine showed me fruityloops and my parents gave me a guitar and that was that, I was working. The first years I was mostly dabbling about not making anything worthwhile, but once I started going out and discovered dance music I new that it was something I could do. My music became more professional, but over time I learned that it was not about that, It was about the feeling I was putting in. There were many moments where I could've taken a route where I knew it would've let me to bigger 'succes', but my heart tells me I should walk a different way. What stayed the same is that I'm still that kid messing around with a computer and his voice, the only thing that has changed is that more and more people are discovering that I am doing that and that I'm getting more confident in my qualities as an artist. I feel very blessed and happy to do so.
What inspires you
Right now there's a big cloud hovering above artists and thats the change of what it means to be an artist in the age of social media. I'm very much concerned that the dynamic of gathering social following, to whatever cost, has influenced the music making process. It slowly feels like the influence of the online world has become so strong, that artists are now unpaid employees of social platforms, something I'm very much against. I feel like artists have a lot to share, and the goal is to make the audience experience something in their body, a certain resonance that needs to happen. It is what made me go make music in the first place, the feeling of being connected to something greater, and it is what I will keep on trying to do!
Recently I've been exploring new ways of looking at music, new ways to feel 'healed' or feel taken to a different space within music. It's a chapter that is still really new, but I'd love to keep exploring this path, hopefully in the future creating a sound and space for me and other people to go to to feel warmth and love.
Your imprint in music
My imprint, haha that's a good one! It's hard to tell sometimes, because as I keep on changing as a human being my music will change with it. I feel there has always been something in my music that is psychedelic but also direct. The combination of using my voice to draw people in, but also using synths to create a spacious carpet that can carry that has been something I'd love to keep on doing. A core message of what I'm trying to tell is that we're here, in a moment in time, experiencing something bigger than ourselves. That can be something bigger on a 'spirtual' level, but also something bigger looking at society itself, to what's happening in the world, or what our place is in the universe. It's all very self reflective.
How do you train your creativity
I have a mindset to make music every day, and more and more have I been using it as a diary for myself. I have folders with months, and every month contains around 30-50 sketches. All just really simple idea's of 1/2 minutes that have a certain memory or emotional value attached to it. I try to every time to do something new, use a synth I haven't used before, use my voice in a new way, or find a different way of generating sound.
I feel like having a routine like that forces me to get out of my perfectionistic mindset and just feel and make, something I need to have the most. Over time there will be a couple of golden nuggets where I feel like: hey yo, this is cool! It's stuck in my head, and I want to go back to it. Those are the ones I try to finish. Some don't make it, but then the best ones all seem to flow and that's what I put out.
How do you connect with your audience
I love people coming to my shows. I always feel so blessed to be able to experience this. If I could tell the 14 year old kid that he would be doing that at one point in time he just wouldn't believe it. On stage though I try to crawl into my own skin, taking the audience into account but mostly feel the energy that's in the room. If I feel the energy is high, I might be more forward and entertaining. If the energy is more spaced out, I will do the same. For me what I've learned is to always be on the level that the crowd is at. Do your thing, and flow together.
I feel like that next to me getting older, the attention spans of people have changed. Whatever the reason is is above me, but social media could've contributed to that. Still, people are always super friendly and warm when I perform, but sometimes I will be seeing more phones than I had expected. It's all good though, I'm just happy to give people a moment that they want to capture! I can imagine though that on a certain night, you might want to put that phone away and get into the moment as much as you can.
The look & the artist
These questions are great, haha. In the end, we're all actors, we're all playing a roll, a certain character we portray to the outside world. I started off having a very defined idea of what I wanted Coloray to be, what I wanted to portray and play in that roll. The image was important for that as well, how I used photo's and how I dressed on and off stage. Over time this has become more of a subconcious thing, and I am trying to get as close to who I am in my image.
The main reason is that my performances in the studio and on stage really benefit from it. I'm becoming more honest and real. It's scary at first but when you feel audiences accept you it's great to be who you are. In the end I still love clothing and design though! So you will always find me dressing up or making a nice tour poster anyway haha.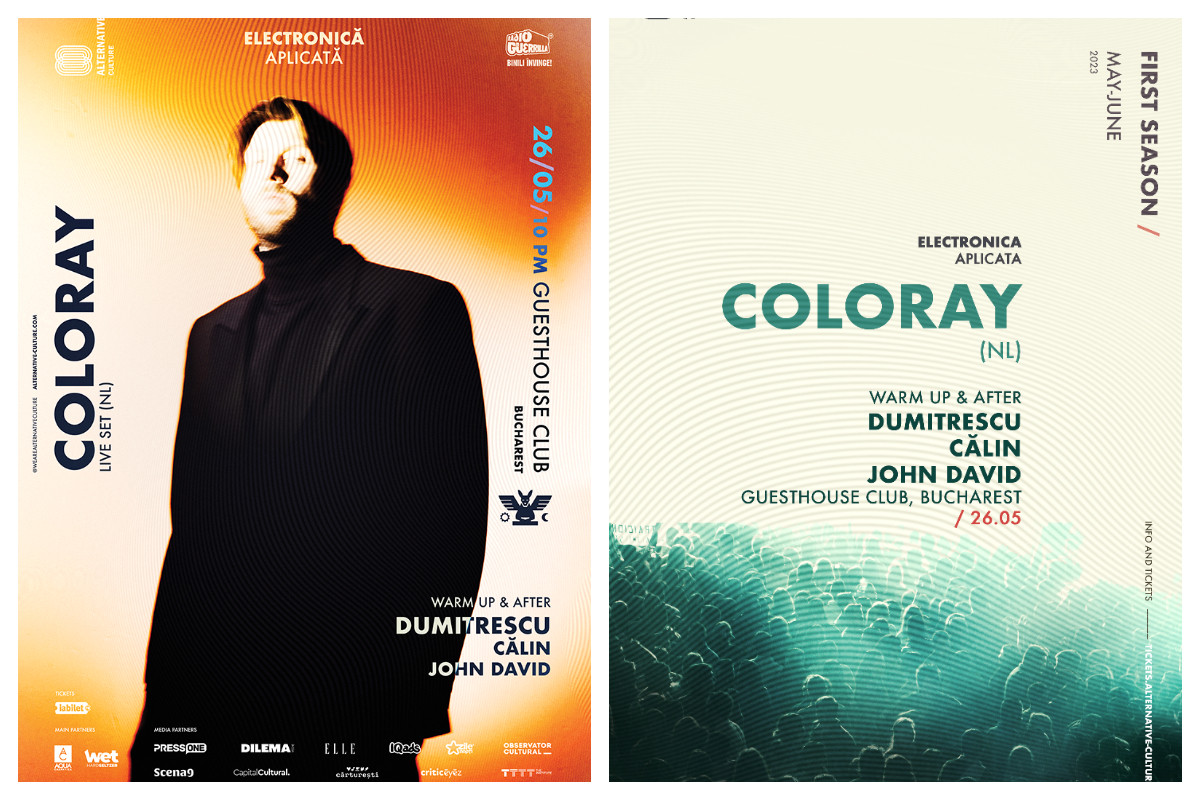 The biggest challenges in 2023, from a creator's perspective
There's a thing within my friend group where we say that dark times lead to happy music and the other way around. I don't know if that's true, but what would you like to give people the most in this time? As I get older I'm realising that it's getting harder and harder for an artist, and people in general, to tune out of all the information that we get bombared with. I'd love to give people a glimmer of hope, next to recognising that we're not always in the best part of our human timeline.
The hardest part for the creator is to find this mission, to find what you want to do next to making 'content' that goes viral or a track that will result in a career, but finding intrinsic values to use on your path and say: this is what makes me, me.
Your art's superpower
To make people reflect for a moment, think about good and bad things, and in the moment say 'wow'.