Growing up on the streets of Milano, Davide Boscacci learned that life is meaningles without challenges. He started working in advertising, fell in love with new and  alternative media and discovered that combining the two is funny to say the least. He is now the Associate Creative Director at JWT Milano, but not so easily impressed by his own work. Today, at AdStory, he tells the story of the misunderstanding that led him to work in advertising, showing us his favourite campaigns and the lessons he learned in 11 years in this industry.
I grew up on the streets of Milano. I love this city. It's tough and gives you nothing for free. What's life without challenges?
Since when I was a kid I've been studying hard, working harder and partying even harder. So between a job, a class and a crazy night-out, I ended up in advertising. Quite late actually, after finishing university, and quite accidentally. A friend of mine came up saying "hey, you could become a copywriter", I didn't know what the hell it was, but it sounded cool. So here I am, after eleven years, still in the business.
This is how my desk looks like: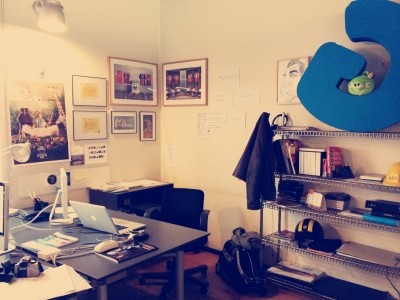 I'm never very proud of my work, when you get too satisfied, you stop being ambitious. Anyway, this is one of my last works that's receiving attention and awards and most of all it's helping the charity it's been made for. Hope you like it.
My favorite place to fish insights from is people. Talk to people. You'll never be a good writer if you just sit at home in front of your Mac. Insights and inspiration are everywhere: in the street, in movies, in museums, in books, at the pub, in the air. Get out, be curious, live a million different lives. If you don't succeed in your job, at least you haven't wasted your life.
To me a great campaign is a perfect mix of great insights, strategy, idea, execution, results. It happens only if you have a brilliant team and also a great client. That's why I love spending time with my clients, relationship is essential to know what they really think, need and care about. Plus most of times they are interesting people, just like anybody else. Surprise, they aren't aliens!
In my opinion, the best creative works ever are… come on, that's a huge brief. I'll stick to some of the best examples of recent times.
TV: The Guardian: It's just great, a very simple message delivered in a brilliantly unexpected way and perfectly executed.
Online: Google - Project Re:Brief. Still airing, very curios about how it will end up.
Print ads: Scrabble - Lots of words. How could you define Scrabble better than this? The hardest demo. An amazing piece of copywriting.
Brand Communication: Anything from Old Spice. They just took a brand that was as old as my grandpa's ass and made it the coolest thing. What else to say?
The best piece of advice I ever received from someone in the industry is… well, too many. I've been told many wise things and also a lot of bullshit. My philosphy has always been: listen to everybody, get the best from each one and then do what you believe is right.