Acum doua saptamani am lansat o provocare pentru tinerii pasionati de design si ilustratie, in cadrul competitiei Nokia Lumia Design Competition: sa personalizeze spatele detasabil al noului smartphone Nokia Lumia 520 printr-un design unic si original, care sa fie, in acelasi timp, un manifest personal creativ si amuzant. Pana in prezent au fost aprobate peste 100 de creatii finaliste prin intermediul carora participantii au reusit sa transforme carcasa smartphone-ului in cel mai cool suport de exprimare artistica.
Competitia se desfasoara pe platforma de creatie The Creator, la adresa: www.TheCreator.ro/NokiaLumia520. Lucrarile au putut fi votate inca de la inceputul competitiei, pe 17 iulie, de catre publicul online.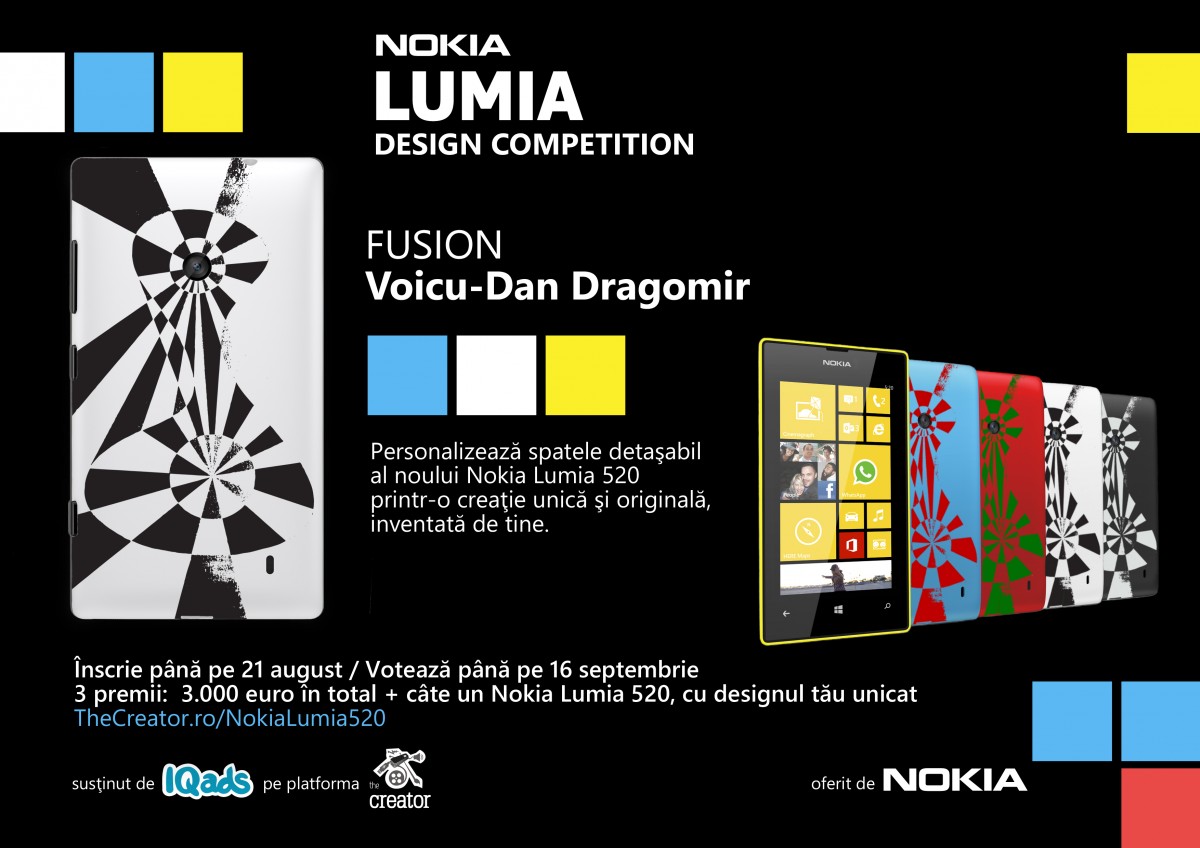 Cele mai interesante lucrari inscrise in competitie abordeaza o tematica variata. Fie ca si-au imaginat smartphone-ul ca pe un accesoriu, au creat personaje amuzante, forme geometrice si linii abstracte sau minimaliste – fiecare design in parte este realizat intr-o nota cat mai personala si colorata. Vezi aici cum si-au imaginat participantii cel mai distractiv smartphone.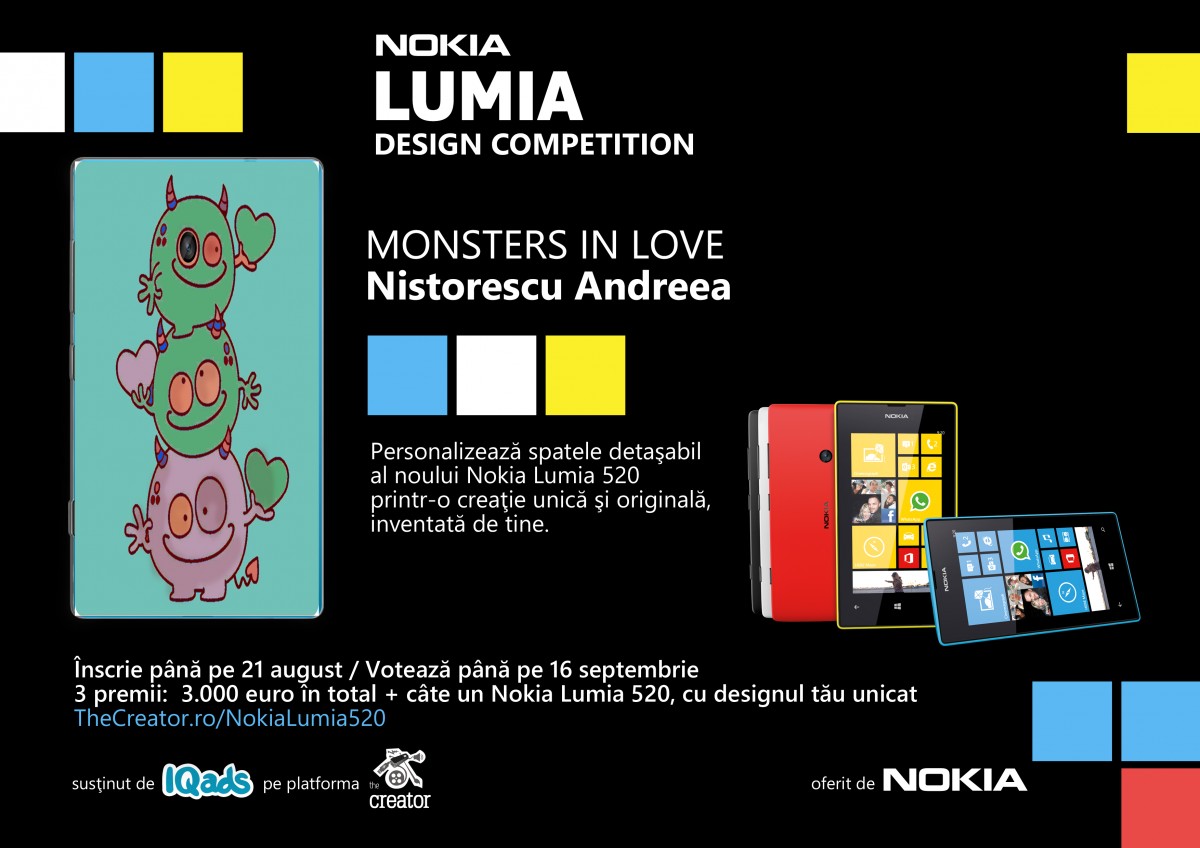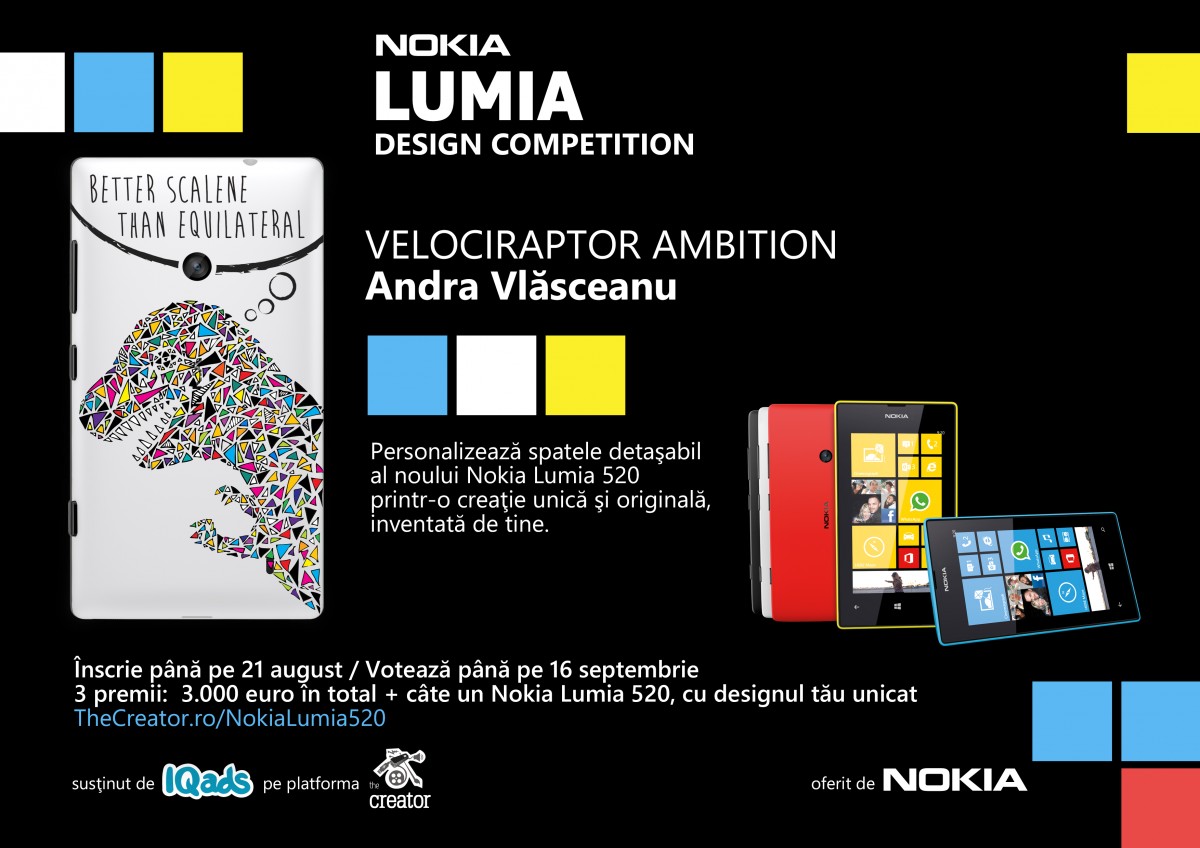 Cei care sunt inca in cautarea ideii castigatoare mai pot trimite propriile creatii pana pe 21 august (ora 23:59), urmand ca perioada de vot sa continue pana pe 16 septembrie, iar pe 17 septembrie sa fie desemnati castigatorii.
Cele mai bune 3 lucrari vor aduce autorilor premii in valoare totala de 3.000 de euro, dar si cate un smartphone Nokia Lumia 520, cu designul castigator. Astfel, castigatorul premiului I va primi 1.500 de euro, castigatorul premiului II – 1.000 de euro, iar castigatorul premiului III – 500 de euro.
Nota finala va fi stabilita prin media ponderata intre notele acordate de catre juriul de profesionisti (60% din nota finala) si media acordata lucrarii de catre publicul larg, prin vot online (40% din nota finala). Pe platforma The Creator sunt disponibile brieful detaliat al competitiei, regulamentul si celelalte detalii legate de inscriere, precum si lucrarile finaliste de pana acum.
Nokia Lumia Design Competition este o competitie de design organizata de IQads si Nokia, pe platforma de creatie The Creator. Partenerii media ai competitiei sunt hipmag si stencil.ro.
Despre Nokia Lumia 520
Un smartphone convenabil si distractiv, cu muzica si navigare pe Internet, Nokia Lumia 520 te invita sa explorezi si sa te bucuri impreuna cu prietenii tai de functiile si aplicatiile sale. Bazat pe sistemul de operare Windows Phone 8, Nokia Lumia 520 este dotat cu un obiectiv digital special, un procesor dual core de 1GHz si un ecran tactil extrem de sensibil, care functioneaza la cea mai fina atingere.
Pentru detalii si informatii despre noul smartphone Nokia Lumia 520 citeste mai multe pe pagina produsului.
Despre platforma The Creator
TheCreator.ro este platforma powered by IQads care gazduieste competitii de user-generated branded content, activand cea mai importanta comunitate creativa din Romania. Pana acum au fost organizate peste 20 competitii de design si film, pentru branduri ca: Avon, AXE, BCR, Bergenbier, Desperados, Dove, JOE, Nescafe, Puma sau Yahoo!.