PRIME Romania va invita La Biroul unui om de Comunicare, la evenimentul de lansare a celei de-a sasea editii a revistei PR Forward! #HaiLaBirou miercuri, 1 aprilie, incepand cu ora 18:00, la Academia de Biliard.
Pentru toti cei care isi doresc sa afle care sunt ingredientele unei cariere de succes in domeniul Relatiilor Publice si al Comunicarii si pentru tinerii curiosi si ambitiosi, care doresc informatii direct de la sursa, PRIME Romania lanseaza un nou numar al revistei online PR Forward! Inovatori si curiosi din fire, asa cum v-am obisnuit cu fiecare editie, membrii echipei noastre s-au lansat cu viteza a sasea spre o noua provocare. In noul numar al revistei, am reusit sa trecem de portile agentiilor si am patruns in birourile oamenilor consacrati in domeniu, de unde am adus informatii proaspete pentru cititorii nostri. Ce am descoperit despre locul in care se intampla toata magia si ce le inspira pe modelele de succes din PR puteti afla chiar de la sursa, miercuri, pe 1 aprilie!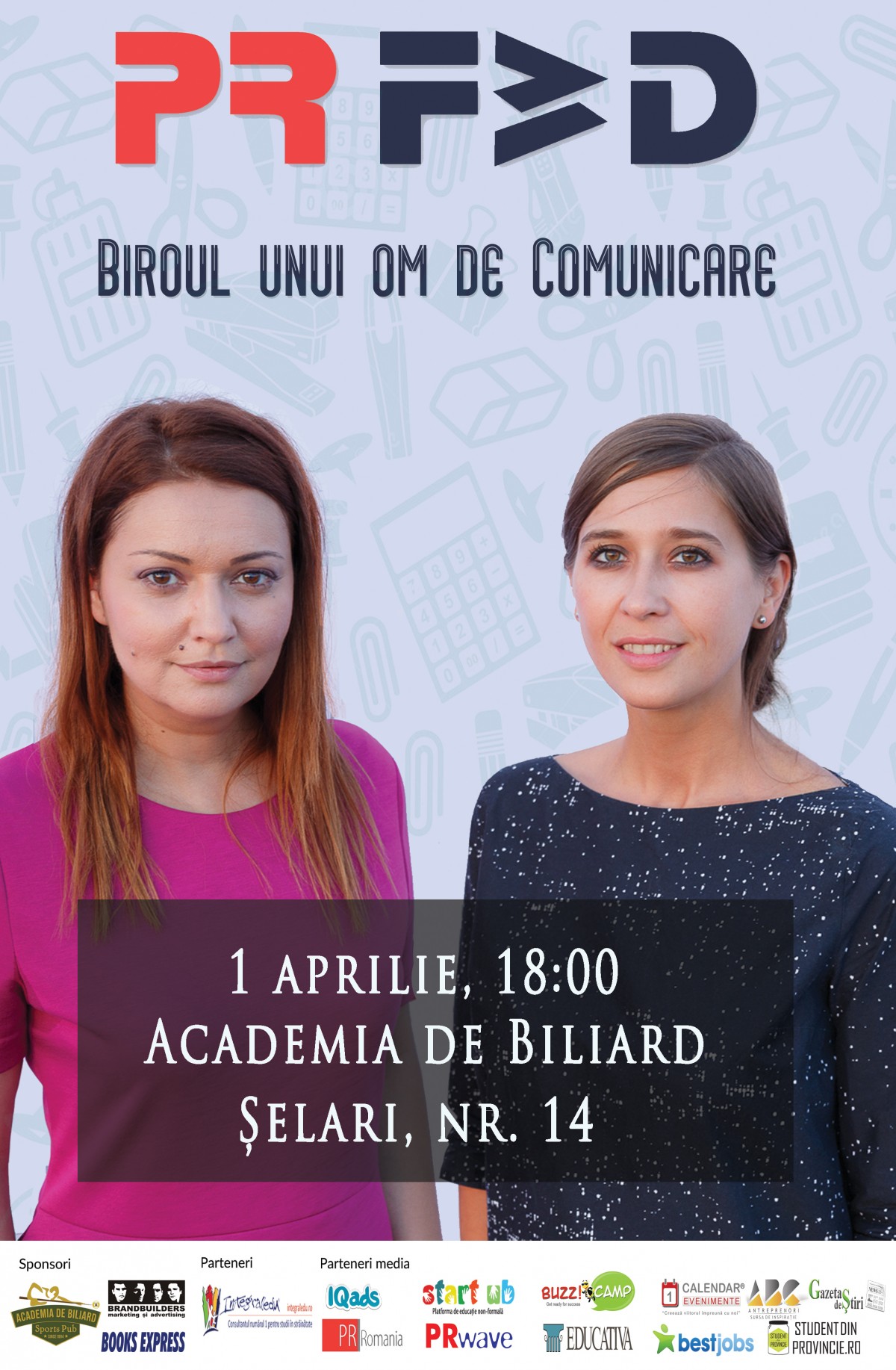 Oamenii din spatele biroului
In acest numar, PR Portraitul este realizat de un duo de succes, Monica Jitariuc si Oana Bulexa, Managing Directors la MSLGROUP The Practice. Alexandra Burdulea ne ajuta sa ajungem in culisele… PR-ului Cultural, iar Dana Berghes, freelancer, si Edvigia Taru, PR Relations Officer Delia si Gojira & Planet H, tin ritmul cu Music PR.
Continuam cu Ora pe glob, care este data de campania Always, #LikeaGirl, facem cunostinta cu Cezar Dumitru, blogger la Imperator Travel, who is typing… despre calatoriile sale si cu Matei Dima, vlogger la BROmania, care ne arata cum se vede PR-ul prin obiectivul unei camere de filmat, in rubrica Log in to Vlogging.
Punem apoi Sub lupa Campania "Citeste povesti", realizata de Next Advertising pentru Editura ALL, aflam despre provocarile unui start-up de la Claudiu Jojatu, Managing Partner The Beards Studio, in It's Brand New, si ne dam Check in at… Electric Castle, alaturi de Andi Vanca, Public Relations Coordinator.
First Stepul il facem alaturi de Matei Psatta, Digital Strategy & Social Media Director, Leo Burnett Group, iar la Fashion Corner o intalnim pe Gabriela Urda, consultant de imagine, blogger si Proud Author Yard Sale.
Alaturi de acestia vom deslusi tainele unor povesti de succes in PR, vom analiza campanii aplaudate indelung si vom detalia raspunsurile interviurilor, pentru a face mai clara diferenta intre omul de agentie, freelancerul sau omul de teren din Comunicare.
Cum particip?
#HaiLaBirou miercuri, ora 18:00, la Academia de Biliard Sports Pub, (strada Selari 14), locul in care lucrurile serioase se intampla chiar si de 1 aprilie.
Pentru inscrieri, trimite-ne un mail cu numele si numarul tau de telefon, pana pe data de 31 martie, ora 20:00, la adresa pr@primeromania.ro! Nu uitati sa veniti cu intrebarile la voi, cei mai curiosi participanti vor primi cadouri din partea Books Express si Brandbuilders!

Parteneri: Academia de Biliard, Books Express, Brandbuiders, IntegralEdu
Parteneri media: IQads, PR Romania, PRwave, BestJobs, CalendarEvenimente, ABC Antreprenori, StartUB, BUZZ!Camp, Student din Provincie, Educativa, Gazeta de Stiri.