Pe 19 si 20 decembrie, DESIGNIST, primul si cel mai original proiect romanesc de publishing online focusat pe designerii romani de produs, design interior si industriile creative, pregateste o noua iesire in offline: editia cu numarul 7 a Made in RO – Targ de design romanesc.
Evenimentul va avea loc la Impact Hub Bucharest, un spatiu creativ si ultracentral din Bucuresti, aflat pe str. Halelor nr. 5, in Piata Unirii, foarte aproape de Hanul lui Manuc.
Editia a 7-a Made in RO are loc chiar in weekend-ul de dinaintea Craciunului, iar tema o reprezinta cadourile de poveste, out of the box. Vei fi introdus in atmosfera Made in RO prin povestile obiectelor si ale creatorilor lor, ce iti vor fi dezvaluite una cate una, inainte de eveniment, pe designist.ro. Timpul tau e cel mai pretios, prin urmare vei alege, deja informat, darul a carui poveste va completa cel mai inspirat Craciunul tau.
Buy Local, get Magic!
Peste 55 de designeri selectati in urma apelului de proiecte vin la Bucuresti din Cluj, Timisoara… si din toata tara! Vei avea ocazia sa ii cunosti in persoana, si nu doar prin creatiile lor; una dintre surprizele acestei editii este ca te vei intalni in premiera la Made in RO cu primul brand local de covoare hand-tufted, cu design contemporan, dar si cu un proiect romanesc care a castigat anul acesta o mentiune speciala la Red Dot Design Award.
Made in RO vine cu sute de cadouri, care-ti vor face sarbatorile rupte din poveste… pe romaneste: piese de mobilier, accesorii home&deco, decoratiuni de Craciun, design textil, jucarii, lampi cool, ilustratii ingenioase si accente fashion.
Vizualul acestei editii Made in RO are, ca de obicei, propria poveste... romaneasca: kit-ul de brad neconventional este creat de un studio de design local – The Little Things. Este versiunea minimalista si eco a bradutului de Craciun, pe care il poti etala an de an acasa, intr-un decor cu mai putine tonuri de verde, dar cu spirit nordic.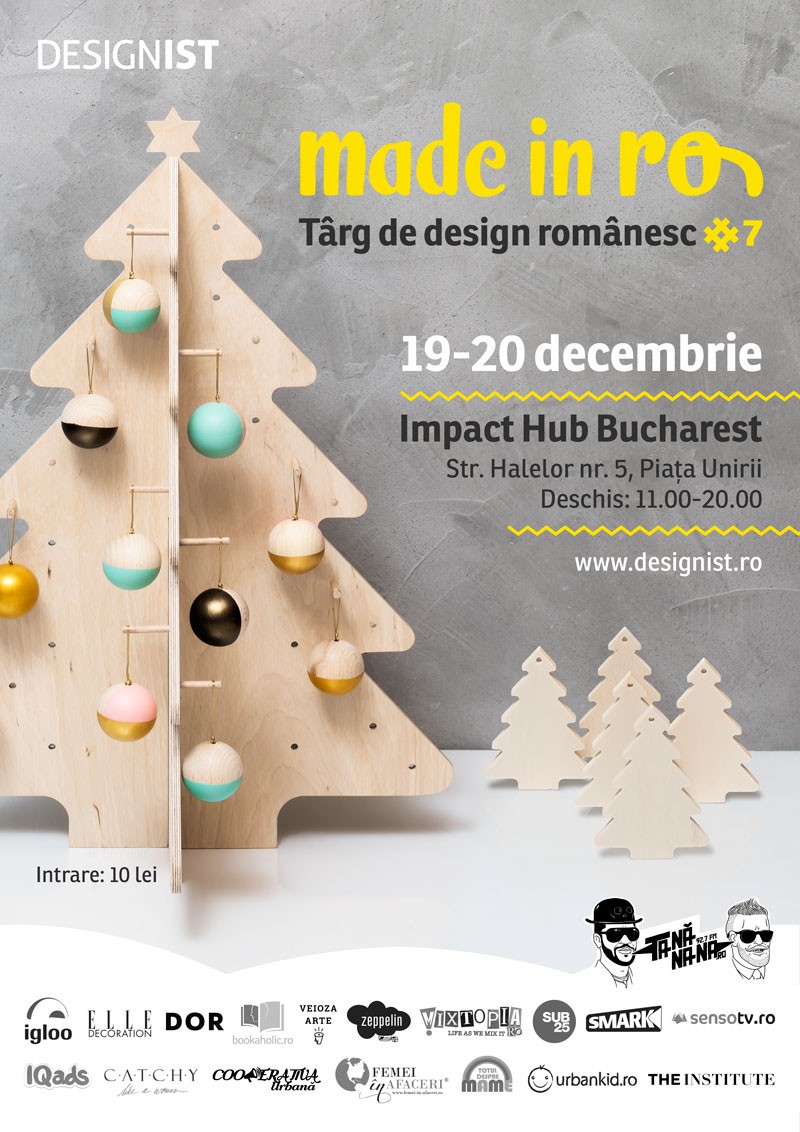 Provocarea la shopping de design romanesc vine, tot ca-n povesti, si cu o rasplata. Pe langa cele mai designish cadouri Made in RO cu care pleci acasa, vei zabovi la o cafea, la un ceai aromat, sau la o discutie despre design si vacanta de sarbatori in cafeneaua pop-up, pregatita de Origo.
Vor expune: The Little Things, Atelier Ciprian Manda, Eugen Cerchez, Atelierul de Ceramica, LUT, cerdak., Cuzina, Home Creators, Stoa Creatives, Tudor Prisacariu, Ubikubi, Dare to Rug, Mesteshukar ButiQ, Woodish, Cristian Samfira, Zulunatic, Lia Radoi, Una ca Luna, Ramona Enache, Atelier A4, Fabrica de Litere, Atelier Mustata, Naphtaline, thecraftLAB by Irina Neacsu, Atelierul cu lucruri frumoase, Don Papillon, Upside Down, Pravalia cu Papusi, Foldo, IF irinaflorea, Cai Verzi pe Pereti, Marele Deget Mare, Ploosh, aerium.ro, Christine on the Clouds, Bogdan Deliu Leather Design, Concept Jupiter, Deco-Box, Iutta, Marie Nouvelle, Loved Things Studio, Colorhood, Povesti din Lut, Ceramic Sparrow, Eyecandy Monsters, Atelier Mihai Stamati, FALX Studio, Contemporia, Bianca Grin, Noha Nicolescu, Brielle Bijoux, ATMA, Mihaela Ivana, Utopic Art, animat, Alin Teglas, NativeBox, Sonjaline.
Parteneri media: Radio TANANANA, Igloo, ELLE Decoration, Decat o Revista, Zeppelin, Designist.ro, Bookaholic.ro, Mixtopia.ro, The Institute, Senso TV, Totul despre mame, IQads, SMARK, SUB25, Veioza Arte, Catchy, Cooperativa Urbana, Femei in Afaceri, UrbanKid.ro, Getlokal, Tonica TV, Feeder.ro, Modernism.ro, ArtWe, Happytude by Oana Botezatu.
Locatii partenere: Simbio, Energiea, Origo, Frudisiac, La Folie, M60, Victoriei 18, La Copac, J'ai Bistrot, Impact Hub Bucharest