In pregatirea celui mai mare festival dedicat Internetului si tehnologiei, ICEEfest si ShortsUP au realizat o selectie de scurtmetraje internationale premiate care vor rula la cinema-ul din cadrul Baneasa Shopping City, inainte si dupa festival, in perioada 2-10 iunie.
Proiectul e parte integranta din conceptul de entertainment gandit pentru editia din acest an a ICEEfest, festival care are loc la Bucuresti in 9 si 10 iunie, tot la Grand Cinema & More.
Cum supravietuiesti in era digitala? E intrebarea de la care pornesc filmele recomandate de ShortsUP. Vom vedea mari aventuri, povesti de dragoste, conspiratii si revelatii apropo de realitatea virtuala.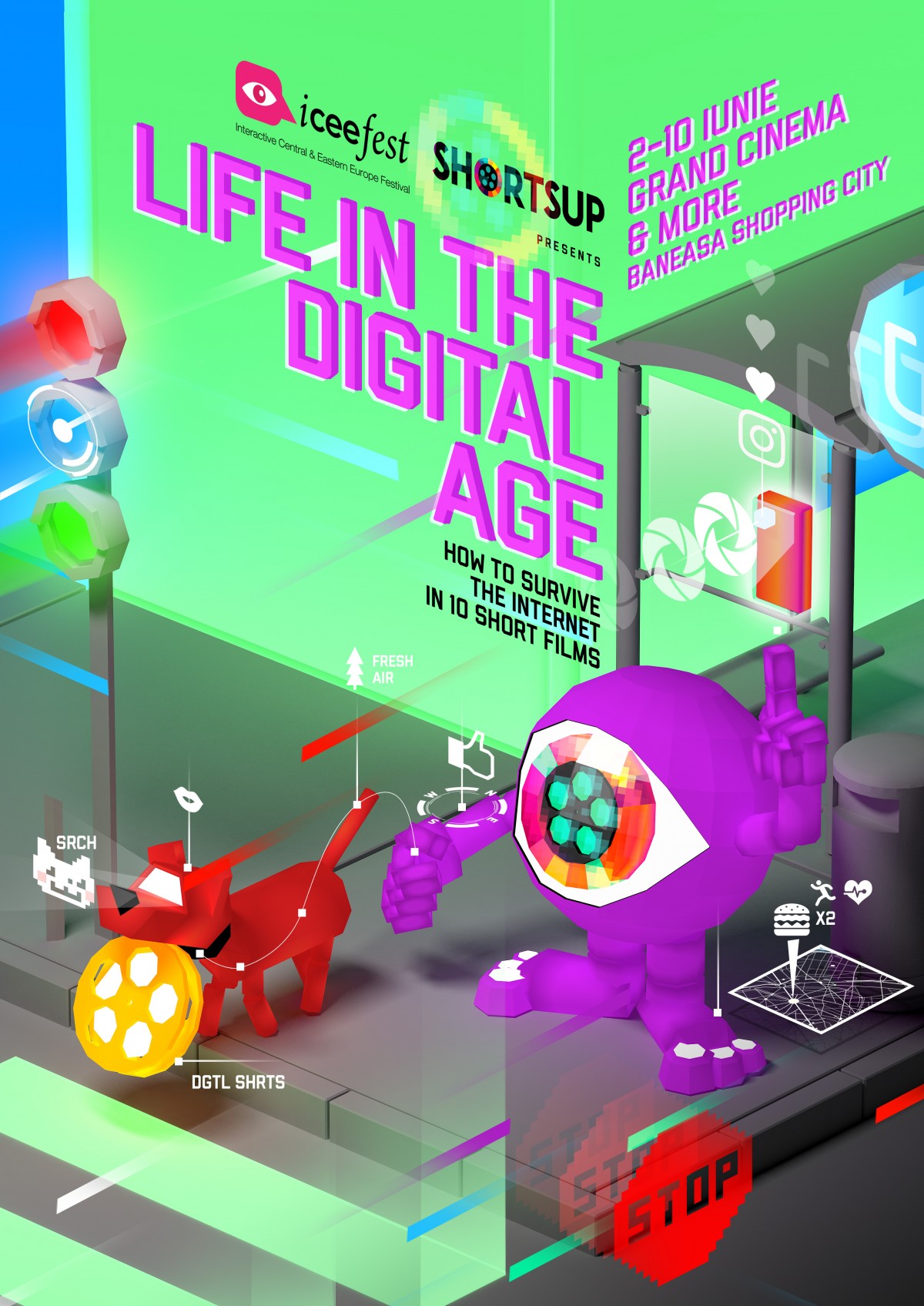 Cateva exemple:
Noah (regia Patrick Cederberg & Walter Woodman, Canada, 2013): insumeaza cele mai intense 17 minute petrecute pe Facebook si Chatroulette. Un intreg carusel emotional consumat in fata computerului se regaseste intr-un scurtmetraj premiat la Clermont Ferrand Film Festival si Toronto Film Festival
Time Freak (regia Andrew Bowler, SUA, 2011): film nominalizat la premiile Oscar, spune povestea unui fizician care viseaza sa calatoreasca in "timeline-ul" propriei vieti pentru a-si pune la punct dezamagirile
World of Tomorrow (regia Don Hertzfeldt, SUA, 2015): raspunde la toate intrebarile fundamentale ale existentei umane in fix 16 minute de animatie digitala. Film rasplatit cu 44 de premii internationale
A Senior Moment (regia Michelle Davidson, SUA, 2012) si Pony Place (regia Joost Reijmers, Olanda 2014): doua comedii savuroase despre prapastia "digitala" dintre generatii si toate compromisurile pe care trebuie sa le faci ca sa tii pasul cu tehnologia. 
Biletele pentru "Life in Digital Age" costa 25 de lei si pot fi achizitionate la Grand Cinema & More si aplicatia Cinemagia.
ICEEfest - Interactive Central and Eastern Europe Festival - va fi deschis anul acesta de discursul Netflix, prima prezenta de acest gen in regiune pentru reteaua care a adunat peste 81 de milioane de abonati la nivel mondial. Biletele pot fi cumparate de pe site-ul oficial.
ICEEfest – Interactive Central and Eastern Europe Festival – este organizat in parteneriat cu  Orange, cu sprijinul Volkswagen, XAXIS, BCR, Jacobs si Prometheus.
Companiile interesate sa se alature o mai pot face inca, aici. Ultimele bilete la pretul actual, inainte de scumpirea lor, sunt disponibile pe site-ul festivalului.