In 2015, GfK ne ziceau la Cupa Agentiilor la Gatit by Lidl sa nu ne incredem in niciun bucatar prea slabanog. In 2016, componenta echipei GfK se schimba complet, cu nume, logo si abordare generala a lucrurilor.
Avem acum patru Cooking Monsters care se declara antieroii bucatariilor de pretutindeni. Dar in ciuda tuturor impedimentelor subintelese de aici, au avut curajul sa se inscrie la o competitie de gatit si sa-si aleaga o reteta - pe care nu stiu s-o prepare. Isi tin reciproc pumnii pentru ce-o sa fie la fata locului. Sunt simpatici si va vor inspira, asa ca va lasam la o sueta cu ei.
O chestie ciudata: noi n-am oferit nicio excursie in jurul lumii, asa ca ne intrebam pe unde se perinda cei din echipa GfK de anul trecut.
Cum v-ati hotarat catre a doua participare la Cupa?
Interesu' poarta fesu', deci motivatia este data de marele premiu, excursia in jurul lumii! Stacheta este deja ridicata, ne vom strecura – limbo style! Cat despre ingredient, l-am ales pentru ca para era luata si gutuia e ca o para, dar mai gutuie.
Atunci si acum in echipa GfK
Am schimbat componenta echipei pentru ca cei de anul trecut sunt inca in excursia castigata... acesta este singurul insight! Putem sa va povestim ce ne-au zis ei ca s-a intamplat anul trecut: planuiau sa faca un tort diplomat cu sos de pepene, dar pana la urma a iesit o lasagna de toata frumusetea.
Asadar, echipa s-a schimbat 100% in bine, avem 4 membri noi (n.r. pregatiti-va notitele cu personaje din Breaking Bad):
Monica:  Heinsenberg, alchimist sef al bucatariei; ea va avea un rol principal in echipa, fiind unul dintre cei 2 protagonisti.
Isabela: Jesse Pinkman, dealer de legume; Cea de-a doua protagonista a bucatariei, capo di tutti capi.
Eduard: Saul Goodman, instigatorul la supa; Are roluri multiple, secundare. Este majoret, omul care curata legumele, sef de galerie.
Teo: Gus Fring cobai expert level; Rolul cel mai important, fiind dirijorul de sosuri al acestei echipe.
Suntem un fel de binefacatori ai bucatariei, fiecare avand un rol crucial in demersul retetei pe care nici unul dintre noi nu stie sa o faca. Ne tinem pumnii!
Remake la nume si logo
Don't Trust the Skinny Chef revine cu un remake total al numelui, GfK Cooking Monsters. Acesta este o aluzie la celebrul personaj albastru din Sesame Street. Si, fie vorba intre noi, ne cam plac dulciurile, in special cookie-urile.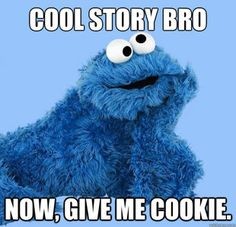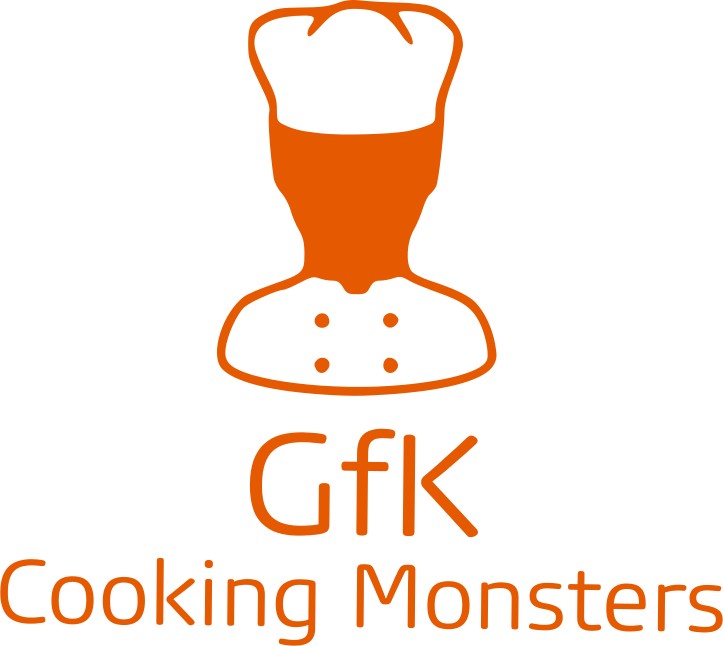 Nivel de pregatire intr-ale gatitului
Stim sa incalzim cu bricheta mancarea facuta de altii, mai ales in cantitati mari. Ultima oara am gatit cereale cu lapte, pentru dimineata. Impreuna, bineinteles, deoarece munca in echipa este mai usoara. Inca avem febra musculara.
Unde va gasiti inspiratia pentru gatit
Spitalul de urgenta – toate sezoanele si recomandam vlogul The Walking Dead. Bear Grylls este, de asemenea, o sursa de inspiratie pentru retetele pe care vi le-am pregatit.
Cum va pregatiti pentru editia de acum?
Stiind ca aceasta competitie va urma, nici unul dintre noi nu a mai mancat de la Paste. La asta am adaugat un antrenament stomacal draconic inspirat de Rocky Balboa.