Intr-un articol semnat de Robert Dex acum cativa ani in The Independent, Printul Charles a declarat ca are "o miza personala in viitorul Transilvaniei". De fapt, spusele lui ar fi mai bine sa ramana in engleza, pentru ca in romaneste isi pierd din complexitate. "A stake in Transylania", asadar. Cuvantul "stake" inseamna nu doar "miza", ci si "teapa". Iar in contextul in care Printul de Wales se pare ca s-ar trage din Vlad al nostru, cuvintele lui capata si o conotatie ghidusa. 
In orice caz, zilele acestea, in timpul unei noi vizite princiare, Transylvania Beyond i-a facut eternului Print o oferta de nerefuzat. Printr-o scrisoare deschisa, i-a zis asa: ce-ar fi, mai Charlie, daca ai deveni si Print de Transilvania? Ca la tine acolo, in Marea Britanie, iti cam risipesti talentele de Majestate.
Plus ca vii constant pe la noi (avem poze) si tot spui cat de incantat esti (pe langa The Independent, te-au auzit si BBC-ul, The Telegraph sau Mirror).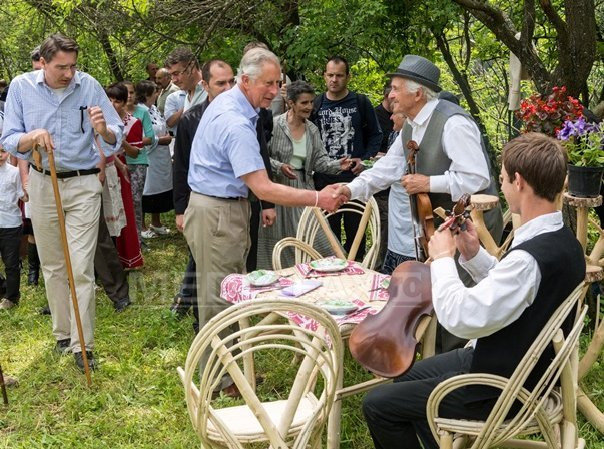 Scrisoarea integrala:
Your Royal Highness,
We know how much you love Transylvania. It has become your second home and you have been the region's most valuable ambassador. Moreover, you claim your roots from our legendary Prince Vlad.

As you love Transylvania so much, we thought, what if instead of only being "The Prince of Wales", you would be known from now on as "The Prince of Wales AND Transylvania"?

We understand that being "The Prince of Wales" is a full-time job. We don't expect you to quit and move to Transylvania; actually we wouldn't advise anyone to quit their job in such times of economic crisis. Moreover, you should know that we can't provide a royal residence either. Thank God you bought a house in Transylvania already, otherwise we would have to start searching for a place for you to rent.

You have probably realized by now that "Prince of Transylvania" is an honorary title that comes with no benefits whatsoever; and you already have enough titles to bore an entire audience when you're being introduced. But you have to admit that "Prince of Wales AND Transylvania" sounds like an awesome way to introduce yourself. Plus, it's a great conversation starter.

Your Royal Highness, would you be our part-time prince?
Scrisoarea este semnata de oamenii si board-ul regional al Transilvaniei.
Totul este, desigur, in spirit de gluma (ce zi e maine?), insa si glumele astea pot merge destul de departe daca simtul umorului le poate duce. Iar al lui Charles da senzatia ca poate. Si al faptasilor la fel, care nu demult, lansau acest apel catre britanici. E vorba de cei de la Heraldist & Wondermarks. 
Vom astepta raspunsul Printului. Speram sa ia cu celeritate o decizie.  Insa "Charles, Print de Wales si de Transilvania" suna intr-un mare fel, sa recunoastem.
Iar daca accepta, il mai lasam cativa ani, iar apoi ii propunem, cu voia lordului din zona, urmatorul titlu final: "Charles, Print de Wales, de Transilvania si de Teleoltenia".