S-a scris și s-a vorbit mult de activism pe IQads, anul acesta. Tema se arată generoasă în exemple, în fiecare zi. Pepsi vine cu încă unul, reușind să provoace iritarea consumatorilor, așa cum, în mod obișnuit, doar politicienii pot să o facă.
Noua campanie Pepsi o are în prim plan de Kendall Jenner. Nimic special până acum. Problemele încep când, într-un spot, un protestatar îi face cu ochiul vedetei, iar ea își aruncă peruca, își șterge rujul, se alătură celor care protestează și le oferă jandarmilor Pepsi, totul culminând într-un happy end în care întreaga lume zâmbește, iar abuzuril au fost brusc eradicate cu o gură de suc.
Spotul este descris așa pe YouTube:
"Un film despre momentele în care hotărâm să acționăm, să ne urmăm pasiunea și nimic nu ne stă în cale"
Bineînțeles, Twitterul a erupt.
Comediantul Travon Free a primit peste 4.600 de RT pentru postul acesta:
"Fiasco-ul Kendall Jenner este un exemplu perfect pentru ceea ce se întâmplă când în camera în care se iau decizii nu este nicio persoană de culoare 
Sau un alt rezumat pertinent:
"Nu pot să cred că Kendall Jenner tocmai a rezolvat rasismul instituționalizat și opresiunea, dăruind Pepsi unui polițist"
S-a făcut și o comparație între Kendall și imaginea Ieshiei Evans, care a fost arestată la un protest din Baton Rouge, Louisiana, în 2016: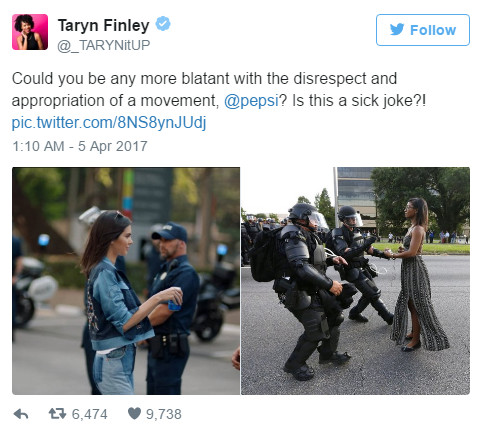 Independent face o analiză secvență cu secvență a spotului. Câteva observații:
The crowd returns to their racially diverse commune to host a slam poetry competition based around the themes: 'What's your favourite thing about Pepsi Cola?' and 'Doesn't oppression totally suck right?'

'LIVE BOLDER. LIVE LOUDER. LIVE FOR NOW' the advert declares at its close. I'd add 'LIVE IN FICTITIOUS PEPSI UTOPIA', because what we just witnessed had little effect in real life:
Un purtător de cuvânt al companiei a explicat, într-un comunicat, că este un spot global, care reflectă oameni diferiți mergând alături, într-un spirit al armoniei și că acesta este un mesaj important de transmis.