PRIME România vă așteaptă la evenimentul de lansare a revistei PR Forward, numărul 10. Evenimentul, ce va marca o ediţie aniversară, va avea loc pe 29 martie, ora 18.00, la Dialogue Social Bar (Bulevardul Hristo Botev, nr.1) și vă invită într-o călătorie inedită în care să descoperiți pas cu pas care sunt coordonatele unei cariere de succes în domeniul Comunicării.
Pe parcursul numerelor anterioare, revista i-a purtat pe cititorii săi prin culisele poveştilor din agenţii, iar noul număr vă invită să descoperiți Coordonatele succesului în Comunicare ale unor oameni care şi-au croit un drum în acest domeniu şi care au reuşit, prin devotament şi pasiune, să creeze lucruri extraordinare. Pe harta unor domenii diversificate, de la blogging la vlogging, de la PR la Publicitate, veți afla secretele călătoriei către culmile succesului invitaţilor noştri în cariera lor.
Numărul 10 inspiră decizii, riscuri asumate, aventură, direcții, iar pe toate acestea le veți putea afla de la persoanele intervievate în revistă, care vor fi prezente la evenimentul de lansare: Alexia Udriște – Olteanu vă va povesti mai multe despre freelancing și munca din spatele ilustrațiilor sale. Secretele industriei muzicale româneşti şi curiozităţi despre cum este să faci PR pentru unii dintre cei mai cunoscuți artişti autohtoni vor fi împărtăşite de Vlad Pârvulescu. Cu ritmuri de festival și multe proiecte culturale, Ana Maria Onisei vine la eveniment cu multe insighturi din PR-ul Cultural, din culisele Festivalului Internațional George Enescu. Nu renunțăm nici la spațiul online-ului, iar cele mai bune tactici despre content de calitate le veți afla de la Vlad Tăușance și de la Marian Ionescu aka Mariciu.
Ediția aniversară aduce o rubrică nouă, și anume: #InstaTalkUnfiltered, care o are în centru pe Sînziana Iacob. Nu am renunțat nici la ADd Portrait, unde Sandra Bold ne-a acordat foarte multe sfaturi despre o carieră în Publicitate. Revista va fi disponibilă în online începând cu data de 29 martie, pe prfwd.primeromania.ro.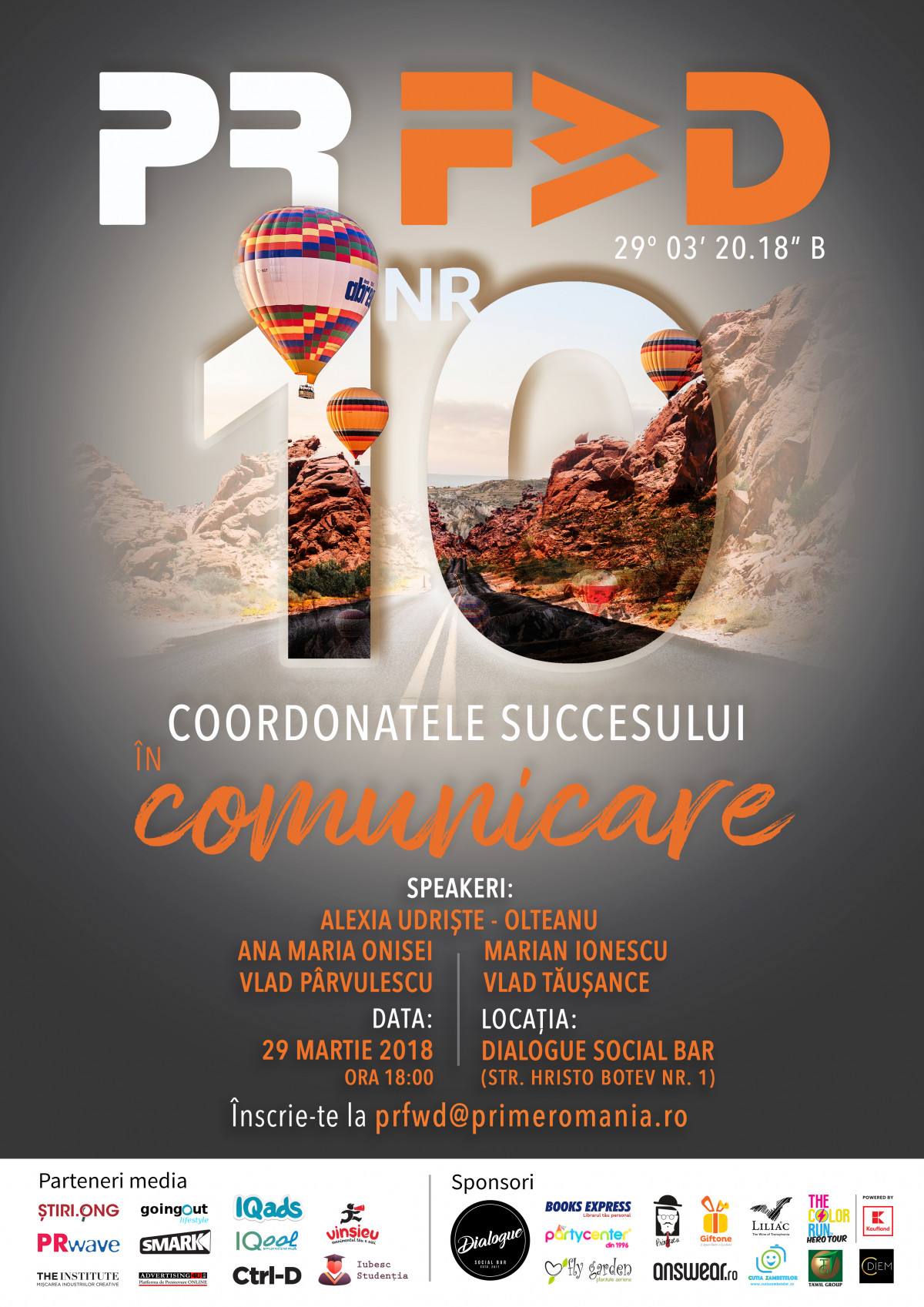 Cum participi?
Pentru înscrieri, vă așteptăm cu un mail la prfwd@primeromania.ro, până pe 28 martie, ora 23:59, cu numele și numărul de telefon. Intrarea este liberă, în limita locurilor disponibile.
Vă așteptăm joi , 29 martie, începând cu ora 18:00, la Dialogue Social Bar (Bulevardul Hristo Botev nr. 1), cu multe surprize pregătite de partenerii noștri.
PR Forward este susținută de partenerii: Dialogue Social Bar, The Color Run, TipoMedia, Tawil Group, Books Express, Giftone, CDIEM Accessories, Fly Garden, Liliac Wines, Printescu, ANSWEAR, Party Center, Cutia Zâmbetelor, Maison des Crêpes și de partenerii media: IQads, Smark, The Institute, IQool, PR Wave, CTRL-D, Iubesc Studentia, Going Out, Stiri ONG, Advertising 4U.