Cu ocazia aniversării a 80 de ani de existență, IAA Global a găzduit la New York întâlnirea Board-ului IAA Global și Summit-ul Global Marketing în zilele de 26 și 27 aprilie 2018. Evenimentele au reunit peste 200 de membri din comunitatea internațională de marketing si comunicare pentru a analiza provocarile și trendurile industriei și a împărtăși bune practici din diverse industrii si regiuni.
În cadrul acestui eveniment, IAA Global a dezvăluit o nouă identitate și misiune. Astfel, IAA devine "The Global Compass of Marketing Communications", iar noua identitate este sintetizată printr-un logo nou ce reprezintă busola secolului XXI care îi ghidează pe marketeri, agenții, mass-media, precum și companii digitale, interactive și de comerț electronic - pentru a aprofunda relevanța comunicării și a marketingului pe piața globală.
"Misiunea noastră, ca busolă a industriei, este să acționăm ca adevărați agenți ai schimbării și să facilităm lucruri.

Mergem…

De la întrerupere la utilitate

De la consumerism la consum responsabil

De la tirania mediocrității la o comunicare captivantă și distractivă

De la fake news la storytelling responsabil.

În cele din urmă, noi toți creăm branduri și să ne dorim să povestim cele mai bune povești, cele care pot face lumea un loc mai bun și care pot să influențeze oamenii să devină mai buni, mai toleranți, mai aplecați spre colaborare și mai implicați din punct de vedere social." a declarat Felix Tătaru (Președinte IAA Global).
De asemenea, în acord cu noua identitate, IAA Global a lansat IAA Golden Compass Awards, premii ce răsplătesc liderii vizionari din industria de comunicare și marketing care și-au ghidat în mod continuu organizațiile prin tumultul erei moderne și au inspirat întreaga industrie prin realizările lor excelente și cu impact global. Premiile IAA Golden Compass au fost selectate pe baza impactului liderilor asupra business-urilor din zona de comunicare și marketing din trei sectoare cheie ale industriei. Câștigătorii Premiilor Golden Compass 2018 sunt: Shelly Lazarus, CEO Emeritus -  Ogilvy & Mather, Paul Polman, CEO - Unilever, Paul Rossi, President - The Economist Group.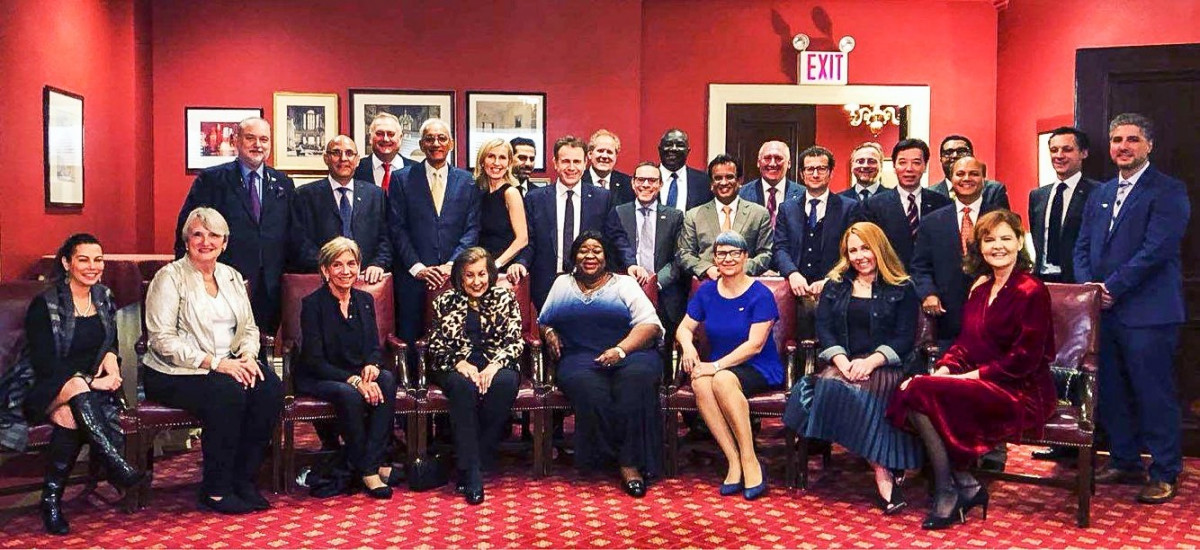 În cadrul aceluiași eveniment global au fost prezentate și evenimentele etalon ale IAA la nivel global, ocazie cu care liderii IAA România au prezentat IAA Global Conference - Creativity4Better, ediția a doua, eveniment ce va avea loc pe 2-3 Octombrie la București.
Creativity4Better, pune accentul pe impactul creativității în tehnologie, comunicare, educație și sustenabilitate. Evenimentul va aduce pe scena TNB oameni care schimbă lumea prin creativitatea lor, printre care: Tal Ben Shahar – The Happiness Professor – cel care a creat cel mai popular curs din istoria Harvard-ului, Mike Gunton - Executive Producer Blue Planet, BBC, Tim Kobe – fondatorul și CEO-ul Eight Inc., companie leader în inovație și experiență de brand, Sheree Atcheson - printre cele 35 cele mai influente femei din tehnologie, conform Computer Weekly, Jaime Mandelbaum - Chief Creative Officer of Y&R Europe, Scott Goodson - CEO StrawberryFrog, Tom Szaky – Fondator si CEO TerraCycle – leader global în producția de ambalaje din deșeuri reciclate și multe ale nume importante ale industriei.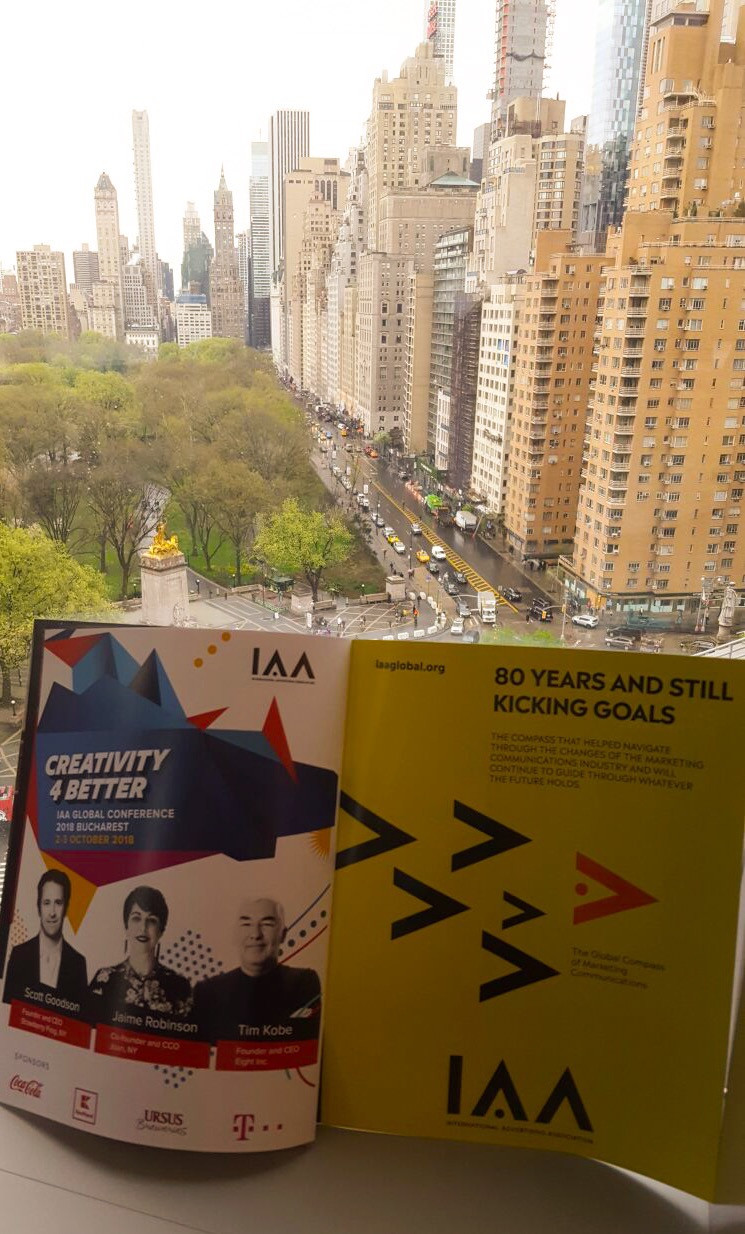 "La aniversarea a 80 de ani, IAA devine "the Global Compass" al industriei de marketing și comunicare. Suntem încântați să avem în portofoliul nostru global evenimente care sunt deja o busolă pentru comunitatea internațională IAA. Conferința Globală IAA din București - Creativity4Better - este cu siguranță o busolă mondială pentru trecerea la nivelul următor al puterii creativității în industria noastră.

Noi, IAA Global, suntem încântați să avem un parteneriat atât de puternic cu IAA România, un parteneriat care își are rădăcina în ambiția de a aduce cel mai bun, cel mai relevant conținut creativ pe scena Global IAA Conference din București. Biroul global al IAA a primit cu entuziasm temele și conținutul ediției a 2-a și ne așteptăm să avem o întâlnire internațională semnificativă  la București, în luna octombrie." a declarant Dagmara Szulce (Executive Director IAA Global).
"La finalul unei săptămâni aniversare intense la New York, cu multa inspirație, networking cu speakers, media și cu echipele IAA din toata lumea, revenim acasă încrezători că avem forța de a inspira și de a echipa comunitatea globală prin și cu Creativity4Better.

Avem oportunitatea extraordinară de a construi în București o importantă scenă pentru creativitatea globală, sprijinind în felul acesta viziunea de a transforma România în Global Creative Hub. Vreau să mulțumesc pe această cale tuturor celor care susțin activ acest demers: Felix Tătaru, Global IAA President; Diana Flutur – Director IAA Global Conference, Victor Dobre și întreaga echipa IAA România, Boardul IAA România, sponsorii și partenerii media sau partenerii producției evenimentului.", Maria Predoiu (Președinte IAA România).