Pe 25 și 26 octombrie, REBELS AND RULERS, cea mai complexă conferință de business și branding a Europei de Est, a abordat, în premieră, în mod holistic, tema brandingului strategic. Experți internaționali de la companii precum PwC, Mastercard, Ogilvy și ING au venit în România pentru primul forum global de open branding, unde au transmis marketerilor și antreprenorilor din România, Bulgaria, Cehia și UK, beneficiile generate de includerea brandingului la baza strategiei de business, la baza inovării și a dezvoltării.
Printre speakeri s-a numarat și părintele "open branding-ului", Michael Johnson - cel care a făcut primul proiect de rebranding cu adevărat deschis publicului, pentru Mozilla Firefox. Întregul proces de rebranding a fost expus online, iar specialiștii și vizitatorii blogului Mozilla aveau posibilitatea de a-și lăsa feedback-ul și a contribui la direcția proiectului. REBELS AND RULERS și-a dorit deschiderea lumii brandingului, pentru ca aceasta să fie înțeleasă și valorificată de antreprenori, HR manageri, marketeri, creativi și top level manageri. Mesajul evenimentului a fost axat pe colaborarea dintre acești jucători, dintre Rebels și Rulers. Doar prin împletirea creativității cu strategia, a conservării caracterului în timpul inovării și a interacțiunii bazate pe emoții, poate un business să ia avânt și să mențină o linie semnificativă de creștere și conectare la publicul său.
Pentru a demonstra emoția și expresivitatea de care trebuie să dea dovadă brandurile, Sonal Dabral, Chief Creative Officer la Ogilvy India a performat un moment de excepție, cântând și dansând în stilul Bollywoodian. Ulterior, el a transmis elementele de bază care ar trebui să stea la baza creării brandului și a strategiei de comunicare:
R - să aibă Rădăcini în România
O - Ocolind ruta folosită de toți ceilalți
M - Made for Romania - creat pentru români, nu pentru premii
A - cu idei și persoane Ambițioase
N - cu Neînfricare și îndrăzneală
 I - pornind de la Introspecție
A - All-in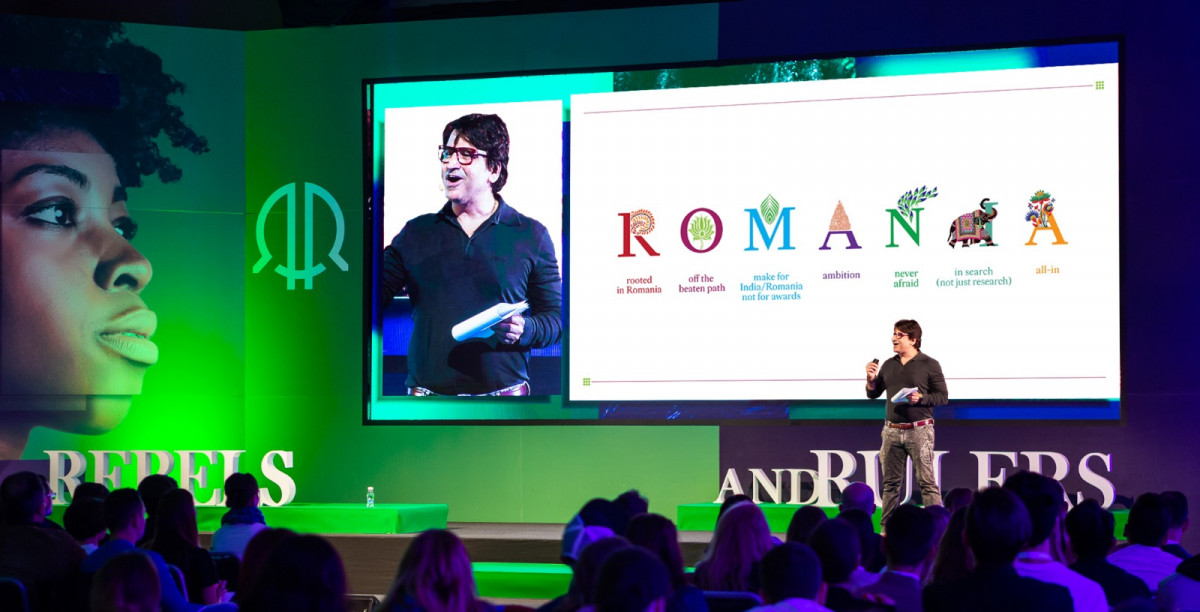 Guido van Garderen, specialist în brandingul națiunilor, a demonstrat că fiecare țară are deja un brand, iar chiar dacă nu și-l asumă, asocierile sunt deja acolo. Acest lucru a fost demonstrat și de Matt Biespiel (Marketerul anului, care a fost Directorul Global de Brand Development al McDonald's mai bine de un deceniu, conducând cea mai de succes campanie a brandului: "I'm lovin' it") când a ridicat audiența în picioare și i-a rugat să închidă ochii și să se gândească la câteva branduri pe care el le rostea. Concluzia? Peste 90% dintre participanți se gândeau la anumite caracteristici ale brandului, iar nu la reclamele aceluia. Astfel, dacă brandul tău are o identitate clară, aceea va rămâne în mintea clienților prin toate interacțiunile cu el, fie ele la radio, TV, în magazin, la un eveniment, sau în mediul digital.
"Ne-am dorit ca REBELS AND RULERS să evite mentalitatea de scurtă durată a evenimentelor din vest și să prezinte o mână de ajutor real, pe termen lung. Cu alte cuvinte, nu ni se pare de ajuns să motivăm sau să inspirăm oamenii - românii sunt deja renumiți pentru curaj și determinare. Ce ne lipsește nouă, aici în țară, cât și în țările învecinate, este accesul la informații practice, la procesele și aplicările directe care ne pot ajuta să creăm branduri valoroase.

Brandurile noastre personale, la nivel de comunitate, brandul de țară și, cu siguranță, brandul fiecărei companii pot beneficia de o educație de calitate pe temele de strategie, tehnologie, business și design. Asta oferă evenimentul REBELS AND RULERS - o conferința unde participanții au plecat uimiți de prezența României în aproape toate prezentările și unde speakerii au plecat impresionați de dorința noastră la nivel național de a face mai mult, mai bine, pentru generațiile noi de inovatori și creativi." afirmă Flavia Anghel, CEO și redactor șef Brandingmag, organizatorul evenimentului.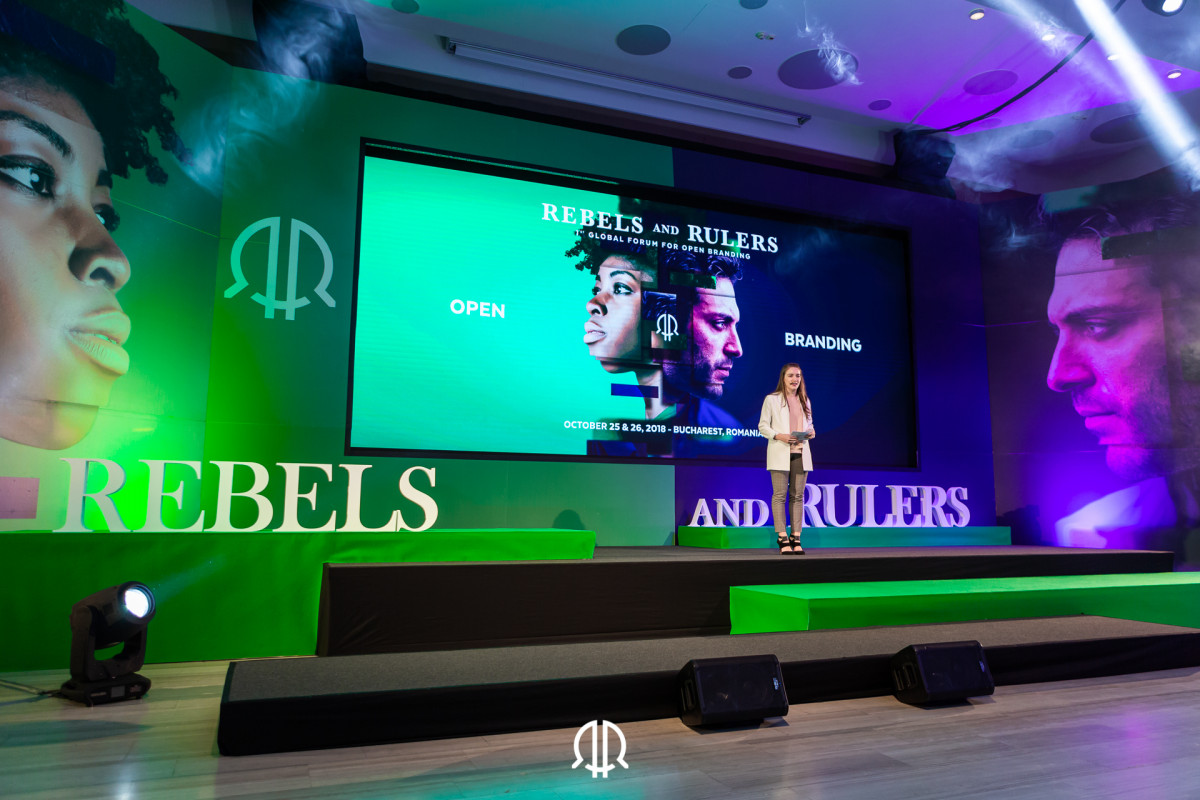 La nivel de conținut și organizare, REBELS AND RULERS a fost comparat de speakeri și de participanți cu evenimente internaționale precum Cannes Lions, cel mai influent festival dedicat gândirii creative la nivel mondial, sau cu festivalul internațional de creativitate, Golden Drum. Planul Brandingmag, organizatorul evenimentului, este ca REBELS AND RULERS - 1st Global Forum for Open Branding să rămână localizat în România și să devină un eveniment de referință al industriei de branding și marketing globale. 
Evenimentul a fost organizat cu susținerea partenerilor: Apa Nova, Julius Meinl, Johnnie Walker, Nissan, Autonom, Curtea Veche Publishing, Netopia MobilPay, Grama, Dagon, Lexigo și Photosnacks și a partenerilor media: Virgin Radio, Forbes, IQads, SMARK, IAA, Institutul de Marketing, Marketing Focus, Maastricht School of Management, Start-up.ro, Antreprenor în România, Tarom Insight, Transilvania Business,  Entrepreneurship Academy, Universitatea Alternativă, Netherlands Romanian Chamber of Commerce, Camera de Comerț și Industrie Bilaterală România-Portugalia, ABC News Transilvania, Elite Business Women, Romanian IT, Innovation Labs, NewMoney, Dume de mestecat, România Pozitivă, Comunicatedepresa.ro și BNI.