Toți avem variantele personale pentru un viitor mai bun, dar când scenariul este colectiv, șansele ca el să se întâmple sunt mult mai mari. Și când, în acest scenariu, avem artă, design și tehnologie, oameni talentați, libertatea de a-și imagina și a crea lumi noi și susținerea ca toate acestea să se întâmple, viitorul acela mai bun începe să prindă contur chiar în fața noastră. O imagine a lui poate fi văzută, de joi, pe Matei Millo nr. 9, în cel mai nou mural creat de Obie Platon, parte din intervenția IQOS la Romanian Design Week 2021.
Nevoia de a crea împreună
E important să fim împreună, asta știm mai bine ca oricând în 2021. Împreună, dar nu oricum. Împreună tinzând către ceva, creând imagini ale viitorului. Together. Forward este tema sub care IQOS participă, prin intervenții speciale la Romanian Design Week.
Prima intervenție este Art for Air, pentru care artistul Obie Platon a realizat un mural inovator, folosind vopselurile speciale Air Lite care purifică aerul. Lucrarea e o invitație la dialog despre progres și inovație, despre felul în care, atunci când se întâlnesc, tehnologia și arta pot crea lucruri spectaculoase.
"Romanian Design Week și IQOS înțeleg în același fel susținerea comunităților creative. Tema aleasă anul acesta, Together, vorbește despre nevoia de a fi împreună și de a crea împreună un oraș, o țară, o viață mai bune.

Arta și designul au un impact asupra indivizilor și comunităților. Colaborarea dintre Romanian Design Week, Obie Platon și IQOS se bazează pe valori comune: inovația care deblochează noi perspective, puterea creativității, progresul și accentul pe comunitate", a declarat Andrei Borțun, CEO The Institute și organizator RDW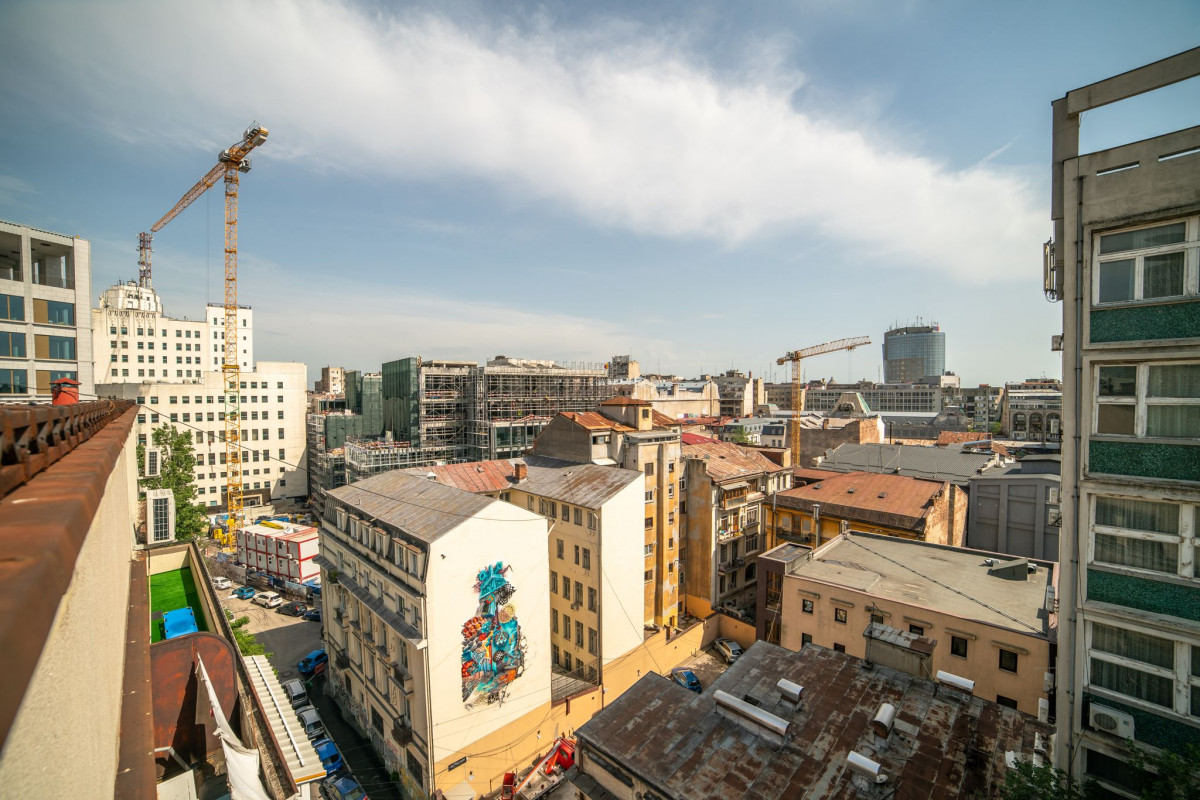 Un viitor posibil, poate mai bun
Obie Platon a tradus Together. Forward printr-un mural de 35 mp, situat în centrul Bucureștiului, care poate fi văzut pe str. Matei Millo nr. 9. Lucrarea își propune să ofere o nouă perspectivă asupra spațiului urban, dar și să purifice aerul din jur. Artistul e primul care a folosit acest tip de vopsea în România.
"Mereu apreciez provocările. Și asta a fost una din cele mai mari. Brieful a fost tentant și mi-a oferit libertatea de a crea și a descoperi profunzimi noi. E un best of al muralelor mele și mă bucur că am reușit să expun iar în centrul Bucureștiului. E important să fii pe arterele principale", spune Obie Platon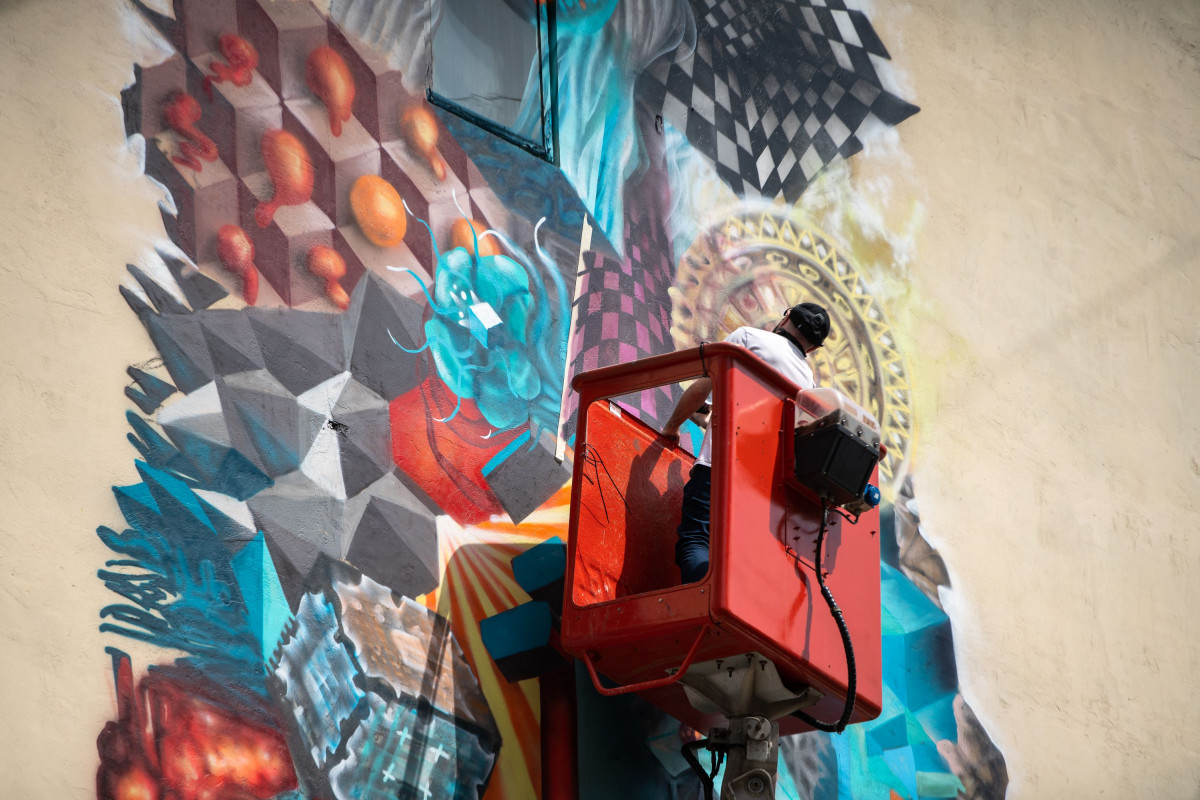 "Suntem la o intersecție de valori comune. Ne place noua față pe care Obie o dă orașului și ne bucurăm că a acceptat provocarea noastră. Dacă acceptăm că tehnologia e parte din viața noastră, ne putem îndrepta spre un viitor mai bun", a spus Dragoș Bucurenci (Director Communications, Philip Morris România)
Lucrarea lui Obie Platon vorbește despre un oraș dinamic, aflat la intersecția dintre posibilitățile viitorului și perspectivele prezentului. Progresul poate fi obținut prin colaborare, sugerează mixul de mașinării și simboluri arhitectonice.
"În muralul realizat pentru Romanian Design Week cu sprijinul IQOS, m-am inspirat din relația strânsă dintre comunitate și oraș, dintre oameni și tehnologii moderne. Altfel spus, am luat un peisaj urban tipic și l-am reconstruit așa cum l-am văzut eu. Am deconstruit lumea împărțită în 'Noi' și 'Restul' pentru a vizualiza împreună un viitor posibil, poate mai bun. Asta înseamnă pentru mine progres", spune Obie Platon
Cunoscut pentru stilul suprarealist, Obie Platon se implică în proiecte de regenerare culturală prin artă a zonelor suburbane, iar picturile sale murale pot fi văzute în diferite orașe din Europa, cât și în Shanghai.
Pe lângă muralul din strada Matei Millo nr. 9, Obie Platon va aduce mai multă culoare și la RDW Design House, în Bulevardul Aviatorilor nr. 8A, unul dintre punctele de întâlnire importante pentru comunitatea creativă din București în cadrul ediției din 2021 a acestui festival.
IQOS are două intervenții majore la RDW. În afară de muralul realizat de Obie Platon, IQOS va prezenta în cadrul RDW, la Combinatul Fondului Plastic, instalația scenografului Adrian Damian, IQOS World - Network of Emotions, care e în pregătire în aceste zile și poate fi văzută din 4 iunie.
Ediția din acest an a celui mai mare festival creativ din România, care promovează designul, arhitectura și creativitatea, are loc în perioada 4-13 iunie, la Combinatul Fondului Plastic și în spațiile partenere și se desfășoară sub tema #Together.
Până la deschiderea Romanian Design Week, pe 4 iunie, faceți o vizită pe Matei Millo nr. 9 pentru a vă bucura de cea mai nouă lucrare a lui Obie Platon.
Articol susținut de IQOS
Acest produs nu este lipsit de riscuri. Eliberează nicotină, care provoacă dependență. IQOS este destinat adulților care altfel ar continua să fumeze sau să folosească produse cu nicotină.