As a child, Pavel Fuksa used his crayons to build a world of his own, one in which not history but imagination determined the name of a country and not geography but fantasy established its borders. He saw in advertising the place where he is rewarded for taking crazy ideas as far as possible, so it is safe for us to say that the story of him becoming part of the industry is a classic one.
Or not. He only studied graphic design for two years in college and, before even turning 29, he is one of the most appreciated designers and creative directors in the world. He has worked as an adman or a freelancer across Scotland, Czech Republic and, for 2 and a half years, Slovakia. He is now a Creative Director at JANDL, where he put together an international team of creatives (that includes Eugen Suman, Andrei Gurau and Razvan Mitoiu from Romania). His collection of awards and shortlists from the past year at Cannes Lions, Golden Drum, Epica and Eurobest includes prizes for Carturesti ads, next  to LEGO, Harley Davidson or SEAT ads. Next on, AdStory.
I grew up in Prague. As a child, I dreamed of becoming a lorry driver, dustman and professional footballer.
Here's an old picture of me. Yes, I am the one in the middle, in yellow shirt and checkered trousers. The sun was a bit high that day:).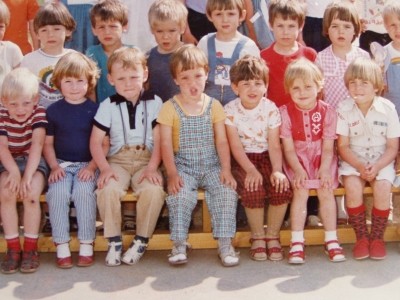 The craziest thing I did in highschool was to design and print out tickets for a non-existing concert and to persuade the biggest asshole in school to go there. Next day it was a money returning time :).
In college I was the guy who went in, got bored to death and then left for a job in an advertising agency.
I decided I wanted to work in advertising when I started drawing my own maps, invented countries and their flags and spent a huge amount of time watching TV ads.
I am currently in a domestic partnership with advertising.
What I like about working in advertising is that you are well paid for coming up with the ideas that would be described as crazy and weird anywhere else.
What is great about JANDL is that we are a small independent agency with everyone involved in doing great stuff.
And this is how my desk looks like: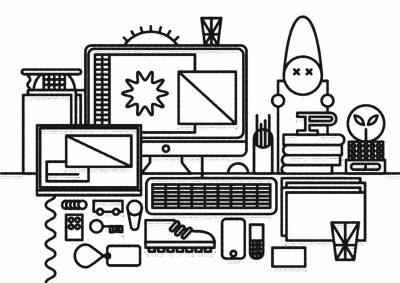 I am most proud of the work I did for Lego, Harley Davidson and for SEAT (an illustrated QR code, one of the world's first).
The most rewarding moment in my career was being chosen as one of the TOP20 graphical designers in the world and being on a Cannes shortlist.
I like to fish insights from my childhood dreams, weird encounters and the depths of the internets.
About best places for brainstorming, here's a recommendation: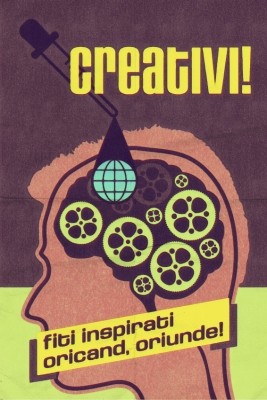 Great creative campaigns have in common the fact that they are great and creative :).
The best clients are the ones that believe in your professionalism and common sense while sharing your sense of humor and dedication.
The worst clients are the ones that don't believe in your professionalism and common sense while lacking sense of humor and dedication.
I feel most frustrated when I meet and am asked to work for the bad clients mentioned above.
My best sources of inspiration are my daughter, books, movies, stories and things that I learn during procrastination.
In my browser history you can find vi.sualize.us, ffffound.com, wikipedia.org, behance.net, luerzersarchive.net and grainedit.com.
The best piece of advice I ever received from someone in the industry is "Prove yourself indispensable".