N-o sa va mint. Avem un drum lung in fata. Nu trebuie sa stiti prea multe, doar c-o sa vedem cum e reprezentat marcom-ul in niste seturi de benzi desenate, dintre care una-i romaneasca. 
Fiti pe pace, nu e musai sa fiti mari cunoscatori ca sa apreciati micile margaritare slefuite de un comic strip de 3-4 patratele. O sa radeti, o sa plangeti, o sa fie o calatorie cu suisuri si coborasuri. La final, totul va merita. Pentru ca n-o sa se termine cu un happy end insiropat.

Vorbind despre clienti carora le place o strutocamila de concept dintre variantele date de tine sau intalnirile in care ideea ta pare un puisor galbior, proaspat iesit din gaoace care e aruncat fara mila la lupi, Anibal E. Quinones (VP si Creative Director, McCann San Juan) scria intr-o vreme comic-uri destepte pe site-ul My Adnormal Life.
Care nu mai e (lacrimi si suspine) dar, gratie Pinterest-ului, comic strip-urile gandite de el s-au pastrat ca noi. Ia vedeti, cat de bune poa' sa fie?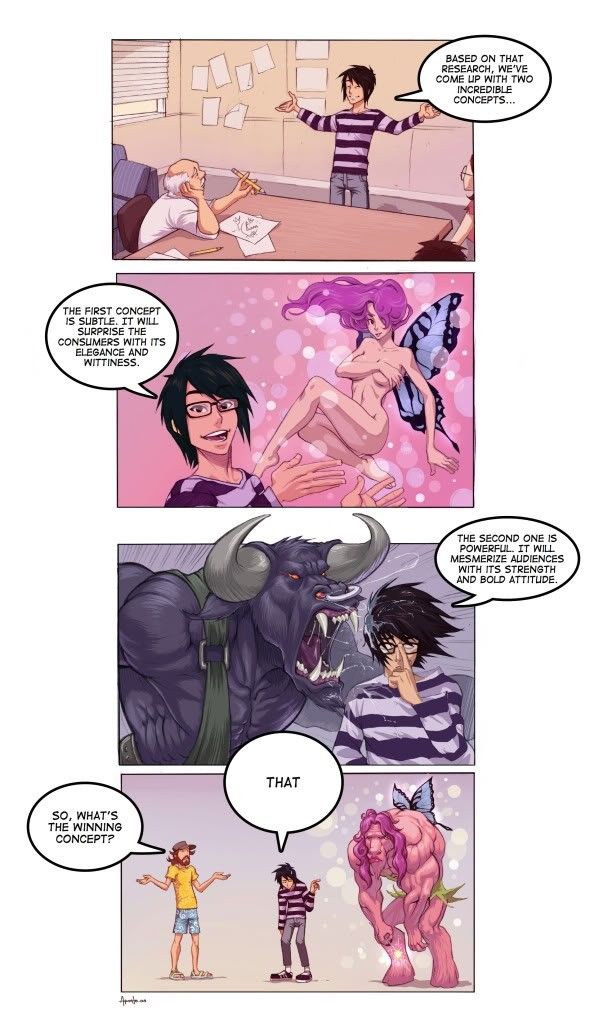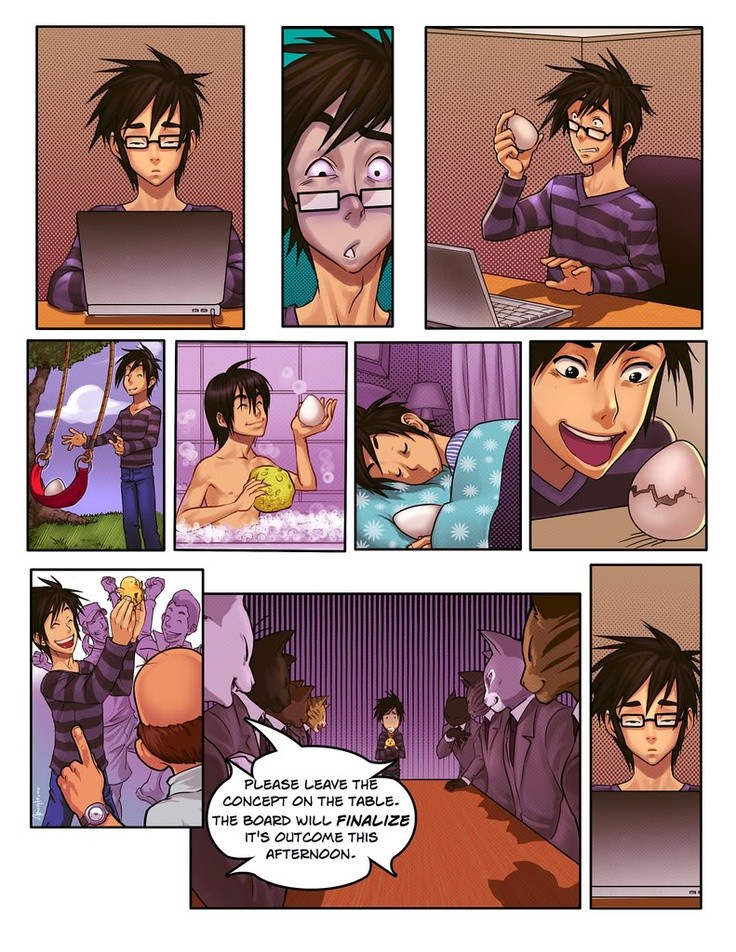 Un strip de 4 desenase cu clovni, mai rautacios de felul lui, zice fara ocolisuri despre joburile si nivelul specializarilor din comunicare. Sau, dac-o luam mai bland, poate se refera doar la titulaturi.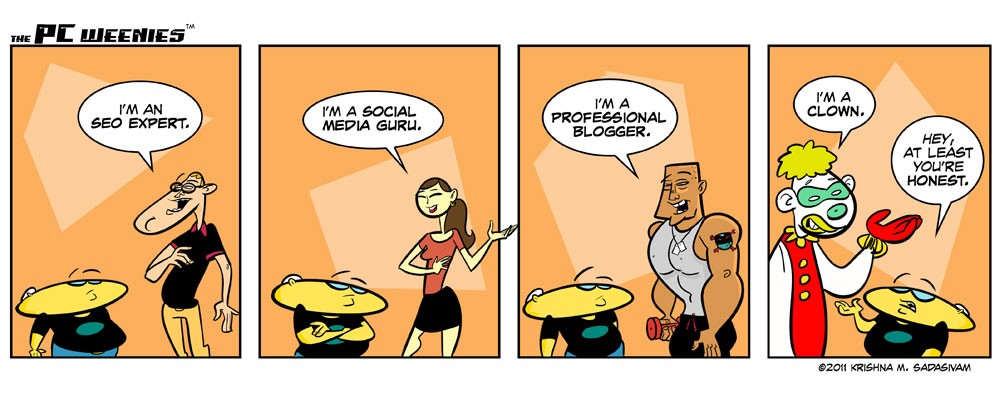 Krishna Sadasivam, via pcweenies.com

Am dat de marcom si in xkcd, banda desenata de catre un fost specialist in robotica de la NASA, Randall Munroe. Din meniu: o sceneta din saga siretlicurilor din comunicare, scurta povestire despre browsing-ul mobile sau "cum sa-ti construiesti peste noapte identitatea de brand".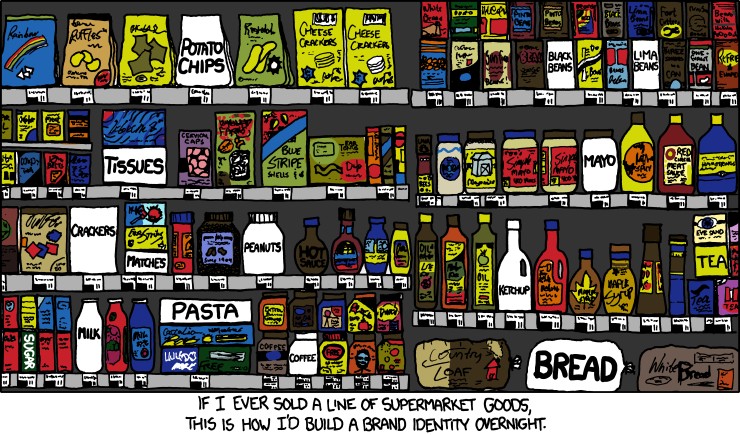 Randall Munroe, xkcd.com

Avem si o revista de benzi desenate romaneasca, reiesita din sanul agentiei Loopaa din Cluj: MarComics. Primul "sezon" al publicatiei are 12 episoade si descrie cu ajutorul protagonistului Loopert aventurile zilnice, amuzante, absurde traite de marketerii contemporani in vreme ce incearca, esueaza sau reusesc sa-si faca treaba.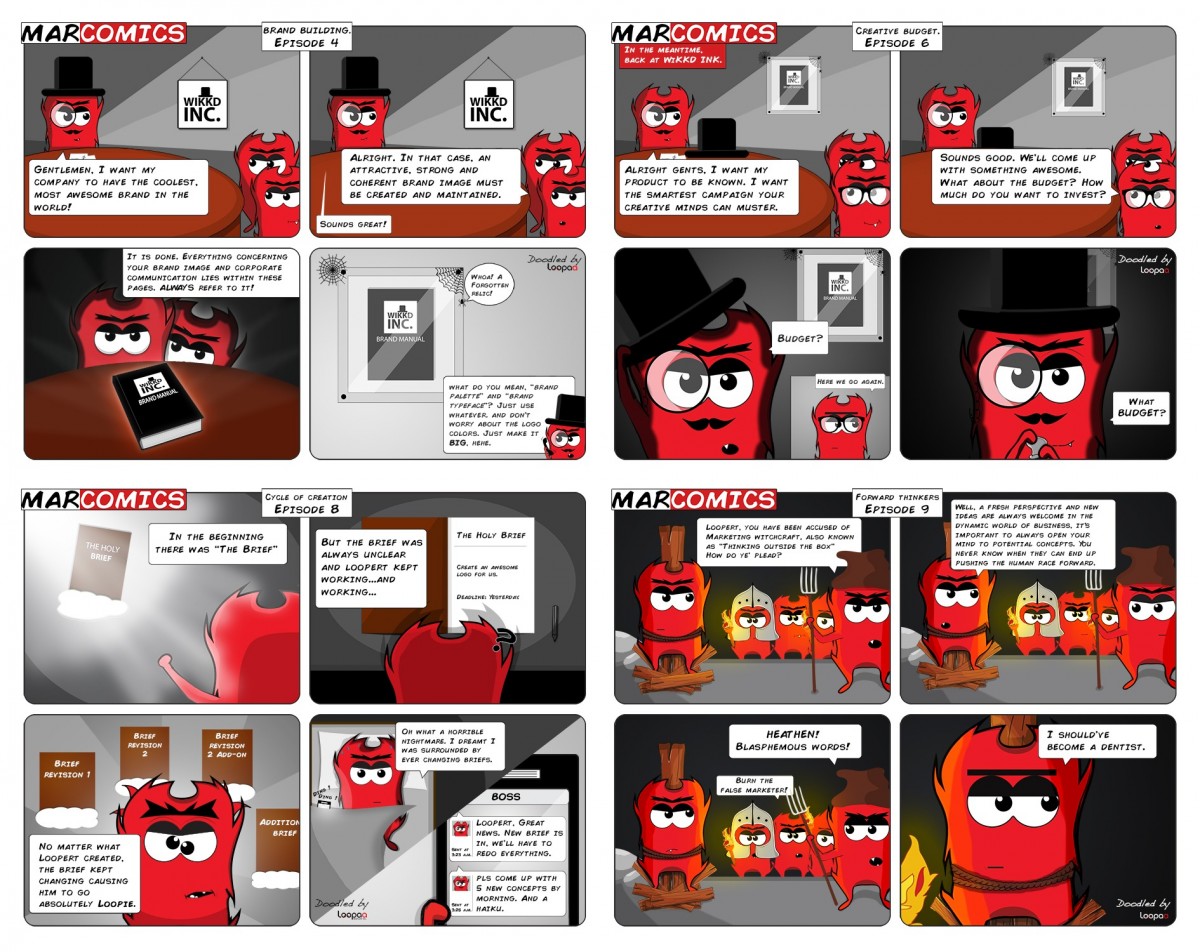 Loopert si necazurile lui

Pe scurt si cu aciditate, despre individualitate: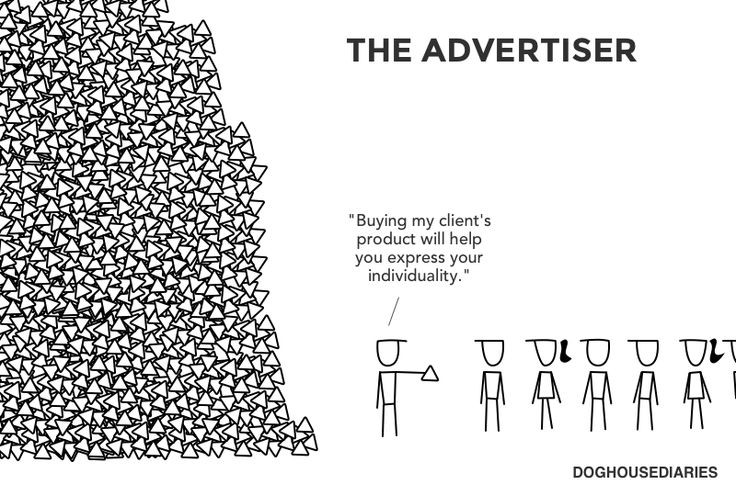 Sursa: thedoghousediaries.com

Ia uite si o pilda despre cum sa-ti stii target-ul poate mai bine decat vrea sa se cunoasca el insusi.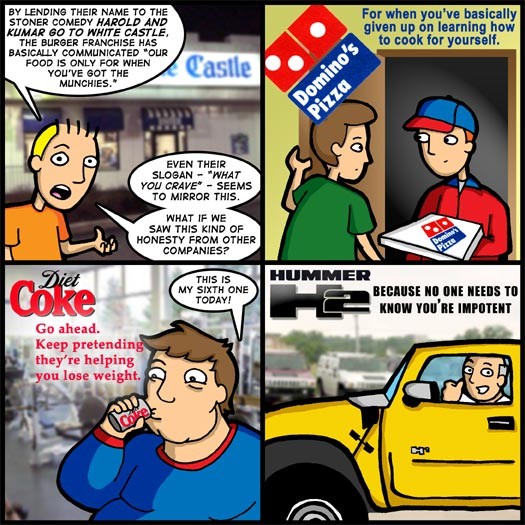 Tom Brazelton, theaterhopper.com 

Promotiile & ofertele speciale la medicamente se cam lasa asteptate. Desi unii farmacisti pun primele caramizi sugerand substante complementare Colebilului tau.

In continuare, patrundem in Salonul Trist de Tatuaje, abreviat Sad Tat. Unde durerea e punctuala rau, te loveste inca de la receptie.

Mike du Jour/ Mike Lester, thecomicstrips.com

Snoopy indeplineste rolul consumatorului entuziast, dar fara putere de cumparare. Si, deci, sta trist in fata TV-ului pe perioada spoturilor publicitare.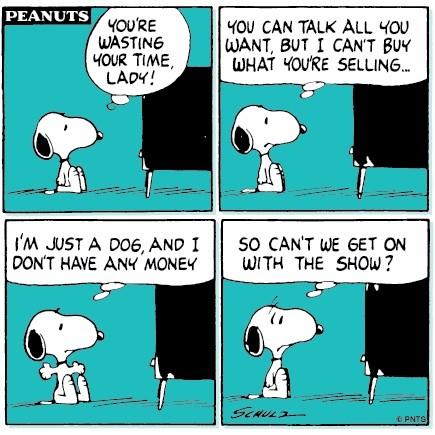 via Pinterest

Se intampla si ca produsele sa-si faca singure campaniile de rusine:

Ernie Bushmiller: Sluggo's False Advertising, 1971
comicartfans.com

Cum sa uit de Creativul Anonim care a adus intru fiinta blogul de Tumblr The Awesome World of Advertising? A dat un ocol larg pe Facebook nu foarte demult. Doar la vreo 4 ani de cand a inceput sa posteze si inca unul de cand s-a oprit (ultimul entry dateaza din septembrie 2013) .
Le-ati parcurs pe cele 21 de pe DigitalSynopsis? Perfect, mai aveti cateva - sunt 36. 

Stiti cand adevarul e undeva, pierdut intr-o zona gri? Asa si acum.
Va prezint Outdoor-uri, perspectiva 1.

Outdoor-uri, perspectiva 2 sau critica unui Banksy revoltat.

Sursa: upworthy.com
#fieca sa digerati aceste chestiuni in mod placut si relaxat.